Every bicycle needs pedals right? They are the primary point of contact on the bike and the very thing that makes them go. Though they can seem a bit intimidating for the uninitiated, pedals simply fall into two main categories: clipless and flat, also called platform pedals, whose basic design hasn't changed much for over 100 years — simply a platform on a rotating spindle.
The clipless variety, counterintuitively utilizes a clipping mechanism joining pedal to shoe for increased power and efficiency over the course of each pedal stroke. The term originated in the era when 'toe clips' were used to enhance efficiency. Clipless systems subdivide further into road and mountain categories.
Road Pedals

Road clipless systems vary somewhat but their basic principle is the same — employing a broad triangular plastic cleat with a standardized 3-bolt pattern mounted on a stiff-soled cycling-specific shoe. This wide, horizontal interface creates an efficient engagement with road pedal systems, which are invariably a single-sided plate design with a spring-tensioned clipping mechanism.
French manufacturer Look created the original clipless pedal in 1984 and their Keo 2 system remains one of the most stable, straightforward and popular on the market.
Componentry giant Shimano's SPD-SL road system is another major player in the road pedal sphere. SPD-SL models are offered as part of Shimano's 105, Ultegra and Dura-Ace groupsets as well as in non-series standalone versions.
Time's ICLIC system utilizes an innovative approach adapted from alpine ski bindings — clipping out pre-opens the system for the next step back in, creating a faster, easier and more secure pedal engagement off the line.
Because they are optimized for pedal stroke efficiency, road cleats tend to be a bit slippery, awkward and prone to wear or damage off the bike. As such they are not generally recommended for off-road use where hiking and rugged terrain may be encountered. Many roadies tend to enhance off-bike traction and stability by throwing on cleat covers for cafe stops or any kind of significant walking.
Mountain Pedals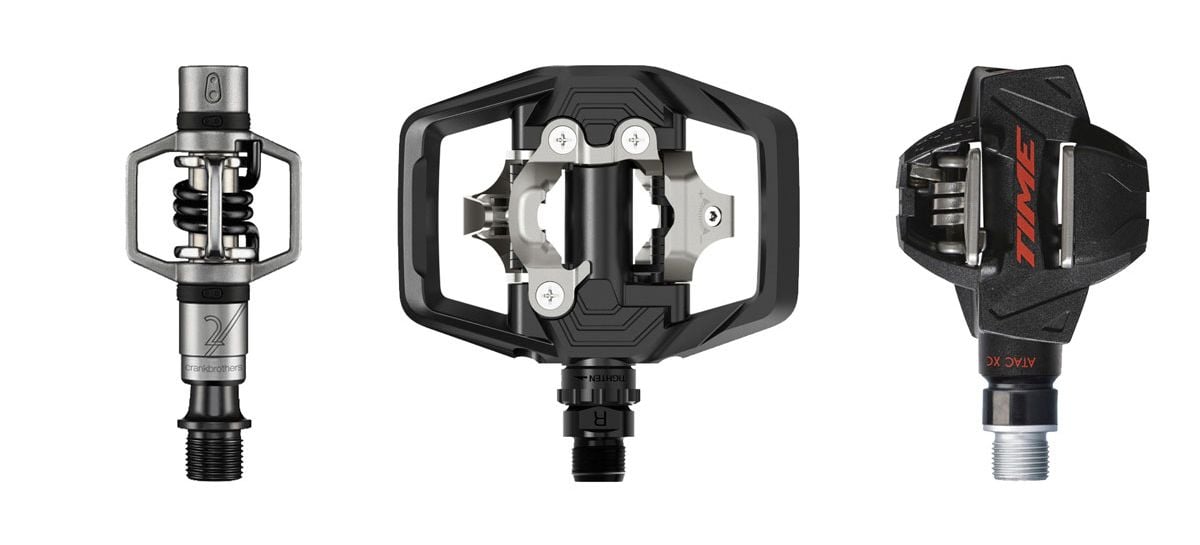 Centered around a minimal two-bolt mounting pattern, clipless mountain pedal systems tend toward smaller, sturdier recessed cleats which shed debris and facilitate easier disengagement for frequent dismounting. Due to the rugged nature of MTB terrain and the fact that mountain pedals are used in cyclocross racing, off-bike running, hiking and shoe traction are central design considerations.
By far the most widespread MTB and gravel pedal system is Shimano's SPD, whose hardened steel micro-cleats are incredibly durable, engaging and disengaging with a fluid, intuitive motion. More often than not, SPD pedals tend to be dual-sided, further facilitating ease of use. The SPD system easily transitions to road riding, particularly in gravel and all-road disciplines where some degree of unpaved riding is expected.
Within the SPD realm, Shimano's flagship MTB race pedal is the XTR series. They are light, fast, and fluid with effortless dual-sided engagement. On the burlier trail and enduro end of spectrum, the SPD Trail pedal features a beefed-up retention mechanism and robust external platform for extra stability and protection from pedal strikes on rowdy descents.
Crank Bros' Eggbeater system is also very popular, particularly for cyclocross racing, due to its minimal weight and innovative four-sided entry mechanism. The Crank Bros Eggbeater 3 Pedals are extremely lightweight and some of the easiest on the market for clipping in and out.
One of the most innovative mountain platforms on the market is the Time ATAC system. Visually similar to a dual-sided Crank Brothers design, the ATAC leverages a self-cleaning interface, shedding mud and debris on entry, with a range of tension and float options and reversible cleats, ATAC allows the most customizable range in its class.
Flat Pedals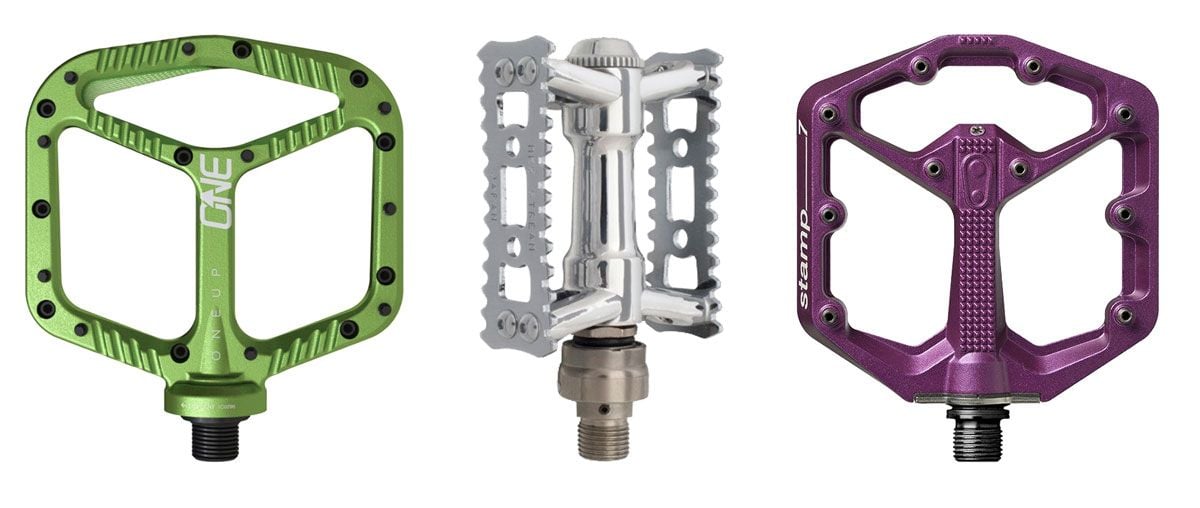 At their most basic, flat or platform pedals are the traditional bike pedals we all grew up with — simply put your feet on them and go. While those designs still exist and are great for commuting or touring, the flat pedal has evolved into entirely new territory thanks to innovations in the disciplines of mountain biking, dirt jumping and BMX.
Oversized surfaces, ultralight materials, concave vs. convex platform design and adjustable pins have revolutionized the pedal-shoe interface, delivering whole new levels of grip, security, and traction while not actually being clipped in.
Crank Bros' Stamp series flat pedals are standouts whose concave platform design coupled with 10 adjustable traction pins dig in and hold onto shoes for an unbelievably secure amount of grip.
On the flipside, OneUp Components utilizes an ultra-thin convex platform design which is engineered to sit within the natural arch of a rider's foot and held in place by steel pins. The result is a super grippy, rock solid platform which keeps feet planted through loose, rowdy terrain.
As we mentioned, traditional flat pedal design is still very much alive and well. Japanese manufacturer MKS's Sylvan Next platform pedals are commuter and touring staples, with moderately grippy external cage teeth, smooth bearings and can be removed easily without using tools.
Clipless Pedal Adjustment
Clipless pedals can be adjusted in two ways — float and tension, which will each have a pronounced effect on rider experience.
Float refers to the back-and-forth movement of the foot while clipped in and is essentially how far you can laterally rotate your heel while clipped in. Different levels of float help accommodate different riding styles and mitigate biomechanical flexibility issues and knee pain. While float can help reduce stress on joints and make for a more comfortable pedal stroke, too much float can also result in a feeling of diminished efficiency.

Depending on the manufacturer and the specific pedal, float may be adjustable by selecting different cleats. Shimano SPD-SL, Look Keo cleats, Time ATAC and Crank Bros cleats are available in a variety of float ranges and pivot points.
The other point of adjustment is tension, which is typically dialed in via hex screw at the rear of a pedal's retention mechanism. Tension refers to the amount of force required to disengage the pedal. Elite racers often prefer high tension to ensure security during all-out efforts, while casual riders may opt to tension quite a bit lower for quick and easy unclipping.
One of the most critical aspects of pedal maintenance is timely cleat replacement. Worn or damaged cleats can disengage suddenly, potentially causing serious injury. We stock replacement cleats for all pedal systems within our inventory.
Our Most Popular Articles