Bicycle Pedals
Bicycle pedals can be somewhat confusing to the uninitiated, but they are actually quite simple. There are essentially two kinds of pedals: platform and clipless. Clipless pedals are further divided into road and MTB pedals; though there's plenty of overlap in terms of actual usage, in general, road pedals are those that accept three-bolt cleats, while MTB pedals accept two-bolt cleats.
Platform Pedals
Platform pedals like the MKS Sylvan Touring Pedals are the simple flat pedals that you grew up riding with-you put your feet on 'em, you push down, you go. You can ride them in street shoes, and for extra efficiency, you can attach toe clips and straps, which allow you to pull up as well as push down. Many riders start off with platform pedals and eventually switch to clipless systems to gain extra speed and efficiency, though others, especially casual riders, are perfectly happy with platform pedals, with or without toe clips.
Other systems are somewhat unintuitively called "clipless," despite the fact that the rider clips into them, because they do not require toe clips for an efficient pedal stroke. Riders wear cycling-specific shoes with cleats attached to the soles; these cleats latch into the pedal with various spring-operated mechanisms (which vary depending on the brand).
Road Clipless Pedals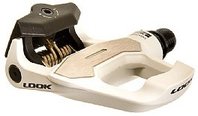 Road clipless pedals use large cleats, usually made of plastic, that attach to the soles of road cycling shoes with three bolts. Different brands' pedals require different cleats; new pedals usually come with cleats, but when it's time to replace them, it's important to make sure you're buying the right cleats. Many elite road riders are fiercely loyal to their preferred pedal brand.
French manufacturer Look invented the clipless pedal in 1984, and they remain an industry leader to this day-their Keo line of pedals is the most popular clipless pedal system on the market. Check out the Look Keo 2 Max Pedals. Shimano's SPD-SL road system is also a proven and popular option; the Shimano PD-R540 SPD-SL Pedals are a great affordable choice.
Because road bike cleats may be slippier and can get prematurely worn down when riders walk in their cycling shoes, many riders like to use cleat covers when they're not on the bike.
MTB Clipless Pedals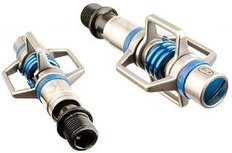 Mountain pedals use smaller cleats than road pedals. The small, usually metal cleats are less prone to gathering mud and are more easily disengaged when the rider must dismount to avoid an obstacle. Mountain bike pedals are also used in cyclocross races, and many shoes designed with touring and commuting in mind also accept two-bolt MTB-style cleats, since these cleats are recessed into the sole of the shoe for comfortable off-bike use.
By far the most popular MTB pedal system is Shimano's SPD system. Even many new road riders choose SPD shoes and pedals as their introduction to the clipless pedal world, thanks to their ease of use and the wide variety of shoes and pedals available. The Shimano PD-M324 Pedals, for example, have SPD retention mechanisms on one side and regular platforms on the other, making them a great versatile choice for riders who want to go a little faster without giving up the option to ride in street shoes. Other SPD pedals, like the lightweight Shimano XTR Race PD-M980 Pedals, are better suited to serious riders with stiff-soled shoes.
Crank Bros' Eggbeater system is also popular for its low weight and clever four-sided entry mechanism. The Crank Bros Eggbeater 3 Pedals are lightweight and easy to clip in and out of.
Clipless Pedal Adjustment
Clipless pedals can be adjusted in two ways. Float refers to the amount, left to right, that the rider's heel can travel without disengaging the pedal. Increased float is designed to relieve muscle stress by making it possible to slightly change positions while maintaining pedal stroke. The ideal level of float is a matter of personal preference. Depending on the manufacturer and the specific pedal, float may be adjustable with slightly different cleats-Look Keo cleats and Crank Bros cleats are available in different models with different degrees of float, for example.
The other possible adjustment is tension. Tension refers to the amount of force required to disengage the pedal. Elite racers may prefer high tension, to guarantee security during the hardest efforts, while casual riders may prefer lower tension, to be able to unclip quickly in case of unexpected obstacles.
The most important aspect of pedal maintenance is timely cleat replacement. Worn cleats can disengage suddenly, potentially causing serious injury. We stock replacement cleats for all of the pedals we carry.
For any questions regarding pedals, clipless or otherwise, get in touch with us at [email protected] or 1-800-682-0570.
Our Most Popular Articles
About Us
All About Gear Inches
Bicycle Helmets
Bicycle Lights
Bicycle Pedals
Bike Fenders
Bike Seat Posts
Bike Stems
Chain Compatibility
Common Tire Sizes
COVID-19 Response
Cyclocross Tires
Grease, Lube, or Solvent?
How To Write A Product Review
Mountain Bike Road Tires
Older 26 Inch Tire Sizes
Older Tire Sizes
Privacy and Security
Racing/Performance Tires
Returns/Exchange Policy
Road Bicycle Wheels
Road Bike Handlebars
Shipping
Sidi Cycling Shoes
Tire and Tube Replacement
Tire Size Chart
Tire Tips
Tire Width
Tread Patterns
Tube Types