WTB Venture Gravel Tire Review

The WTB brand (known to early mountain bike crowds as Wilderness Trail Bicycles) has been synonymous with off-road performance and innovation since 1982. WTB was created in Marin County, California, USA - routinely heralded as the birthplace of mountain biking as we know it today. Imagine heavy steel Schwinn cruisers converted to accommodate large knobby tires, cut-off jean shorts, California sunshine, and gravity-fueled downhill meandering along fire roads and you'll get a picture of what it was like.
This heritage and "send it" ethos still remains in the WTB brand to the present-day as all-road, gravel, and mixed terrain bike riding becomes increasingly popular, and riders yearn to get off the beaten path away from the hustle and bustle of paved roads. WTB's Venture tire sits squarely in the middle of their Road Plus and Gravel line-up, and is touted as a perfect all around 'Goldilocks' option.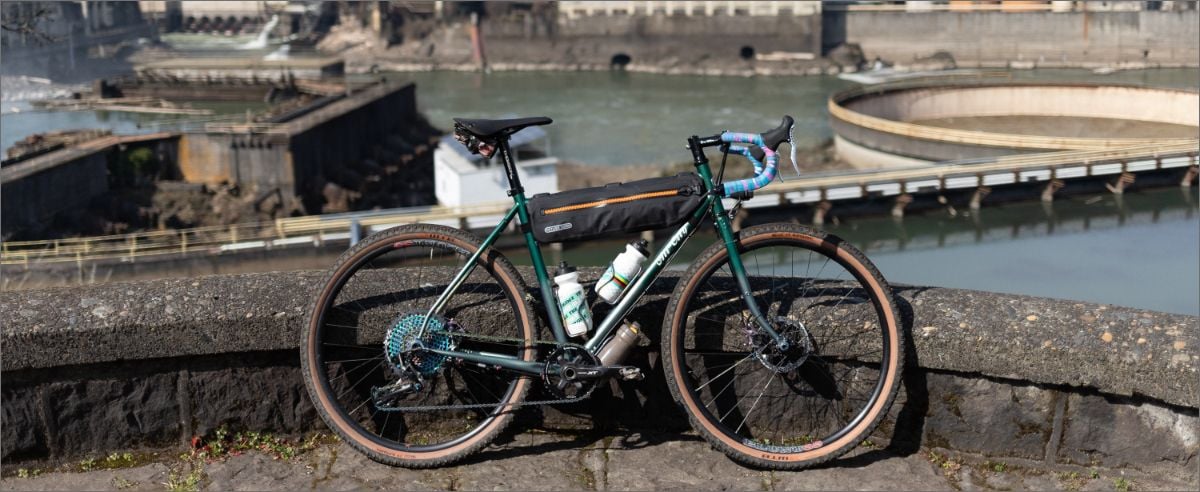 First Reaction To The WTB Venture Tire
As the first batch of WTB Venture TCS Light/Fast Rolling tires started rolling into our warehouse, I was admittedly skeptical of exactly how well this multi-purposed tread pattern would perform in the field. The countless ridges and corresponding siping that comprised the Venture tread appeared as if they could be slow-rolling and unpredictable on hardpack surfaces. I am happy to report, and will elaborate more on below - I was dead wrong - these tires are amazing!
When I cut tires loose from the heavy duty zip tie packaging housing them, it became clear to me that this was going to be a special experience. There is a certain tactile feel to the rubber compound used which elicits thoughts of professional race car and motorcycle tire compounds intended for the most demanding users.
Compounds & Colors
WTB strategically employed two durometers of this unique rubber compound for the tread, with a firm fast-rolling durometer in the center, transitioning into a softer terra-hugging shoulder compound. These compounds are both woven together on a casing of 60 threads per inch. With the Tan Wall version tested there is visually a whisper of the casing showing through the amber colored rubber. This is a good sign to discerning users that the tire will have a supple ride quality with no unnecessary material used in such a critical area.
As tested each tire tipped the scales at a feathery 574g - spot-on with the manufacturer's provided specification. (Note: it is industry standard for tire weights to vary up to +/- 5% from Manufacturers Specification.) The WTB Venture is available in 700x40, 700x50, and 650bx47 sizes - with Black and Tan Wall color options. WTB's new-for-2021 TCS Light SG2 casing is available for those riders seeking the additional peace of mind and bead-to-bead puncture protection from this unique technology.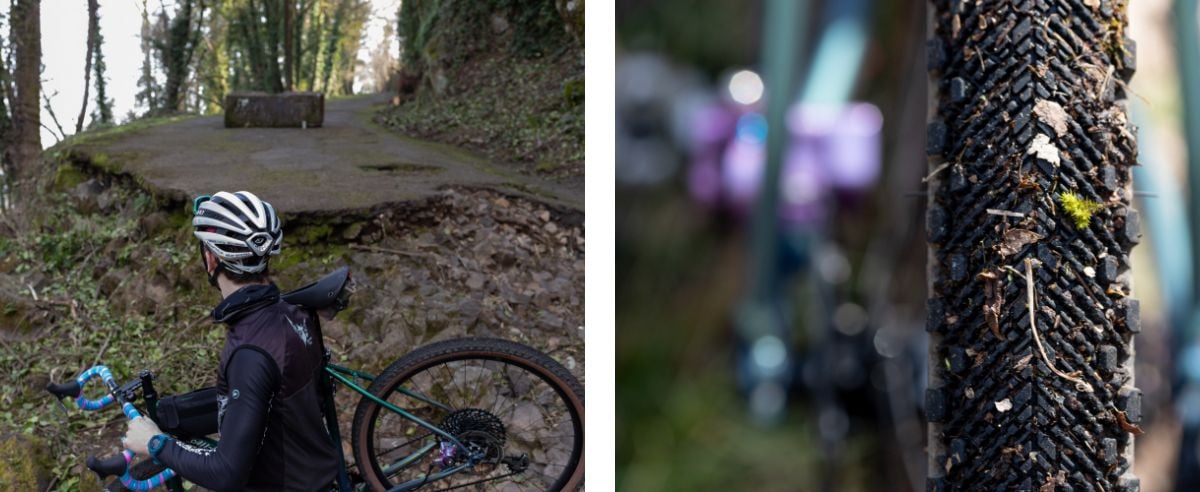 Mounting The WTB Venture Tire
The process to mount the WTB Venture tubeless on Velocity Blunt SS rims was as smooth as can be. Though my trusty Topeak Joe Blow Booster tubeless pump was at the ready, the tires mounted up with standard floor pump pressures - a confidence inspiring *ping* from each side of the bead snapping into place is always an indicator of high quality manufacturing and tolerances. This is of course personal opinion but the classically styled tan sidewalls (somewhere between the color of a perfect oat milk latte and organic peanut butter) look quite attractive on most bikes!
500 Miles & Counting
I was lucky to accrue about five hundred miles with the Ventures during a two-week test period - the highlight of which was a sunny spring 200 kilometer mixed terrain ride, gearing up and pedaling from Portland proper to Silver Falls State Park and back. With 36psi in the front and 38psi in the rear tire the Ventures propelled through the day without a single puncture or hiccup.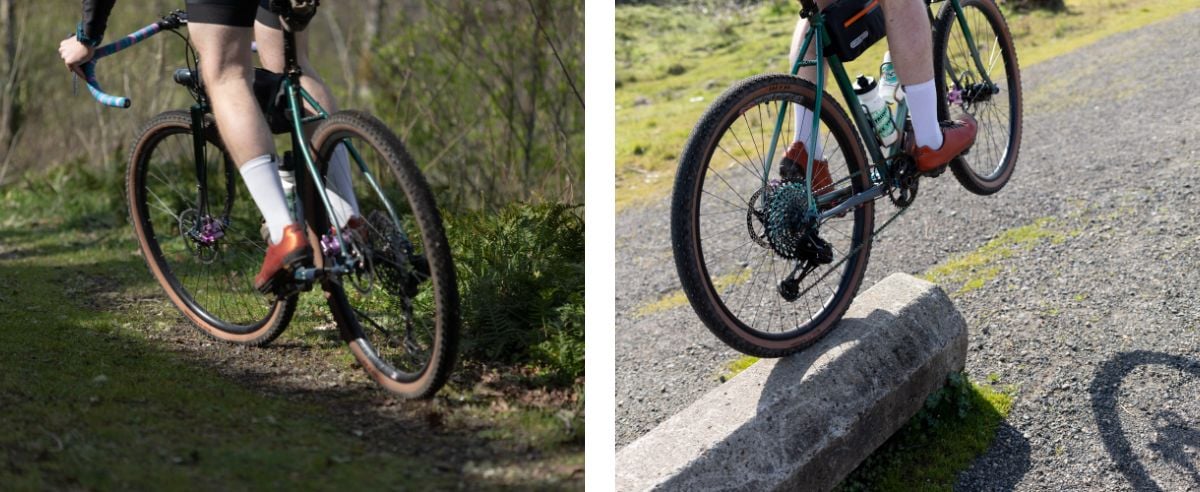 I was mindful to bring a small Field Notes notebook and pen with me during this testing period, in which a different tire pressure was used each ride and the sensations were noted. I found this to be a straightforward experiment, with somewhere in the mid-30's being perfect for most conditions. Stopping in a grassy knoll to enjoy some dried figs and vegan gummy bears I could not help but be elated with the tires' performance. Knowing that the sleek chevron tread pattern could handle just about any terrain gave me confidence for the long haul.
A Chance Encounter With Other Ventures In The Wild
On a latter adventure that would be just over a century's worth of riding, I stopped for a quick socially distanced quad espresso. As I was putting on my mask a different set of Ventures came into view - another rider who stopped at the cafe had also mounted the same setup! They had only positive remarks on the tires as well. Surely, I thought, this was a positive omen. The WTB Venture tires have a good thing going on!
Acceleration Without Discomfort
There are many tests published that reflect a light supple tire will roll across terrain with less resistance - my time with the Ventures confirmed these tests in the real world. I noted feeling fast sprightly acceleration with minimal discomfort from road vibrations. Serpentining gravel roads allowed the opportunity for widely spaced square lug side knobs to hold their line predictably while seemingly endless miles of broken pavement disappeared under the tightly spaced center rolling section of the tread.
Few times did it ever feel like there was a compromise in using the Venture tires - they were not sluggish on pavement, and certainly capable enough for any gravel excursion. If there was any condition that the WTB Venture did not excel in it would have to muddy singletrack, as some wet mud proved to be a challenge at times, yet the blocky side knobs never once let me down.
No Slouch In The Corners
An aspect of this tread I am still blown away by is the assertive manner with which it transitions as the rider leans into a corner. Not once was a corrective action required mid-corner due to unforeseen feedback from the tire leaning into the ground. A majority of the ample 47mm contact patch maintains contact with the roadway every time to keep the rider on track. Over the years I have found the 650b by 47-ish platform to be a beautiful combination of rolling resistance and off-road comfort and the WTB Venture is the best example of this yet, being ready for anything you can throw at it.
Final Thoughts On The WTB Venture Gravel Tire
All factors considered, the WTB Venture should be a go-to for just about any mixed terrain (ad)venture you could dream up. Mount the largest size your frame can accommodate, go tubeless when possible, and the voluminous TCS Light/Fast Rolling casing will reward you with miles of smiles. If you are keen to get some riding of your own on this tire, please leave a review on the site and let us know what you think!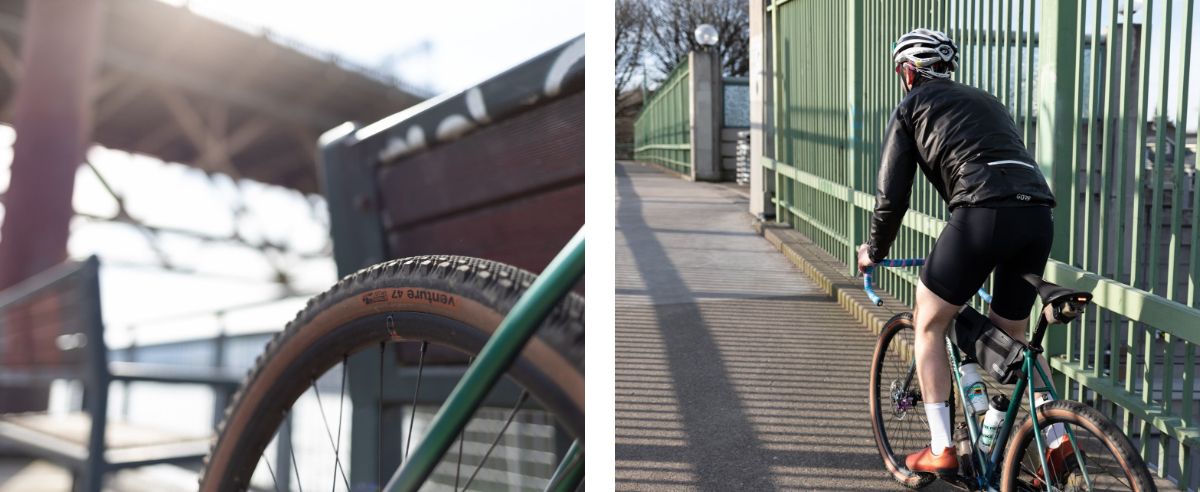 Tangential Products used in testing: Muc-Off rim tape Topeak Booster Floor pump Orange Seal Endurance PDW 650 Beast fenders Pedros Tire levers
Words by Sean MacMinn. Follow him on Strava for more excellent gravel adventures. Photos by Bertrand Morin.
Our Most Popular Articles