Chain Compatibility

Is It Time For Chain Replacement?
Bicycle chains wear and stretch over time, no matter the kind of bike you ride. With proper chain maintenance, you can prevent damage to your chainring teeth and extend the life of your chain.
UPDATE: Please note, due to supply chain disruptions, some of the items listed below may be temporarily unavailable.
Let's review the basics of chain compatibility to set you up for success for your next chain installation.
Chain type is determined by the brand of your components (front derailleurs, rear derailleurs, and cassette) and the number of rear cogs or sprockets ("speeds") on your cassette. An example of this would be Shimano Deore 9-speed, Campagnolo Veloce 10-speed, Shimano Ultegra 11-speed, or SRAM Force 12-speed. With the manufacturer name and 'speeds' on hand, we can easily help you find the right chain.
General Tips For Finding The Right Bike Chain:
The easiest way to ensure compatibility is to buy manufacturer-recommended components. If you have a 10-speed Campagnolo (Campy) cassette, a 10-speed Campagnolo chain is the first option for compatibility.
Shimano and SRAM 5- to 11-speed cassettes and chains will be compatible with each other, regardless of manufacturer recommendations.
Campagnolo is only compatible with Campagnolo and a few aftermarket chains, such as KMC and Wipperman, that are clearly labeled "Campagnolo compatible." If the packaging of non-Campagnolo chains doesn't specifically state that it's Campy compatible, it probably isn't.
Chains for 6-, 7-, or 8-speed cassettes are generally universally compatible across brands and speeds. That means if a chain says "8-speed Shimano" you can use it in your old 6-speed, too. All you have to do is line up the new chain with the old one and cut it to size.
Here's some more specific guidance to help you find an appropriate chain in our selection.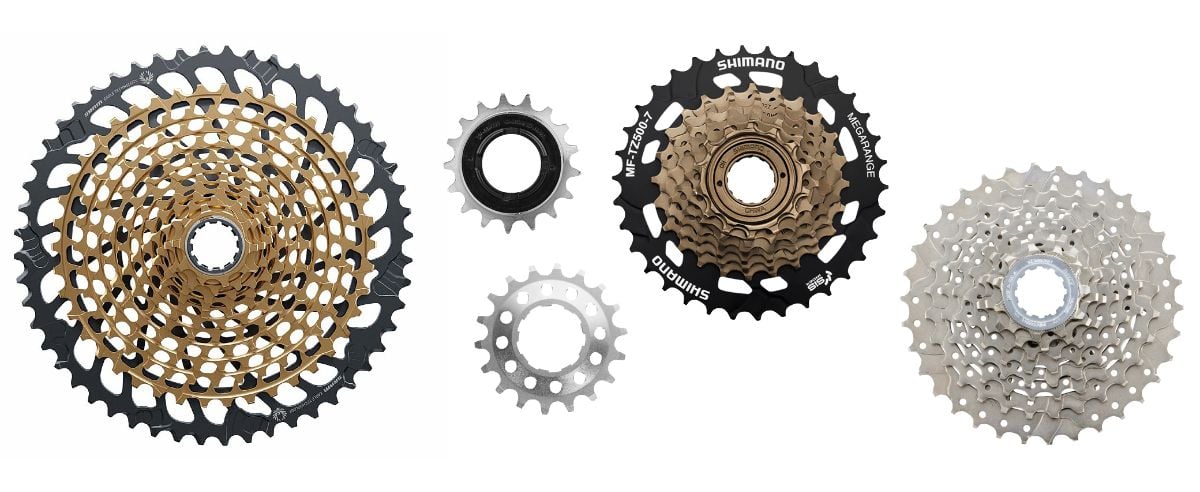 Chains for 6, 7 and 8-Speed Bicycles
The 8-speed chains we carry are 7.1mm wide, allowing the correct fit for all systems of 6, 7, and 8-speed bicycles.
Our favorite, reliable chain options for 6, 7, and 8-Speed bikes:
Chains for 9-Speed Bicycles
Chains for 9-Speed Drivetrains are 6.7mm wide and work well regardless of manufacturer; Shimano, SRAM and Campagnolo. Front chainrings are less sensitive to the width of a chain, therefore SRAM 9-speed drivetrains can even use 10-speed chains.
Chains for 10-Speed Bicycles
Campagnolo Drivetrains
Campagnolo 10-speed systems are compatible only with Campagnolo or aftermarket Campy-specific chains.
We stock the following Campagnolo-compatible 10-speed chains:
Shimano Drivetrains
Shimano's Dura-Ace 7900, Ultegra 6700, and 105 5700 groups are a little different. With these 2009/10 groupsets, Shimano introduced an asymmetric chain design (with different links on the inside and outside).
According to Shimano, "optimal performance" is only possible with a corresponding asymmetric chains:
In our experience, any Shimano- or SRAM-compatible 10-speed chain will work flawlessly with either brand of components.
SRAM Drivetrains
Any Shimano- or SRAM-compatible 10-speed chain can be used with any other Shimano 10-speed groupsets, and with any SRAM 10-speed groupset, regardless of manufacturer statements that their chains will provide optimal performance with their components.
Check our range of 10-speed chains that work well with Shimano and SRAM drivetrains.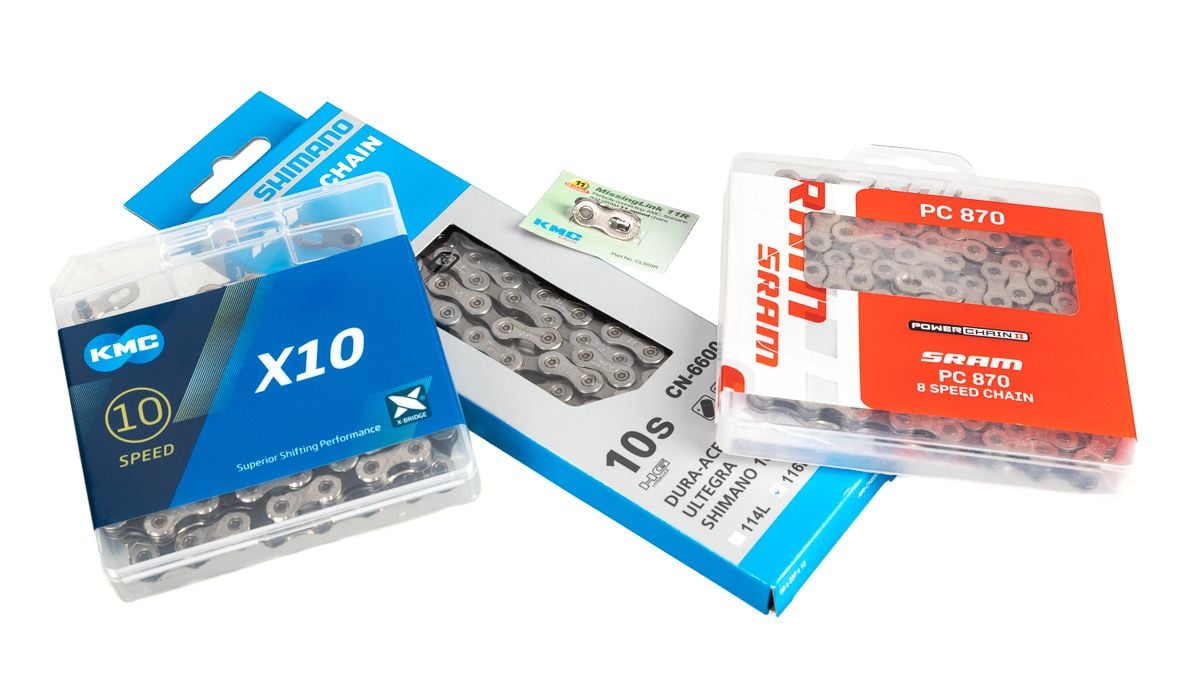 Chains for 11-Speed Bicycles
11-speed drivetrains require 11-speed chains.
Shimano and SRAM 11-speed chains are cross-compatible. If you have a Shimano 11-speed drivetrain, a SRAM chain will work fine and vice versa, however manufacturer's recommend pairing your components for optimal performance.
We stock the following Shimano-specific 11-speed chains:
If you have a SRAM drivetrain, we stock the following SRAM-specific 11-speed chains:
For SRAM's XX1 or X01 1x11 MTB drivetrains, your options increase to include the following:
Campagnolo-specific 11 Speed Drivetrains require one of the following excellent choices:
Chains for 12-Speed Bicycles
SRAM Eagle 12-Speed Chain
SRAM was the first manufacturer to produce 12-speed components. In 2016, they released SRAM Eagle 12-speed parts for their new 1x12 mountain bike groupsets. If you have a SRAM XX1, X01, GX or NX Eagle MTB groupset, you will need a 12-speed SRAM Eagle chain. The SRAM Eagle 12-speed chains are cross compatible with one another — the only variance between them is weight and material.
Shimano 12-Speed MTB Chains
Shimano came out with XTR, DEORE XT, and SLX 12-speed MTB groupsets shortly after SRAM. These groups require Shimano-specific 12-speed chains as well, and just like SRAM, the only difference between the chains (XTR, DEORE XT, SLX) is weight and material. This means you can use a DEORE XT 12-speed chain with a XTR 12-speed cassette, for example.
SRAM AXS eTap Flattop Road Chains
With the new AXS eTap 12-speed electronic road groups, SRAM developed flat top chains, which allows for a quieter drivetrain as well as added strength and durability. As of now, these chains work exclusively with SRAM AXS eTap 12-speed Rival, Force, & Red groups. Within these three groups, the flattop chains are cross-compatible (i.e. a Rival flat top chain would work with the Red group, etc.).
We currently stock the following but check back as supply continues to improve:
Campagnolo 12-Speed Road Chains
Campagnolo also has their own proprietary 12-speed chains that work with their groupsets, specifically the Chorus, the Record, and the Super Record 2x12 groups. While these chains are cross-compatible with one another, always keep Campy with Campy.
The only component manufacturer to attempt 13-speed cassettes is Campagnolo. Recently, they released the 1x13 Ekar group for gravel bikes, which we now stock in limited quantities. This group has a special Ekar 13-Speed Chain that is hyper-specific for its particular components. Do not try to put a 12-speed Campy chain on this group - it simply won't work.
KMC 12-Speed Chains
KMC makes an ultra-light chain that is compatible with SRAM Eagle 12 mountain drivetrains, Campagnolo 12 road versions, and Shimano's 12-speed mountain groups.
Our Most Popular Articles