Is It Time To Replace Your Chain?
As with every drivetrain part, bicycle chains wear out over time. With regular maintenance and lubrication, you can extend the life of your chain (learn more about drivetrain maintenance). Nonetheless, you will need to replace your chain eventually. A quick and easy way to check the wear of your bicycle chain is with a chain wear indicator. Most manufacturers recommend replacing a chain before it reaches .75% wear (or stretch as it's often referred to) for 5- to 10-speed chains. Wear exceeding .5% as measured with a chain wear indicator tool on 11- and 12-speed chains means it's time for a new chain!
Regular upkeep of your bicycle's chain will also increase the lifespan of your cassette and chainrings, which are typically more expensive to replace. We recommend replacing the chain with any new chainring or cassette installation as these components wear together. An old chain in use with a new cassette or chainring can result in skipping gears, poor shifting, and faster wear to your new components.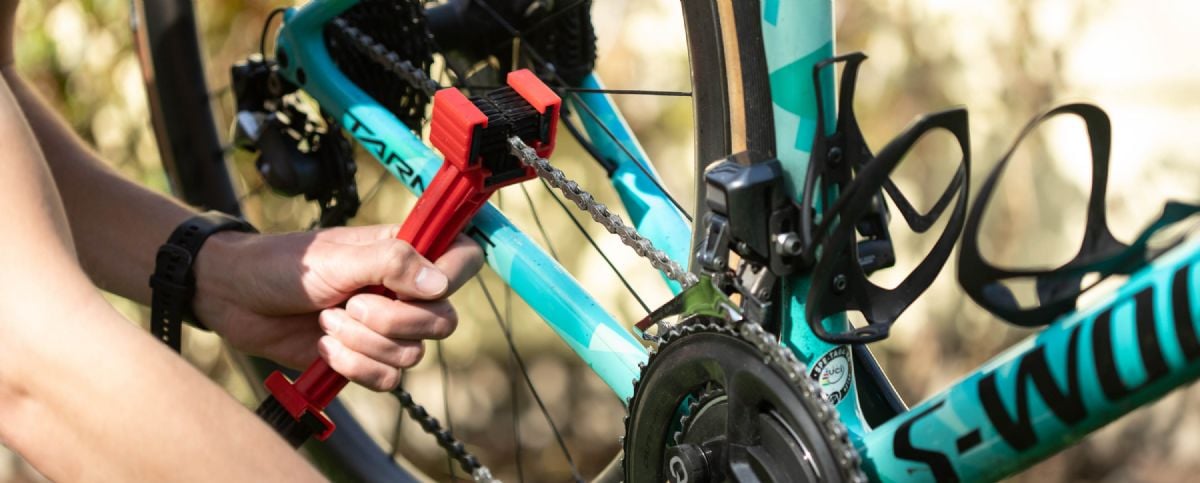 Choosing Which Chain To Buy
Which type of chain you choose is largely determined by the manufacturer of your drivetrain and how many cogs are on your cassette—also referred to as "speeds". The best way to ensure compatibility is to match your manufacturer and drivetrain speeds to the chain you are buying. For example, if your drivetrain is made by SRAM and your cassette has 12 cogs, you would want to purchase a 12-Speed chain made by SRAM.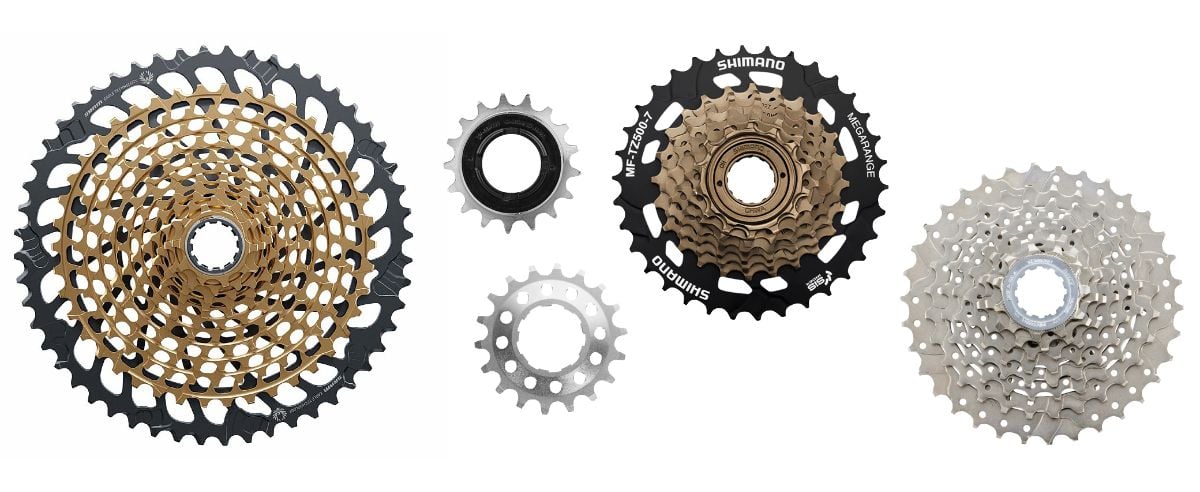 The most important factor in chain compatibility is the speed of your drivetrain. In order to increase the number of cogs on your cassette, manufacturers have made those cogs and the spacing between them narrower. This is why a 10-speed chain will not work with an 11-speed drivetrain, and 11-speed with 12-speed, etc. The only exception to this is for drivetrains pre-dating 9-speed. The widths of cogs on 6-,7-, and 8-speed drivetrains are wide enough to allow for compatible chain widths across those generations of groupsets.
Campagnolo chains are only compatible with Campagnolo drivetrains. If you are using Campy componentry, a Campy chain should be your first choice. There are a few aftermarket brands that offer Campy-compatibility, such as KMC, but unless it is expressly stated on the packaging we can't guarantee a match.
For mixed drivetrains, or "mullet drivetrains", that combine road and mountain bike componentry, it's most important to match the chain to the cassette and rear derailleur you are using.
Drivetrain componentry is becoming increasingly specialized and proprietary. While SRAM and Shimano have historically been somewhat cross-compatible, In principle, we recommend choosing a replacement chain from the same manufacturer.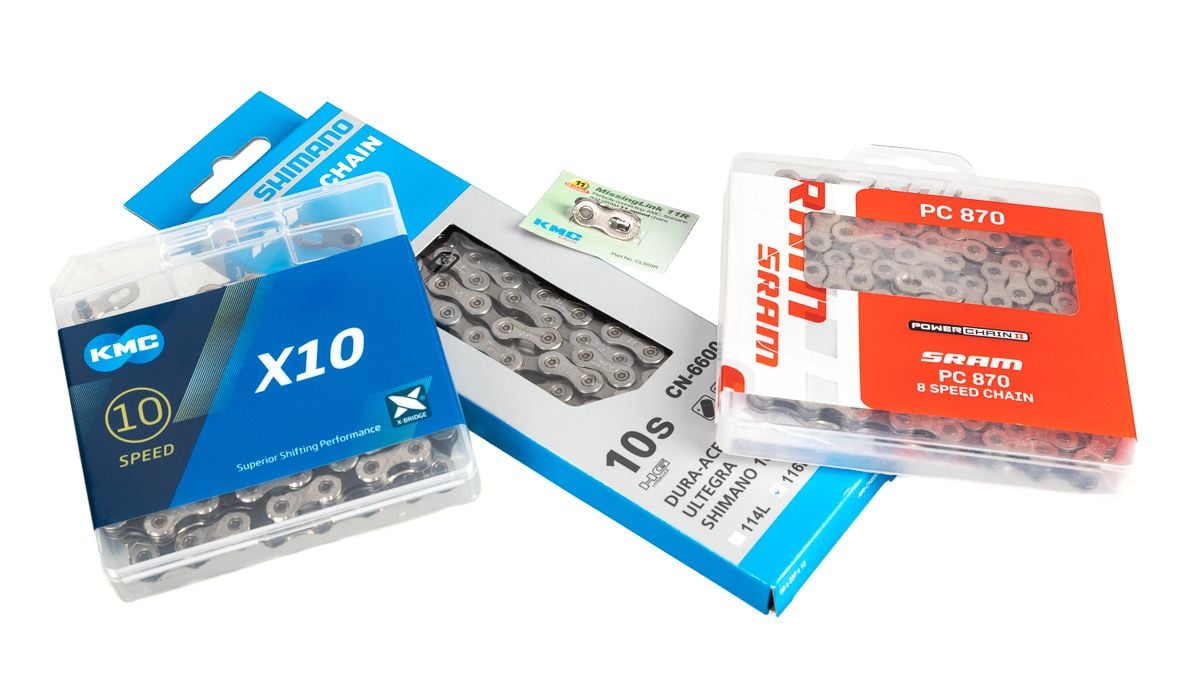 Here's some more specific guidance to help you find an appropriate chain in our selection.
Most modern bicycles are equipped with 12-speed drivetrains and just as these chains have become narrower (meaning they will not work with 11- or 10-speed drivetrains), they've also become increasingly proprietary.
SRAM was the first manufacturer to introduce 12-speed componentry with the top-of-the-line Eagle 12-speed mountain bike groupset. Since its release in 2016, this technology has trickled down to the rest of SRAM's MTB releases. Unlike earlier 11-speed SRAM drivetrains, the Eagle 12-speed mountain bike drivetrains are only compatible with SRAM 12-speed mountain bike chains.
SRAM 12-speed road chains use a unique "flattop" design to improve efficiency, increase the lifespan of the chain, and keep a quieter running drivetrain. This distinctive chain design is available in four different price points based on weight and durability. SRAM flattop chains are compatible with all SRAM AXS eTAP road groupsets.
Most recently, SRAM has released the Eagle Transmission drivetrain that also uses the flattop-style chain design specific to this series of components. These 12-speed flattop mountain bike chains are intended for use with all Eagle Transmission drivetrains and are marked as T-Type compatible.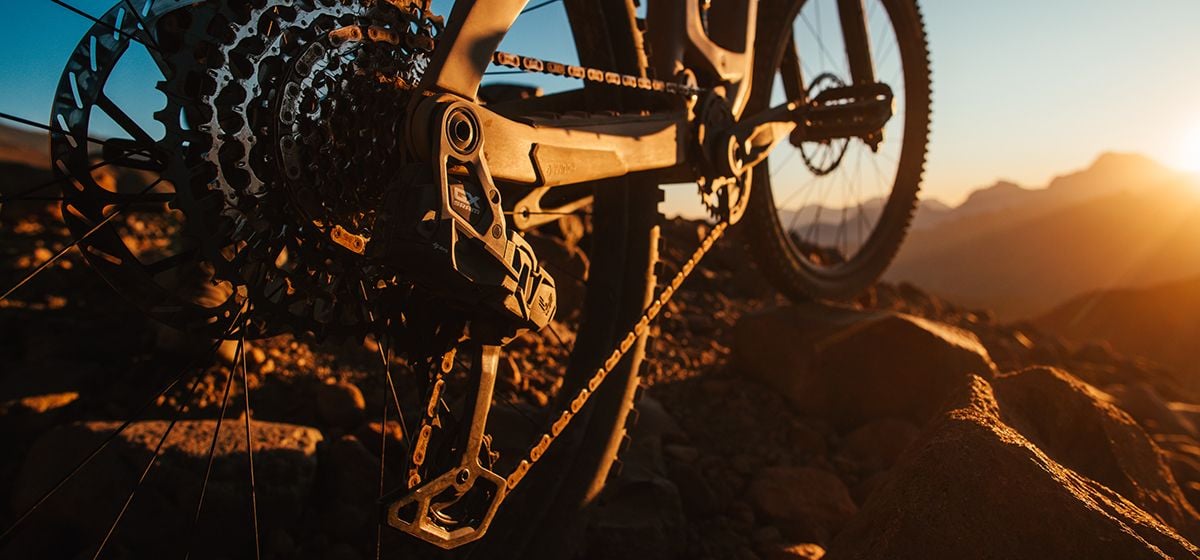 Fortunately for Shimano 12-Speed drivetrains, road and mountain bike are cross-compatible so long as you are using a Shimano chain.
Campagnolo also has its own proprietary 12-speed chains that work with its groupsets. While these chains are cross-compatible with one another, always keep Campy with Campy.
The only component manufacturer to introduce a 13-speed drivetrain so far is Campagnolo. Recently, they released the 1x13 Ekar group for gravel bikes. This group has a special Ekar 13-Speed Chain that is hyper-specific for its particular components.

KMC makes an ultra-light chain that is compatible with SRAM Eagle 12-speed mountain drivetrains, Campagnolo 12-speed road versions, and Shimano's 12-speed mountain and road groups.
Shimano and SRAM 11-speed chains are cross-compatible. If you have a Shimano 11-speed drivetrain, a SRAM chain will work fine and vice versa, however, manufacturers recommend pairing your components for optimal performance.

As with all Campagnolo drivetrains, you will need to use a Campy-compatible chain for Campagnolo 11-speed drivetrains
Shimano 10-speed drivetrains saw the introduction of asymmetric chain design (different links on the inside and outside of the chain) specifically for Shimano drivetrains. These Shimano asymmetric chains were designed to perform the best with Shimano cassettes and chainrings. It is still possible to use a SRAM 10-speed chain with a Shimano 10-speed drivetrain, however, Shimano recommends the use of their asymmetric chains. You can determine whether or not a 10-speed Shimano chain is asymmetric by the numerical designation in the product name. For example, the Ultegra CN-6701 10-Speed Chain is an asymmetric chain while the CN-6600 is not. If a Shimano chain name ends with "01", it is an asymmetric chain, but you only have to consider this if you are using a 10-speed Shimano drivetrain.
With the exception of asymmetric chains, any Shimano- or SRAM-compatible 10-speed chain can be used with any other Shimano 10-speed groupsets, and with any SRAM 10-speed groupset, regardless of manufacturer statements that their chains will provide optimal performance with their components.
Campagnolo 10-speed drivetrains are only compatible with Campagnolo or aftermarket chains.
Chains for 9-speed drivetrains work well regardless of manufacturer; Shimano, SRAM and Campagnolo.

For older bicycles that use either 6, 7, or 8-speed drivetrains, any 6/7/8-speed chain will be the correct fit for those systems.
Single-speed drivetrains will run the widest bike chain currently available. These chains are not designed to be shifted across multiple cogs or chainrings. They're most commonly available in two sizes 1/8-inch and 3/32-inch. Most single-speed bikes will use 1/8-inch gearing, however, some do use the nominally narrower 3/32-inch. An 1/8-inch chain will work with 3/32-inch cogs or chainrings, but 3/32-inch chains are too narrow to perform well with 1/8-inch cogs.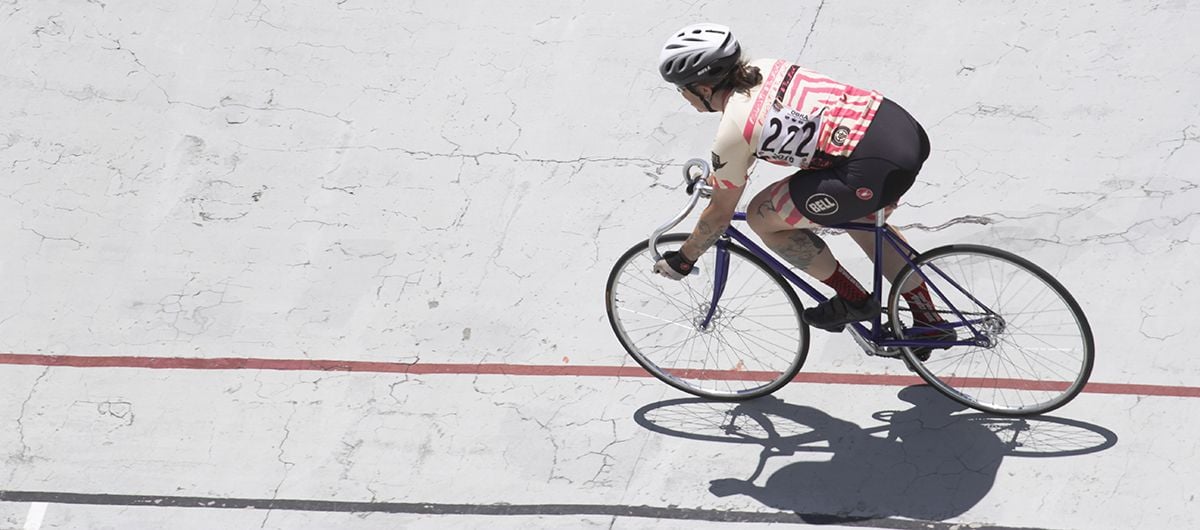 Bicycle technology is ever rapidly evolving and we are following it every step of the way. If you have questions about chain compatibility, or perhaps a brand we haven't mentioned yet, please contact our customer service team.
Email
[email protected]
Phone
1-800-682-0570
Hours:
Mon-Sat 8am-5pm PT
Our Most Popular Articles