8 Indications That You Need To Replace Your Tires
When is a good time to replace a tire? In this article, we are going to outline both regular and extreme indications that you might need to replace your bicycle tires.
1: Wear Indicator
Some smooth tires, like Continental's road lineup, include a wear indicator on the top part of the tire casing (where the rubber touches the road). This indicator looks like a little hole in the rubber that gets progressively more shallow as it starts to wear. Once this hole smoothes out entirely, it's time to pick up another pair.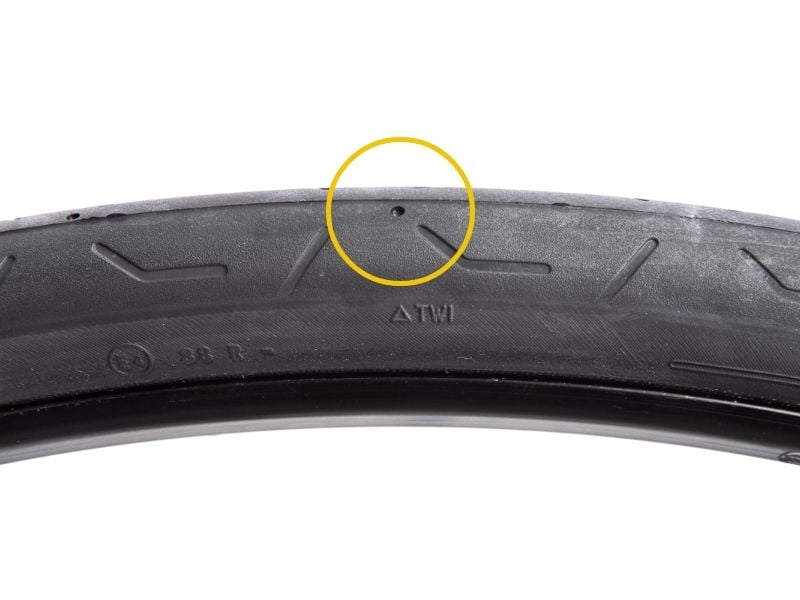 2: Miles
If you are someone who tracks their miles cumulatively, you could replace your tires after 2,000 miles for road training/touring tires and 1,500 miles for road racing tires. This number decreases, of course, with other disciplines like gravel and MTB, which require replacements with less miles due to the abrasive terrain they conquer. With tires that have more traction, you always trade off longevity. You cannot put a number on average mileage for off-road tires due to the variability of terrain and riding styles — it is best to decide when to replace based on tread wear in these cases. Keep in mind that heavier riders will wear out their tires a bit faster than lighter riders. The rear tire will generally wear out faster than the front, so replacing one tire at a time as it reaches the end of its useful life can save a bit of money.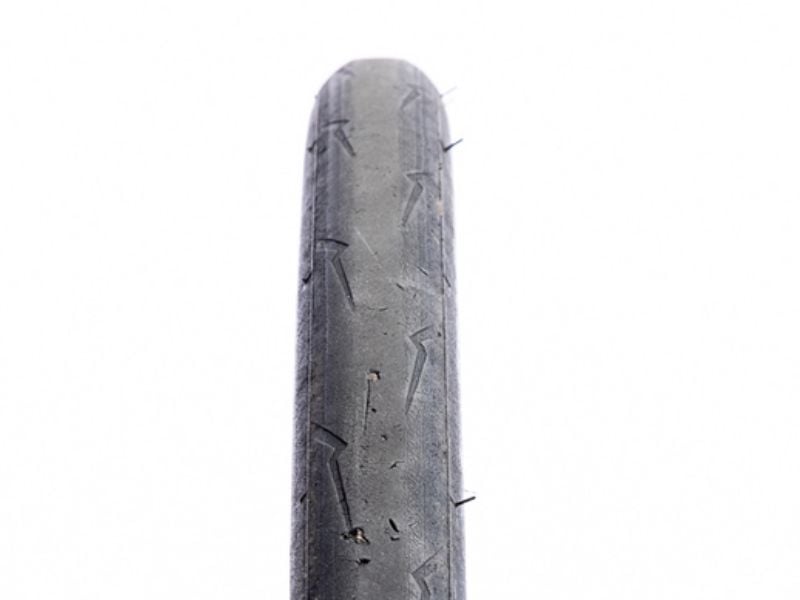 3: Tread Wear
An easy way to figure out if tires need to be replaced is based on the way the tread looks. For knobby MTB, cyclocross, or gravel tires, you can tell that the tires are worn when the knobs on the centerline are filed down to the point that they no longer provide traction. Not only does this mean that the tires perform worse, but it also makes the tire casing more vulnerable to puncture. Generally, the back tire gets this centerline tread wear more rapidly than the front tire (because the rider's weight is mainly on the back tire). This type of wear typically appears as flattened (rather than rounded) tread for smooth road and touring tires.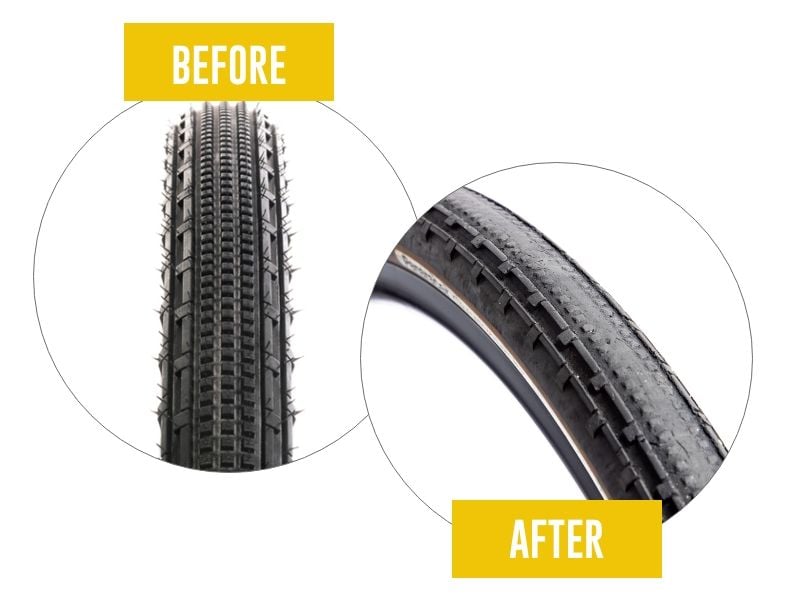 4: Feel
Many riders can 'feel' when their tires are starting to lose performance. An example of this would be if a rider noticed that their gravel tires were not carving into loose-over-hard corners as well as they used to, or a roadie who feels like their cornering ability has decreased on long, curvy descents. Tires are one of the most important parts of the bike, so do yourself a favor and throw on a new pair.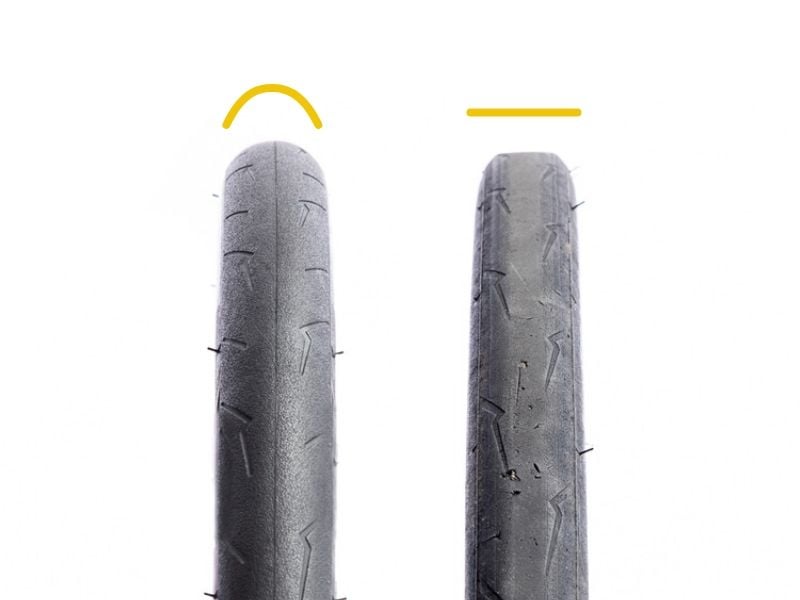 5: Gashes & Cuts
We encourage people to frequently inspect their tires for gashes and cuts from road or trail debris. These generally appear on the part of the tire that makes the most contact with the road, but occasionally they show up on the tire sidewalls. These cuts may not result in a flat tire, but they do, over time, make the tire more susceptible to punctures. In other words, these cuts create weak spots in the rubber that can rupture if they get hit in the same place again. With deep cuts you will be able to see the fibrous or cotton casing showing beneath the rubber. If you notice a lot of these cuts or a particular deep cut that exposes the casing, it is time to replace the tire.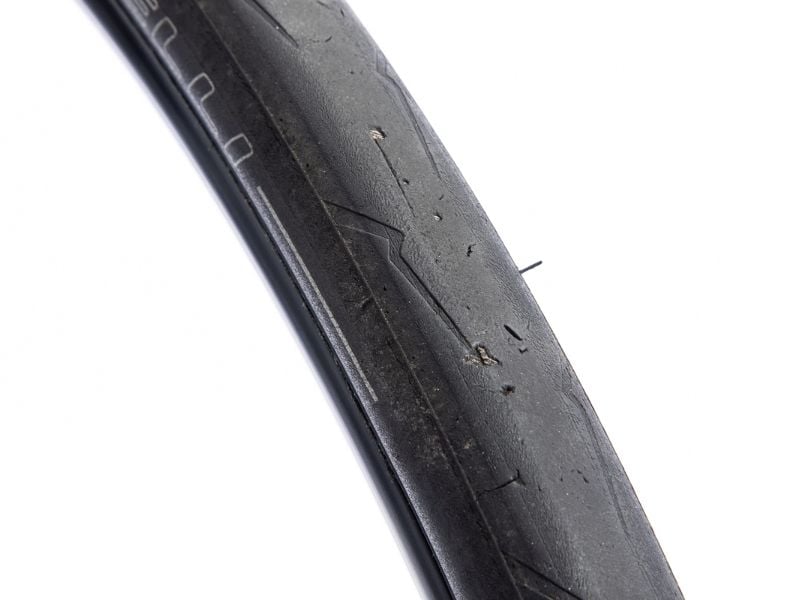 6: Casing Peeling
In some instances, the tire casing will start to peel on the sidewalls of the tire, generally from excessive use or being in the garage too long in the heat or cold. A peeling tire can fail catastrophically (via a sidewall blowout), so we strongly suggest that you replace it immediately after this occurs.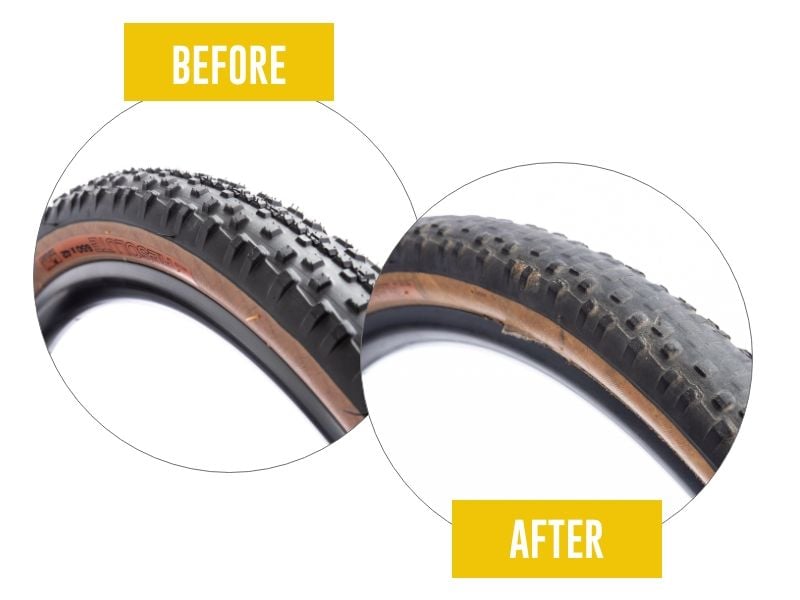 7: Bead Showing Through Casing
The tire bead is a wire that seals the tire onto the rim of the bicycle. Sometimes the rubber covering the bead gets worn to the point that the bead material (wire or kevlar) is visible. If this is the case, replace promptly, as an exposed bead can lead to a tire blowout.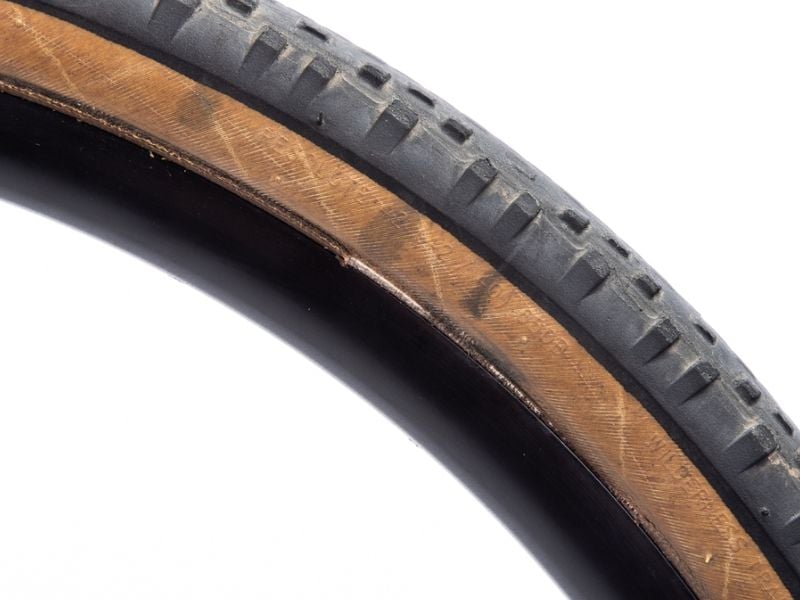 8: Dry Rot
Dry rot occurs in rubber after it gets old and the compounds start to break down. It looks like little cracks and usually first appears on the sidewalls of bicycle tires. There is no way to repair dry rot, so if you notice this, replace the tire immediately. Reluctance to do this may result in catastrophic tire failure - most likely a tire blowout.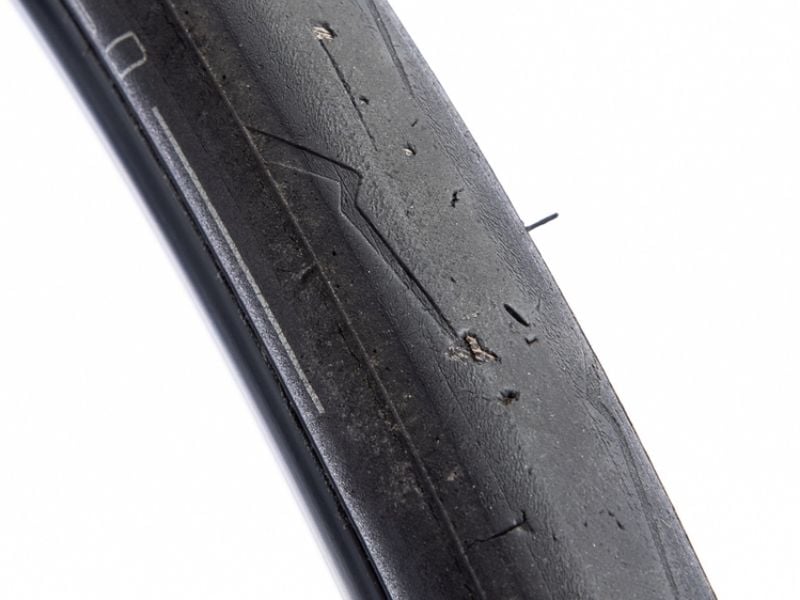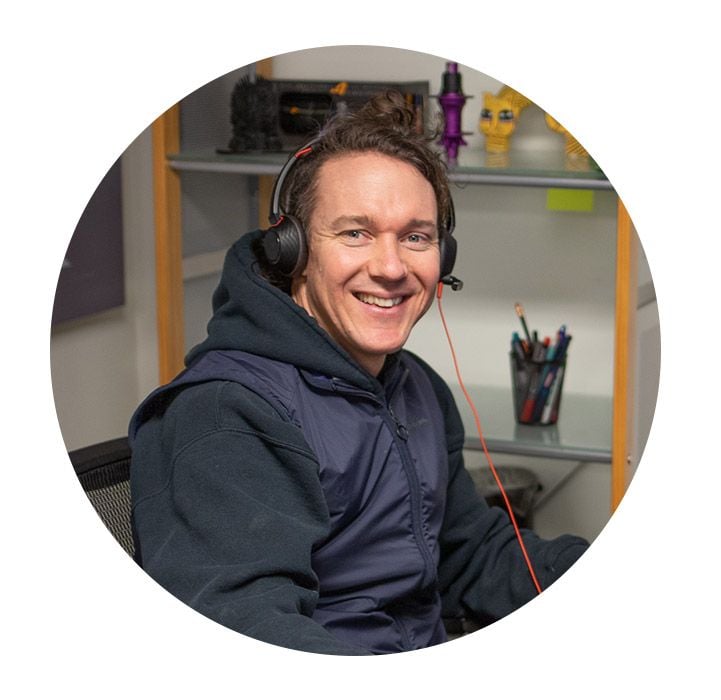 Our Most Popular Articles
About Us
All About Gear Inches
Bicycle Helmets
Bicycle Lights
Bicycle Pedals
Bike Fenders
Bike Seat Posts
Bike Stems
Chain Compatibility
Common Tire Sizes
COVID-19 Response
Cyclocross Tires
Grease, Lube, or Solvent?
How To Write A Product Review
Mountain Bike Road Tires
Older 26 Inch Tire Sizes
Older Tire Sizes
Privacy and Security
Racing/Performance Tires
Returns/Exchange Policy
Road Bicycle Wheels
Road Bike Handlebars
Shipping
Sidi Cycling Shoes
Tire and Tube Replacement
Tire Size Chart
Tire Tips
Tire Width
Tread Patterns
Tube Types