Park Tool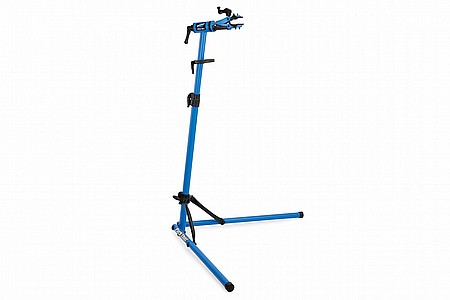 AWESOME REPAIR BIKE STAND! THANK YOU PARK TOOL
So glad I chose to purchased this Park Tool PCS-10.3 repair bike stand. It is supper sturdy and so easy to setup and put away after your done.
The stand is designed with a slight lean to clear the pedals when you spin it. All the adjust knobs / handles are easy to get your bike into the perfect fit and positions for you to work on your bike. The price is reasonable and it's worth it. Glad I made the right choice with so many stands out there in the market.
Thank you for your feedback.
1 of 1 customers found this review helpful.
The Original Clamp
The clamp is wide, four inches and holds round tubing well, without needing to clamp very tightly. I've read that clamping thin tubing can damage it, and to clamp the seat-post, when possible, The clamp is long and holds the bicycle away from the stand a bit further. The 100-5D clamp can be purchased for aero-tubing, and fits the Universal Top Tube Assembly. The stand is heavier than a portable, and doesn't fold up completely, but it has been the best first choice for me. There are several types of repair stands, and some frames probably shouldn't be clamped at all.
Thank you for your feedback.
Cycling Enthusiast
Oakland, CA
1 of 1 customers found this review helpful.
A huge improvement over my ancient Park chain cleaner
I finally used this for the first time, and love it. It assembles easily, operates smoothly, easy to fill without making a mess, and really gets the gunk off your chain. The wire brush is a welcome plus to get at the rear sprockets too. I had been using Park's previous iteration of this device, some 30+ years old. It finally gave up the ghost, and I think the new design is a big improvement. If you're still using a toothbrush and some rags, treat yourself and get this - you'll be glad you did. It makes chain cleaning quick and (mostly) mess free.
Thank you for your feedback.
1 of 1 customers found this review helpful.
A Must Have 4 Tubeless
This is actually a must have if you run tubeless tires. The valve core removal tools which typically come with tubeless tires and stems for tubeless are OK but often lack the durability you need over the long haul. Those tools are also quite small and not as easy to use if you're you have any issues with hand or finger manipulation as do many Senior cyclists like me. The Park VC-1 valve tool significantly reduces this dexterity challenge.
Thank you for your feedback.