Mountain Bike Road Tires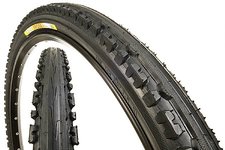 Also known as slick or semi-slick mountain tires, mountain road tires are a great way to transform your mountain bike into a versatile urban explorer. Traditional knobby mountain bike tires are not designed for road use, and not only will pavement wear them down more quickly than dirt, but they roll much slower on the road than slicker tires, too. Slick and semi-slick mountain tires feature a smooth tread on a tire with mountain tire dimensions. They're often used by mountain bike racers racing short track (a discipline in which mountain bikes are raced on courses containing pavement, gravel, packed dirt, and man-made obstacles), as well as by commuters and fat-tire cruiser riders.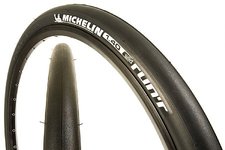 Depending on how you intend to use your tires, you may want to pick a tire with more or less tread. If you're retrofitting an old MTB to commute to work on pretty smooth roads, a narrower, slick tire like the Michelin Wild Run'R 26 Inch Tire or the Continental Grand Prix 26 Inch is a great choice that'll have you speeding across the pavement. If your roads are less than friendly, consider a heavy-duty puncture-resistant option like the famed Schwalbe Marathon Plus 26" Tire (HS 440), long beloved of tourists and urban utility riders. If you ride on a mix of road and dirt, look for a tire with knobs on the shoulders to keep you steady when cornering on rougher surfaces. The Kenda K847 Kross Plus 26 Inch Tire is a popular option, and the Michelin Country Rock 26 Inch Tire's low-profile knobs will help you grip in dirt without slowing you down too much on roads.
One note of caution. The tires mentioned in this article are 26"/ISO 559 tires, but not all mountain bikes have 26" wheels. Fortunately all modern mountain bike tires will have size information marked on the sidewall of the tire. If the tires you are replacing are marked 29" or 27.5", then there are other slick options that will fit your wheels. See our article on
Common Tire Sizes
for more information. Another great resource is
Our Tire Finder. Just select the appropriate wheel size and check the applications you're interested in.
Need a hand with tire selection or have any questions or comments? Call us at 1-800-682-0570 or email us at [email protected].
Our Most Popular Articles
About Us
All About Gear Inches
Bicycle Helmets
Bicycle Lights
Bicycle Pedals
Bike Fenders
Bike Seat Posts
Bike Stems
Chain Compatibility
Common Tire Sizes
COVID-19 Response
Cyclocross Tires
Grease, Lube, or Solvent?
How To Write A Product Review
Mountain Bike Road Tires
Older 26 Inch Tire Sizes
Older Tire Sizes
Privacy and Security
Racing/Performance Tires
Returns/Exchange Policy
Road Bicycle Wheels
Road Bike Handlebars
Shipping
Sidi Cycling Shoes
Tire and Tube Replacement
Tire Size Chart
Tire Tips
Tire Width
Tread Patterns
Tube Types