Everything You Need To Know About Cycling Crater Lake National Park

Before we go any further, let's get one thing out of the way: At just 33 miles, looping Crater Lake — Oregon's lone National Park — on a bike isn't a particularly long ride.
But with an elevation profile that rollercoasters between 6400 and 7600 feet (6000 if you start at Mazama Campground), three multi-mile climbs that will test both leg and lung, unpredictable weather conditions that can change in a flash, and limited spots to procure water, the famed rim road doesn't come easy or without some advanced logistical planning.
The rewards — stunning views of the park's famously blue waters, the satisfaction that comes with adding one of the West Coast's most iconic road rides to your personal cycling palmare, and a Strava-breaking selfie or two — more than justify the effort and time required to pull it off.
If you've ever harbored a desire to pedal Oregon's highest paved road or just wish to return with additional insights so you can do it again but better, read on below to learn everything you need to know about cycling Crater Lake National Park.

What Is Crater Lake National Park?
The fifth-oldest US national park, Crater Lake National Park was established in 1902 under the Theodore Roosevelt administration. The park's primary feature is its namesake caldera, which reaches a depth of 1,943 feet, making it the deepest lake in America and the ninth deepest in the world.
The basin was formed more than 7,800 years ago under cataclysmic conditions when Mount Mazama, a 12,000-foot volcano erupted in spectacular fashion and collapsed in on itself. Folkloric accounts from the native Makalak people speak of an epic battle between spirits — mountain vs sky — but a more lighthearted comparison might be the fall of Asgard in Thor: Ragnarok (only without the towering fire god Surtur, hewing the mythical city to pieces with a flaming sword. Yes, I know, I have a rich imagination fed by pop culture and movies. No, it's not a problem.).
Over the next 700 years, the resultant crater filled to its current level with direct precipitation and snowmelt. Because Crater Lake was shaped without inlets, the water is largely free of minerals and sediments, which helps account for its striking shade of blue.
The result is a kaiju-sized bathtub of sorts, ringed in every direction by lush forests, rugged mountain peaks, and even a patch of high desert (I always like to picture Godzilla cannonballing into the summer waters because there's that imagination again).
Today the park attracts more than 750,000 annual visitors from around the globe, who come to hike, camp, swim, ski, snowshoe, photograph, explore, and yes, bike, the park's 183,224 acres.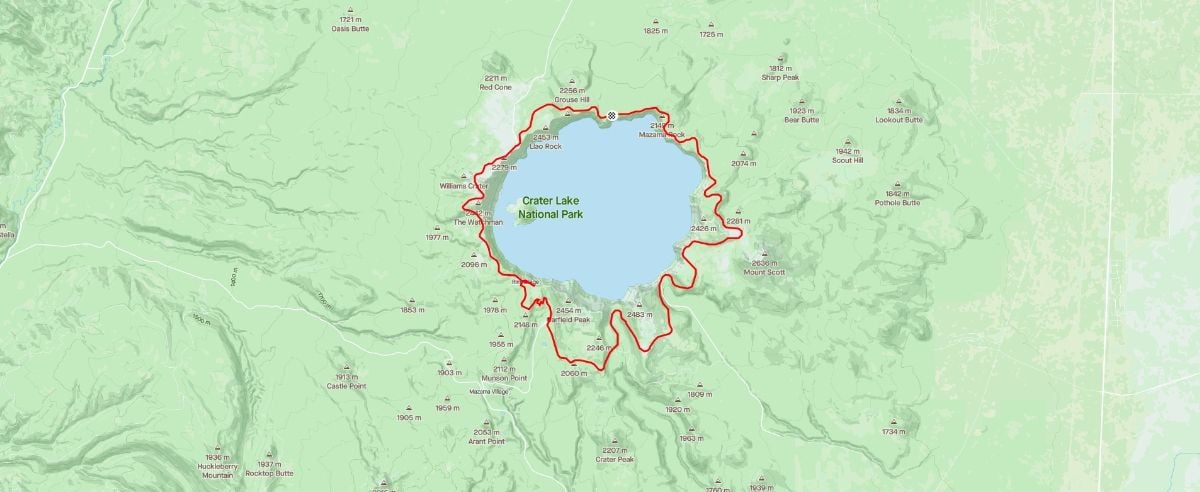 Where Is Crater Lake National Park?
Crater Lake National Park is located in southern Oregon, about 60 miles north of the California border. Nearby cities and towns include Ashland (88 miles), Medford (65 miles), Klamath Falls (57 miles and home to the nearest Amtrak station), and Chemult (42 miles). By car, it is a 4 or 5-hour drive from Portland (231 miles) and 7 from San Francisco (398 miles).
Lodging in the park includes Crater Lake Lodge, which is open year round and overlooks the lake at the Rim Village (the heart of the park), and Mazama Campground, which has 214 tent sites and a small store and restaurant — it opens in early May and closes in late September.
What Is The Crater Lake National Park Rim Road?
Winding around Crater Lake in its entirety is a 33-mile, two-lane paved road with a surface that is smooth and fast (but not without the occasional pothole or crack). Dotting it on all sides are scenic pullouts (30 in total) that afford photo opps, chances to catch your breath or eat a snack, and gaze at the park's natural splendor.
West Rim Drive, the stretch between North Junction (about 10 AM/PM if you think of the lake as a clock face) and Rim Village (7 AM/PM), is open all year and is the most heavily trafficked part of the park but it is also the smoothest as it was entirely resurfaced in the summer of 2016.
East Rim Drive, by comparison, is open as conditions permit from May through September, after the snow has receded and plows have cleared it (more on this below).
A half-mile spur that branches off the rim road near Mount Scott rises up to about 7,800 feet and is the highest ~paved~ road in the state. While not required to complete the ride, it is highly recommended!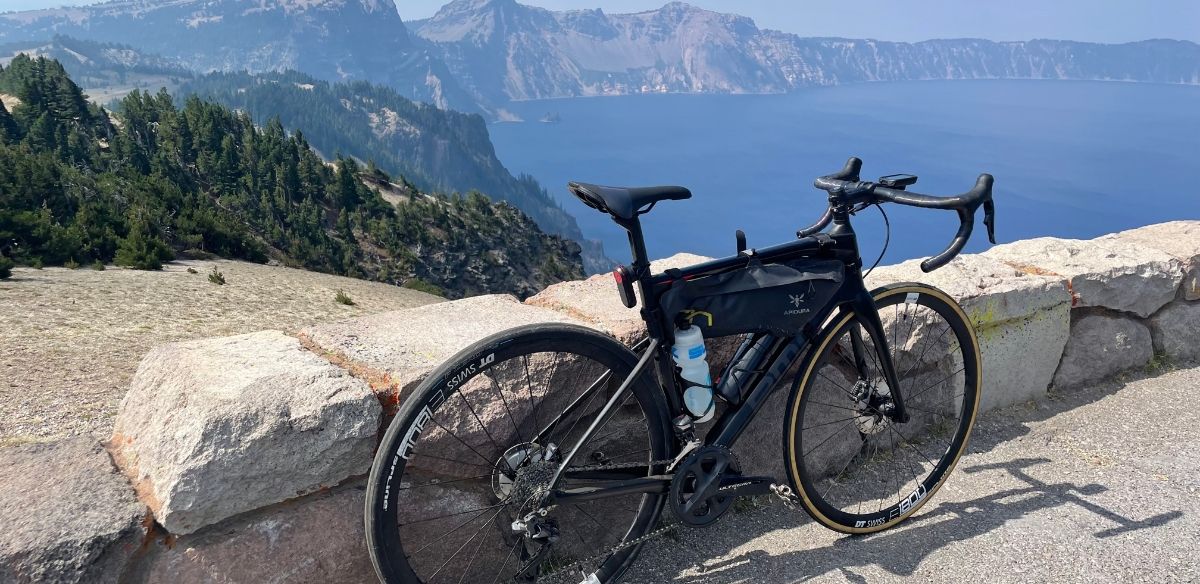 What Sort Of Bike Should I Ride At Crater Lake?
As the surface is entirely paved, most cyclists ride a road bike at Crater Lake. Given the extended climbs and twisty descents, a 10, 11, or 12-speed drivetrain with a modern gear spread on your cassette (11-30-something) will afford you flexibility to hammer up the heights or sit back and grind out the gain.
Touring, MTB, and gravel bikes will carry you around the lake just as well, but swapping out your tires for something with a slicker tread pattern will get you there faster and more efficiently. Recommended rubber sizes include all the usual suspects like 25, 28, and 32mm for road bikes, but to each their own.
While single track options exist outside of the park, trail riding inside it is currently limited exclusively to Grayback Drive, which "provides eight miles of unpaved and vehicle free roadway" on the lake's southern side.
Potential road hazards, regardless of surface, include wildlife and rock slides, so it's best to be hyper vigilant and aware of your surroundings at all times.
What Should I Pack For My Crater Lake Ride?
With limited services along the rim road (and no mechanical support) and a ride length of anywhere between 2 and 4 hours depending on how fast you go and how often you stop, you'll want to come prepared with everything you need to ride self-sufficiently.
This includes ample nutrition (bars, gels, chews, etc. etc. etc.) and water (more on this below), an extra layer such as a vest or arm warmers, eyewear, sunscreen (the sun is surprisingly strong at these elevations), and lip balm.
At a minimum, your roadside repair kit should include a spare tube (or two), patch kit, hand pump> or CO2, tire lever, boot, multi-tool, and any other tubeless accessories you might want if that's what you ride. It also doesn't hurt to toss a spare tire in your frame bag or jersey pocket just in case you are beset by something more serious like an unpatchable hole or sidewall blowout.
While navigation is relatively straight-forward, a Garmin or GPS computer is also recommended for recording your ride and uploading it to Strava (cue the shameless reminder that, yes, you should join the BTD Strava club page!).
Where Should I Start My Ride At Crater Lake?
Rim Village and Mazama Campground are the obvious starting (and finishing) points for most riders, but the scenic pullouts, especially the ones on the northern side of the lake along East Rim Drive like Llao Rocka and Pumice Point, present alternatives overlooked by most.

The chief benefit to starting at one of these pullouts is tied to water management because it puts the best place to refill your bottles (Rim Village) at about 2/3rds of the way through your route.
Should I Ride Clockwise Or Counterclockwise?
"To clockwise or counterclockwise, that is the question." -- Hamlet (probably, if he wrote about bikes instead of familial and dynastic conflict)
The majority of cyclists loop Crater Lake clockwise and the park's official bike-only days in September do the same for two simple reasons: Visibility and safety. Being on the inside of the rim road affords slightly better views of the lake below and buffers you from some of the steep cliffs and drop-offs that hug the outer edge of the rim road (don't look down!).
That said, the difference is minor and more one of personal preference. After riding a few miles counterclockwise, I could note no real difference between the directions. The two stretches of road where it is perhaps more pronounced are the West Rim Drive and the climb up to Mount Scott along the loop's southeastern corner.
Note that park roads do not have bike lanes or shoulders so you'll want to exercise caution along narrow corridors and blind curves. For this reason, we strongly recommend riding with front and rear lights at all times and regardless of the weather.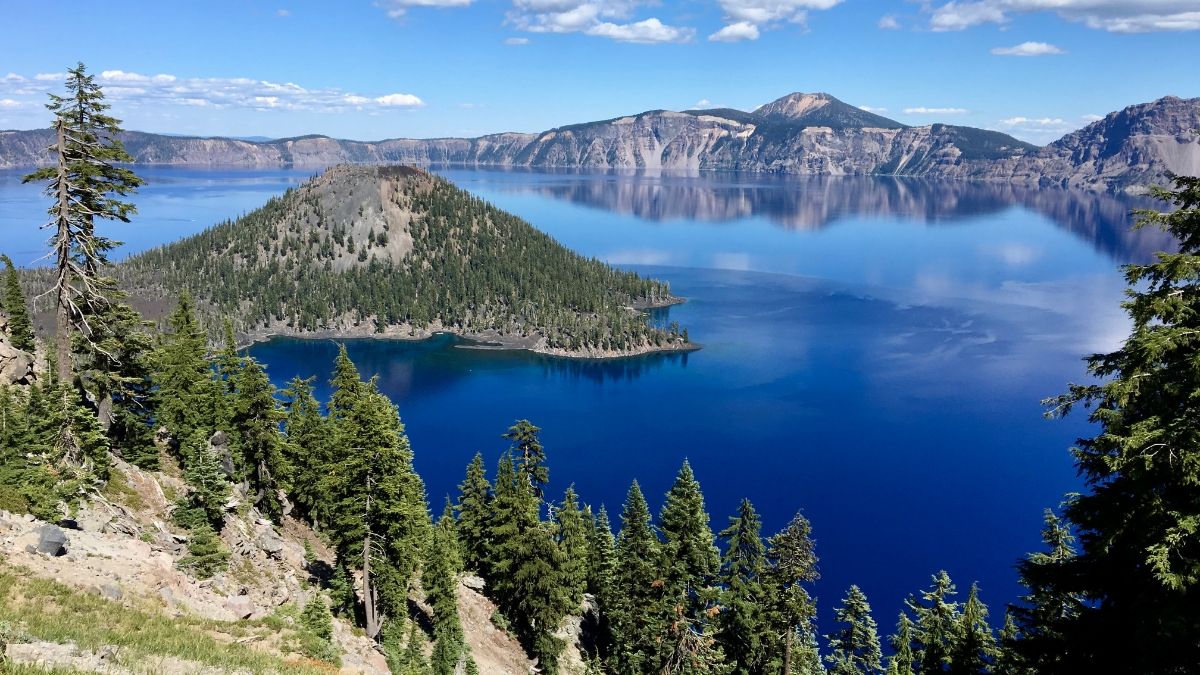 Where Can I Get Water At Crater Lake?
While options for rehydrating at Crater Lake are limited along the road, two 750 mL or 26 oz. bottles will last most cyclists through the duration of their ride (and two 950 mL Fly bottles from Elite will definitely get the job done). If your bike supports a 3rd bottle cage, by all means go ahead because you won't regret bringing it along. In lieu of that, a hydration pack will also expand your water reserves.
Having said all that, the elevation, sun, and summer heat can zap even the strongest of athletes quickly and unexpectedly so it's good to have a plan for sourcing more in a pinch if needed.
To this end, there are 3 reliable water sources but only two are on the road itself: The fountains at Rim Village and the fountains at the Steel Visitor Center (where West Rim and East Rim Drives meet). The third, at Mazama campground, requires 8 miles of out-and-back cycling. (A 4th exists at Lost Creek Campground but that too requires an out-and-back (10 miles) and it has been closed the last two summers for reasons related to COVID-19.
(Truly self-sufficient types might even be able to catch some run-off from snowmelt along the southeastern corner, but you'll need a purifier or tablets to make it potable.)

What Time Of Year Should I Bike Crater Lake?
In the winter, more than 43 (FORTY! THREE!) feet of snow turn Crater Lake into a winter wonderland. While the snowpack generally starts to recede as the calendar turns to spring, it's not unheard of for it to linger into May and June. This leaves cyclists a modest window — from about April through September — each year to get their miles in.
Complicating things are Oregon's fire season, which in recent years has intensified due to the effects of climate change. While such fires are impossible to predict, nearby conflagrations can blanket the park in smoke, reduce visibility, and just make an unfortunate mess of things.
Generally speaking, though, the best months to cycle Crater Lake are June, July, August, and September, when the park actually hosts not one, but two "Ride The Rim" bike-only weekends in which the East Rim Drive is closed to car traffic and checkpoints along the route provide nutrition and mechanical support (note these were cancelled in 2021 due to COVID-19 precaution but are expected to return in 2022).
As a general rule, crowds thin on non-holiday weekdays in the early morning and late afternoon so consider scheduling your ride accordingly.
Due to the park's elevation, temps can dip dramatically — on my last trip, the overnight temperature on a mid-August night fell to 48 degrees — so you'll want to come prepared with a variety of all-season layers just in case.
For the latest weather updates, be sure to check the park's official conditions page.
How Can I Extend My Crater Lake Ride?
As we noted at the outset, the Crater Lake rim road itself is only 33 miles, which strong cyclists can knock out in as little as 2 hours (don't worry, I am not one of them). But if you want to build and map out longer routes, there are a multitude of options that make doing so easy.
The simplest one is to loop the lake twice — maybe clockwise, then counterclockwise. Or vice versa. Similarly, riding from Mazama Campground, where most people stay, adds another 8 miles and about 500 feet of gain.
Probably the most common extension is leaving the park and riding north to Diamond Lake, circling its 12 miles (mostly flat), and then returning. When done with the rim road loop, this turns into about a 75-mile ride and adds another 1200-1800 feet of climbing. (Don't forget to bring your original proof of entry or you'll be charged $15 to reenter the park!)
More ambitious out-and-backs include Klamath Falls or Chemult, and we've even heard of people riding from Medford or Ashland and then returning on the same day. At roughly 150 miles, those are rides that will require monster efforts and additional planning. Of course, if you're bikepacking or touring, they can be broken into smaller, more manageable pieces.
For those desiring a little more structure and something of a safety net, the annual, midsummer Crater Lake Century offers a pair of supported routes (62 and 100 miles, respectively). You can find the GPS navigation files for those here.
Final Thoughts On Cycling Crater Lake
Whether you're an accomplished roadie or just finding your way to the sport, there's no doubt that cycling Crater Lake is a bucket list accomplishment. And with a little planning and training, pretty much anyone can do it. We hope this guide helps in your efforts and we hope to see you on the rim road in the future!
Selected Resources For Cycling Crater Lake National Park
Crater Lake Homepage
Bicycling At Crater Lake
Crater Lake Facebook Page
Les Savy Trav's Strava Ride
Official PDF Map
Crater Lake Wikipedia

Travis Greenwood is a writer and cyclist based in Portland, Oregon. His editor once called him "the Hedda Hopper of Internet Cats." Don't worry, he had to look her up too.
Our Most Popular Articles