GP5000 TdF Tire Review

Everything You Need To Know About The GP5000 Tour de France Limited Edition Road Tire
Over the past two weeks I've had the opportunity to test out Continental's new GP5000 TdF LTD tires. Here's what I learned.
But First, What And Where I've Been Riding
In the Pacific Northwest we have our fair share of wet and cold months. But once the nice summer weather starts, we try to get out and take advantage of all the amazing road riding available to us.
This time of year, I'm usually riding my road bike, a BMC Roadmachine 02 One, so that's what I put these tires on. The cream sidewalls pair well with the matte black frameset and Di2 components, giving a decidedly modern bike a retro aesthetic. It gives the bike a more classic look than it would normally have.
Installation was surprisingly easy on the DT Swiss E 1800 Spline wheelset. One thing to remember when installing these tires with their cream sidewalls is do a quick cleaning of your wheels before mounting them (pro tip: wear mechanic's gloves if you have them!).
As far as riding goes, in a normal year, this would be the time for long weekend group rides and weekly racing. Since the lockdown and ensuing social distancing I've been focusing more on getting out and moving my legs, being safe. We're lucky here in Portland to have access to quiet, rural road/gravel riding either east towards Mt. Hood and the Gorge or to the west along the aptly named West Hills.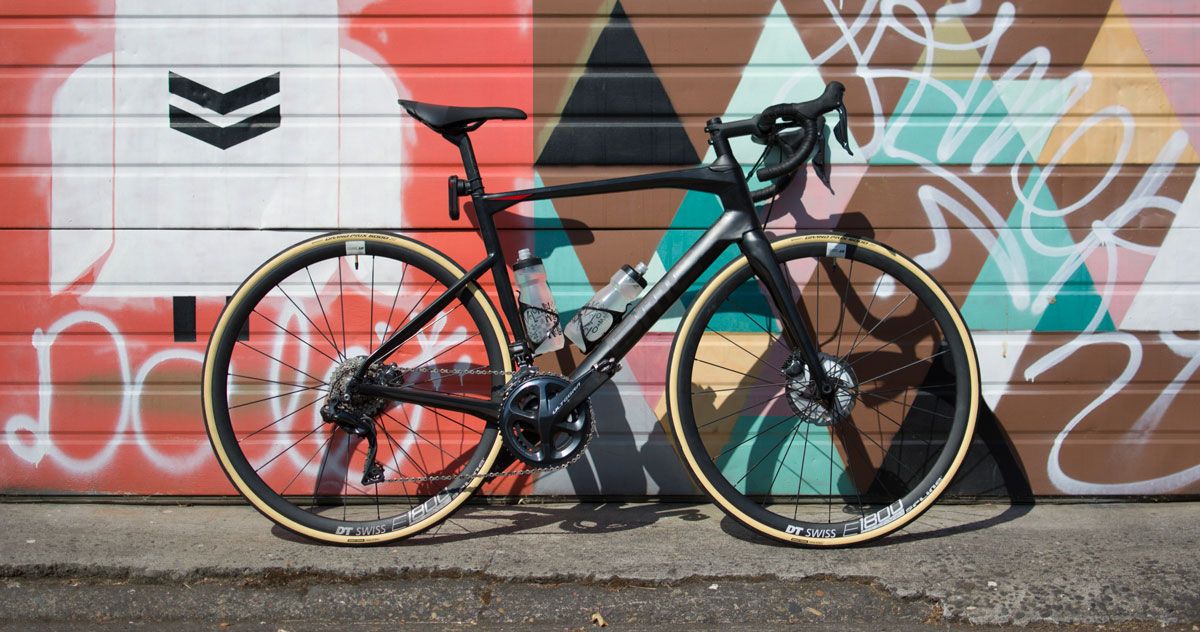 The Tires: GP5000 Tour de France Limited Edition
Just in time for the restart of the pro racing season in Europe, Continental has released a special edition of their recently updated performance road tire, the GP5000 TdF LTD. Available exclusively in 25mm width, they now sport a distinctive cream sidewall.
The eye-catching styling harkens back to a time when cotton walled tubulars were ubiquitous not only in the peloton but on high performance bikes generally. The styling strikes a balance between modern performance and classic appearance all without sacrificing the convenience of conventional clincher tires.
About The GP5000: The Tech
With the GP5000, Continental set out to improve their "the best allrounder" road tire with increased puncture protection, fast rolling and comfortable ride, along with out of the box usability. The two structural updates from the prior iteration are the Active Comfort casing and Lazer Grip tech used to produce the tread surface.
Active Comfort casing is said to improve the smoothness of the ride and absorbed road vibrations. While they certainly ride very smooth, soaking up road imperfections, it has been a while since I rode the GP4000 S II. So, it's hard to say how much more comfortable they are with the new casing. Regardless, they provide a very comfortable ride and float over moderately rough pavement.
The Lazer Grip surface treatment is much more novel. Continental has managed to create a pre-scuffed, broken-in surface right out of the box. As many riders will know, new tires need a bit of riding to get to their optimal grip level. Pavement will wear in smooth, unridden rubber into a slightly rougher surface finish that interfaces with the road more effectively.
This process doesn't take long but is important to keep in mind for the first few rides on new tires. Even then, the extreme shoulders of the tread might not see pavement for a while. No one wants to think about whether there is still a smooth, slick section left on their tire as they are leaning into a turn at 40 mph.
Conti claims to have solved this issue by improving the precision of their mold technology to produce a rougher surface across the whole face of the tread directly from the factory. This is probably the most notable and distinctive difference between the GP5000 and Continental's other offerings. With this review happening in the dry summer roads of Oregon, I never really felt that grip was an issue. But I can imagine this would inspire a bit more confidence if I was installing a new tire in wetter/colder months.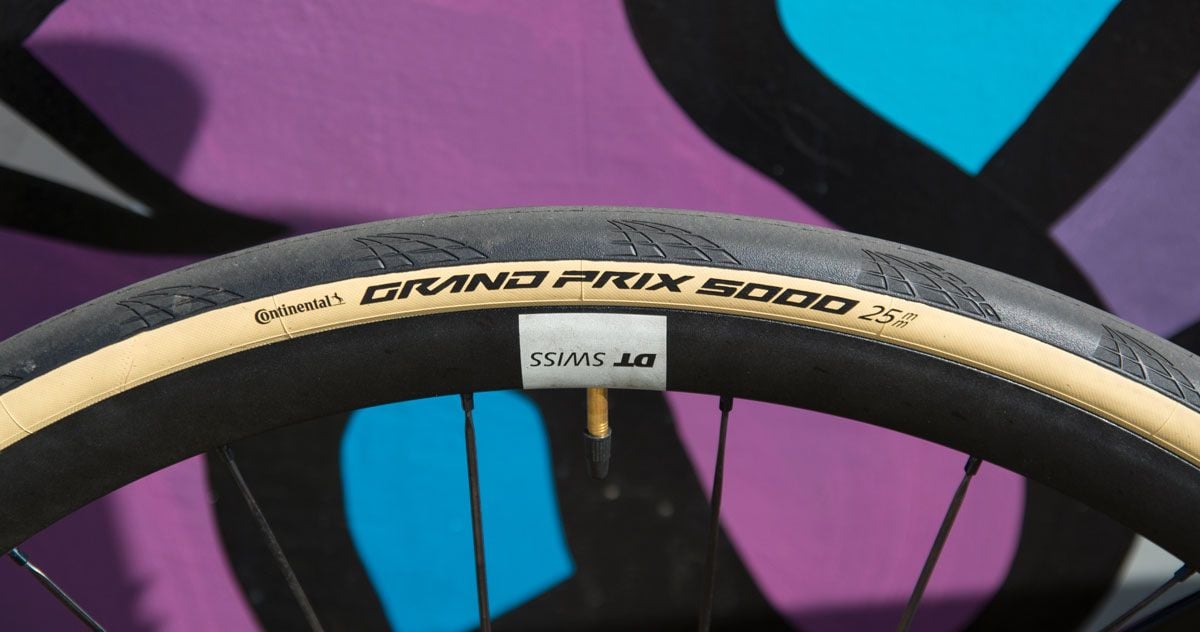 On The Road Performance: Gatorskin Vs. GP5000
A few months back I reviewed Continental's Gatorskin Black Edition tires. Switching over to the GP5000 offers an opportunity to compare the two. As with anything in cycling there are tradeoffs, most notably between performance and durability.
The Gatorskin has been a great tire for training these last few months. While I'm always prepared for a flat, I haven't had to worry about them as they seem fairly indestructible. But with that does come a bit of a tradeoff in terms of weight but more critically when compared to the GP5000, ride quality. The GP5000 casing is much more forgiving over rough pavement and confidence inspiring when cornering. I suspect it's better able to conform and move under load than the Gatorskins.
As we transition into fall, it's also been my experience that the grip of the Black Chili compound on cold and wet pavement makes the GP5000 and the more durable Grand Prix 4-Season superior wet weather tires when compared to the Gatorskins. But again, there's always a balance to be struck, and you'll want to tailor your choice of equipment to your specific riding style and conditions.
Ride Quality And Performance
At only 225g, the GP5000 TDF tire not only makes my bike look sharp, but they reduce rotational mass at the rim. The light, supple sidewalls make the bike feel lively, fun, especially when whipping around corners. This liveliness makes climbing at least feel faster when compared to a slightly heavier tire. But I find dynamic performance of the tires can most clearly be felt on technical descents where forces of cornering and braking are blended.
To prevent flats, the GP5000 uses Continental's proven Vectran Breaker band between the casing and the tread. It's not magic, it's not going to stop an errant roofing nail from giving you a flat. But I didn't get any flats and it definitely stopped a few shards of glass from working their way through to the tubes. Particularly with performance road tires, puncture protection barriers are best used in conjunction with diligent inspection and cleaning after rides. All things considered, I found them to be tougher than other "race" tires I've used.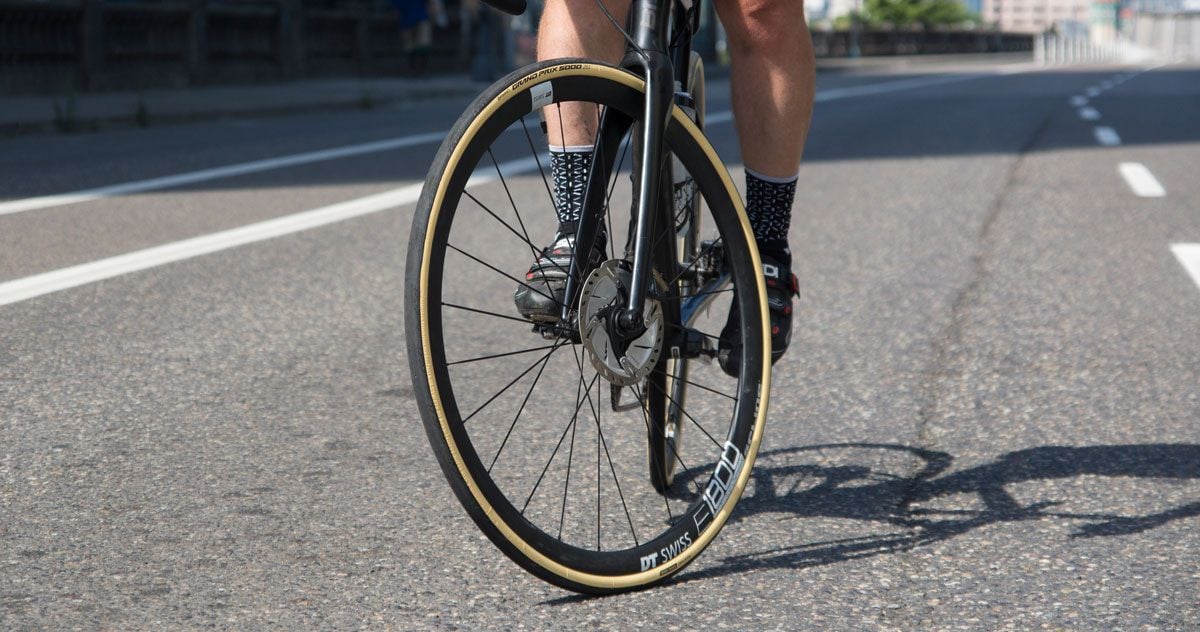 Keeping Them Clean
And speaking of maintenance, the bane of all classic cotton/cream sidewall tires is the combination of brake dust and dirt that can make a bike look dirtier than it really is. In the past I've used degreaser or isopropyl alcohol to try to keep tire sidewalls looking clean. But lately I've found that simply washing my wheels regularly with soapy water works best and is gentler on the rubber. Due to the constriction of these particular tires, where the tire casing is fully protected in an impermeable rubber layer, they clean up very nicely with just a simple wash.
Final Thoughts
Overall, I really like these tires. The GP5000 TdF LTD continues to exemplify the "great all-around performance road tire" theme that Continentals' Grand Prix series are known for, and now look pretty smart in this limited edition cream color.

Our Most Popular Articles