Bicycle Lights
Bicycle lights are an important safety feature if you ride at night, dawn, or dusk, or in inclement conditions such as rain or fog. They're available in a wide variety of bright, lightweight, efficient configurations, and with many jurisdictions requiring their use after dark, there's no excuse not to have a set. Prices are wide-ranging and different lights are better suited for different uses. Here's a guide to help you see and be seen.
Light Source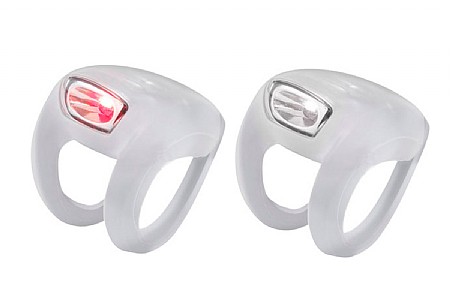 Pretty much all bike lights these days use Light Emitting Diodes, or LEDs. We're all familiar with many of their various applications these days (they're on all the chargers plugged into your wall, your TV remote, your alarm clock, your car's dash, and much more). LEDs have become the light source of choice for bike lights for several reasons:
They achieve full power pretty much instantly after being turned on. No wait time for full brightness; just click and ride.
They produce less heat than other options, and can therefore be housed in smaller and lighter-weight packages. They also take longer to burn through batteries, with less wasted energy.
They tend to be more durable than alternatives.
Because LED technology is used for so many applications, their brightness has improved by leaps and bounds in recent years. A few years ago, LED bike lights were pretty bright—now they're as bright or brighter than any of the alternatives. There are LED lights out there that emit a whopping 4500 Lumens—way more than you'd ever want or need on your bike. In fact, no one really makes bike lights anymore that use non-LED technology. It's that good!
We sell a wide variety of LED lights to suit every kind of riding, from urban commuting to 24-hour endurance trail rides.
Battery-Powered vs. Rechargeable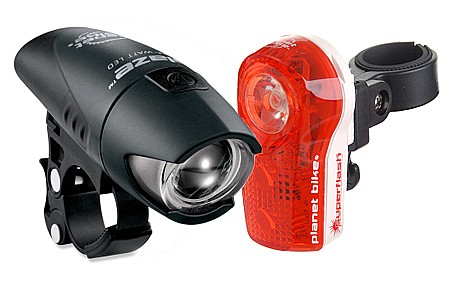 Rechargeable bike lights have quickly become the standard. Back in the day, rechargeable lights had short burn times and required bulky battery packs strapped to your frame. These days, simple commuter lights are available with rechargeable Lithium-Ion batteries integrated into the small lightweight housing, and they have run times of up to 24 hours or more in certain power modes. In other words, you can commute with these lights for a week or more and then just plug them into the USB slot on your computer for a workday—and you're set for another week. USB recharging is common in current models, though some lights recharge via standard wall outlets.
Some extra-bright lights, like those designed for nighttime trail riding, have separate battery packs that can be replaced with fully-charged packs as needed to extend run time. These external batteries can be mounted on your frame or carried in your jersey pocket.
Of course, lights powered by AA, AAA, or watch-sized batteries are still available as well.
Check out all of our battery-powered lights here and our rechargeable lights here.
Brightness
Light brightness is generally measured in Lumens, which indicate the "amount" of light emitted by a light source. Of course, the utility of a light is affected by more than just the strength of the light's output. The way the light is focused makes a difference, too, as well as power usage and flash or steady modes, and so on. Brighter lights tend to be more expensive and may burn through battery powers faster.
How bright do you need your light to be?
Bright.
If you're a fairweather commuter or recreational rider, a simple, inexpensive, and easy to use pair of safety lights might do the trick. The Blackburn Click Light Set, for example, straps onto your handlebars and seatpost when you need 'em (should you find yourself caught out after dark) and takes up next to no space when you don't. These tiny lights won't light up the road in front of you, but they will make you more visible to other road users.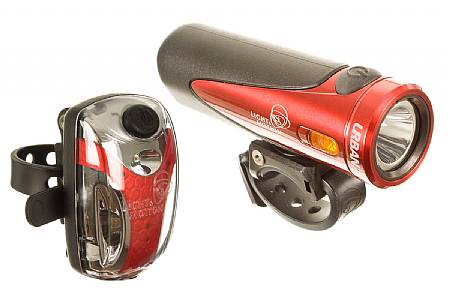 If you bike at dawn or dusk or in less-than-fair weather, you'll probably benefit from something a little brighter. Planet Bike makes a number of popular commuter light sets that run on AAA and AA batteries and feature unmissable "Superflash" pulse patterns to help keep you safe. In addition, these lights will supplement street lights nicely so you don't rattle your bones over unseen potholes and speedbumps. Rechargeable lights are available in this range as well; the Blackburn Click USB F + R Light Set or the Blackburn Central 100/Central 20 Combo Light Set will serve you very well indeed.
Brighter.
For more serious all-conditions, all-times-of-day urban riding, you might invest in something a little brighter and more versatile. The Light and Motion Urban 500 Commuter Combo Light Set features a compact headlight with a 500 Lumen maximum output and amber side lights for increased visibility, plus a bright and versatile rear light with 50 Lumens of power—plenty to ensure you're seen in any conditions. The Urban 500 headlight's versatility means you can keep it on low pulse for up to 12 hours of run time or put it on high constant for a beam powerful enough to light the road ahead of you even at fast speeds. The Light and Motion Vis 360 Plus Commuter Light Set is a different option—it's one linked USB-rechargable unit that attaches to the front and back of your helmet. Some riders prefer this kind of mounting because they can easily control where the light is aimed, and even flash it into drivers' windows—a good way to make sure you're seen!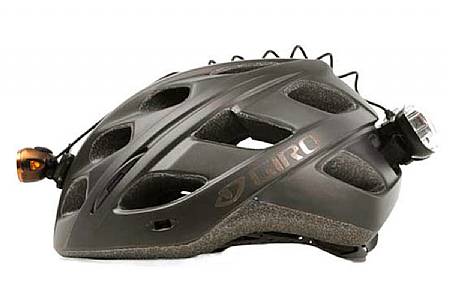 Want an even more powerful light for hardcore commuting and maybe some after-dark trail riding? Light & Motion makes compact, single-unit headlights with up to 1200 Lumens of power, and NiteRider and Lezyne make high-quality and popular rechargeable lights as well, with up to 700 Lumens.
Brightest.
The next step up from these single-unit handlebar headlights is a super-bright light with an external battery pack, designed for ultra-distance rides and all-night trail sessions. These lights mount on handlebars or helmets, and offer blinding outputs of up to 2000 (yup, two thousand!) Lumens. If you need the best and brightest, check out Light & Motion's Seca line, like the Light and Motion Seca 1800 Light or the Light and Motion Seca 2500 Enduro Light.
Let Your Light Shine
If you have any questions about the light that's right for you, don't hesitate to contact us at 1-800-682-0570 or [email protected].
Our Most Popular Articles