Saddle Selection
There are many factors that contribute to comfort on the bike, but the saddle is the foundation on which a comfortable riding position is built. The shape of your body, the style of riding you do, and your experience as a cyclist (we'll get to that) will all factor into saddle selection.
Fit, Comfort, and Sizing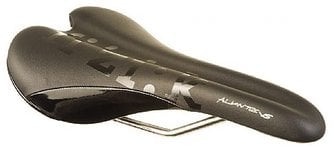 Sitbones are important to consider when selecting a saddle. Sitbones vary, and your personal set may be wide or narrow or somewhere in between. Your saddle should be wide enough to support your sitbones well, but not too wide. Women tend to have wider sitbones than men, and as a result women's saddles tend to be wider than men's saddles. Chances are you will know pretty quickly if your saddle is too wide or too narrow.
Muscles also factor in considerably, though. The muscles around your sitbones will adapt to your bike saddle as you ride. Additionally, the ideal position for road cyclists has the rider "perched" on the bike, rather than really "sitting" on the saddle. Weight is distributed between the pedals, the handlebars, and the saddle. This ideal position is developed over time, with experience and practice, as muscle groups adapt to the shape of the body on the bike.
New riders may find their saddle uncomfortable and be tempted by more heavily-padded models, but on rides longer than an hour or two, too much padding will actually decrease comfort. A solid platform is necessary for good pedaling leverage; excess padding will lead to fatigue and unpleasant chafing.
A professional bike fitting may help you find an appropriate riding position and give you a good idea of what sort of saddle will work best for you.
More casual riders, who ride bikes in a more upright position, usually for shorter distances, may prefer a padded saddle. Seat covers that further increae the amount of padding are generally unnecessary on a properly adjusted saddle, and may cause more discomfort by interfering with proper fit.
We do our best to include saddle dimensions in our product descriptions. The width measurement is always taken at the saddle's widest point. These measurements, when compared with saddles you currently ride or have ridden previously, may help you find your perfect perch. If your saddle keeps knocking you in the backside when you're out of the saddle but you're otherwise happy with it, it might be worth trying a shorter saddle with a similar width, for example.
Saddle Types
There's lots of overlap here, but here's a general overview of saddle categories you're likely to find.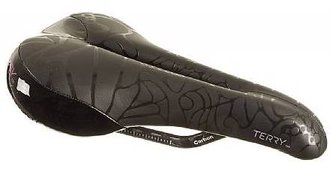 Road Race Saddles. Race saddles are the lightest-weight saddles available and tend to have minimal padding. They're designed for riders who have developed a relatively aggressive position on the bike, have good flexibility on the bike, and are comfortable logging many hours of high tempo riding. Race saddles are designed to be used in conjunction with cycling shorts. The saddle offers support, while the shorts' chamois provides some padding. Some of our customers' favorites include the Fizik 2015 Aliante Versus Saddle, the classic Selle Italia Flite 1990 Saddle, and the Astute Skyline SR.
Mountain Bike Saddles. Compared to road saddles, MTB saddles tend to have more padding and a more durable cover. They often also have a smaller shape, as MTB riders tend to bear weight with their arms and legs and use the saddle for leverage when descending and cornering. It's not uncommon for MTB racers to use road saddles; after all, cross-country racers look for the same things most road racers look for in a saddle: comfort and light weight. That said, we're fond of the Fizik Tundra 2 K:ium Saddle and the Fizik Gobi XM K:ium Saddle; the WTB Speed Comp Saddle, at a lower price point, is also popular with the MTB set.
Cut-Away Saddles. Undercarriage discomfort is a common problem for many cyclists at all levels. While there is scant evidence that a properly adjusted saddle will cause long-term damage "down there," many cyclists, both women and men, feel that saddles with cut-away designs help reduce pressure and increase comfort. If nothing else, cut-away saddles tend to be more flexible, increasing shock absorption and thus rider comfort. Some saddle manufacturers have embraced cut-outs, while others have stuck with more traditional designs. The Selle Italia SLR TI 316 Superflow Saddle, the Terry Men's Fly Ti Gel Saddle, and the ultra-lightweight Selle SMP Carbon Saddle are great examples of cut-away saddles.
Women's Saddles. Women tend to have wider sitbones than men, and their bodies tend to be smaller. Female-specific saddles, as a result, tend to be a bit wider towards the rear and shorter in length. Since Terry began making women's-specific saddles in the early 1990's, many other companies have caught on, and there are plenty of options for women in every saddle category these days, though many women may still prefer to ride non-gender-specific saddles. A few of our favorite women's saddles are the Terry Women's Butterfly Cromoly Saddle, the Fizik Vesta Women's K:ium Saddle, the Selle Italia SLR Lady Flow Saddle, and the classic Brooks B17 S Standard Women's Saddle. Speaking of which...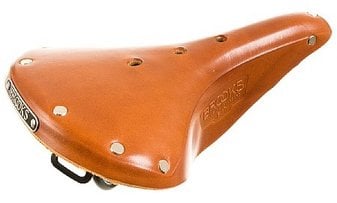 Classic Leather Saddles. Back in the day, performance-oriented saddles were made of thick leather stretched over a frame. While most road riders these days prefer the light weight and rigid ride of saddles with carbon or composite bodies, many riders remain loyal to leather saddles both for their traditional appearance and comfortable ride. In particular, many members of our staff who enjoy cycle touring have traditional leather saddles on their bikes. Leather saddles do require a bit of maintenance; they must be tightened as they stretch out (a wrench is usually included) and should not be ridden when saturated with water. Brooks is the undisputed king of the leather saddle world-their Brooks B17 Standard Saddle is a tried-and-true classic of classics-but Selle An-Atomica's saddles are gaining popularity as well. Check out the cut-away Selle Anatomica 2013 Titanico X TruLeather Saddle, the colorful Brooks Colt Saddle, or the surprisingly lightweight Brooks Swallow Titanium.
Comfort Saddles. Comfort saddles feature a wide platform and plenty of padding, making them ideal for a rider who simply needs a comfortable seat for recreational riding. These saddles are comfortable in street clothes and tend to be economically priced and durable. Try the Planet Bike Men's Comfort Gel Saddle, the Terry Men's Liberator Y Gel Saddle, or the Portland Design Works Dios Thronous Saddle.
So...
Some riders can make almost any saddle work, while others are extremely loyal to the one particular saddle that suits them best. Unfortunately, the only way to know for sure whether a saddle will work for you is to try it out. If you buy a saddle from us and want to mount it on your bike but suspect you might return it, make sure to wrap the rails in electrical tape first to avoid marking them.
Want some guidance in your saddle search? Contact us at 1-800-682-0570 or [email protected].
Our Most Popular Articles