How to Choose Bike Lights

These days, bike lights come in a wide variety of options and are outfitted with increasingly advanced technology — they're lighter, brighter, and smarter than years past.
It can be really hard to sift through the different light brands and types, so we made it easy for you.
In this guide, we go through front and rear light basics, rechargeable vs. battery lights, and smart lights. Hopefully, by the time you finish reading, you will have an idea of what types of lights to buy for your particular style of riding. If picking out the perfect light set still seems daunting, we do sell light sets that help you save money and select the lights for you.
To see a general overview of the lights and light sets we have in stock, please click here.
PLEASE NOTE: The following guide includes links to various products that may or may not be in stock. We are always trying our hardest to keep our inventory stocked, but sometimes our suppliers can't keep up with our demands. In the event that the model you want is not in stock, always feel free to call our friendly customer service representatives, and they can help you find a suitable substitute.
Front Light Basics: Output, Mounting, Beam Width, & Modes
All bike lights these days use Light Emitting Diodes, or LEDs. We sell a wide variety of LED lights to suit every kind of riding, from urban commuting to 24-hour endurance trail rides. Light brightness is generally measured in lumens, which indicate the "amount" of light emitted by a light source. You will see on almost every light product title an even number like 500 or 1000, which refers to the maximum amount of lumens that can be produced from the light. As a general rule of thumb, brighter lights tend to be more expensive and may burn through battery powers faster.
When looking for front lights, you want to consider the lumen output of a given rear or front light. High-quality bike lights are rated in lumens, with 300 lumens being the minimum recommended for commuting safely in the dark. The higher lumen count, the more likely you are to see and be seen.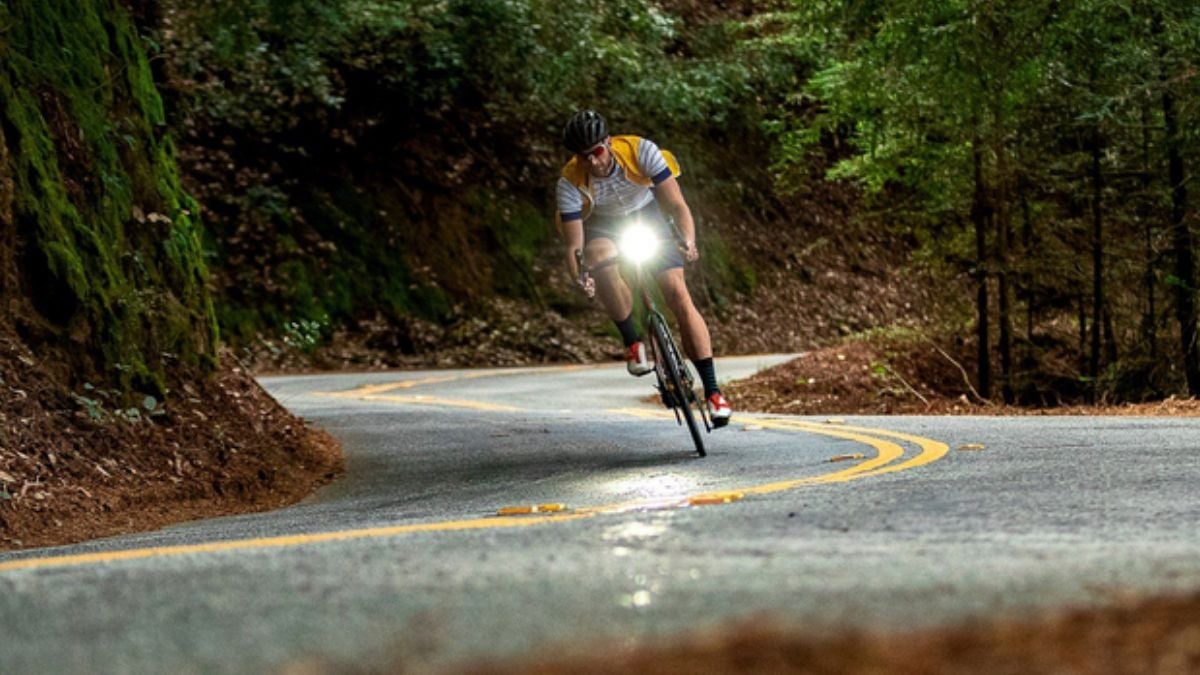 Depending on where you ride, you should also consider the beam width of a light. If you find yourself commuting on a bike path frequently, you might want to find a light that has a pinpoint beam that can be directed downward. Speaking from experience NO ONE likes being blinded on a bike path, and it can be very dangerous. However, if you are mountain biking late at night, a wide beam light with high lumen output will help illuminate every part of the trail ahead.
Generally speaking, the ideal light can do both. Most lights have modes which allow the rider to adjust the light output depending on the type of riding they are doing.
Many front lights are mounted using an adjustable strap or quick-release attachment on the handlebar that allows the bike rider to remove and install them easily. This is a great feature for urban cyclists who want to ensure that their lights don't get stolen when their bike is locked up outside. Other headlights can be mounted to helmets so that you can see wherever your head is pointing.
Here is a list of lower lumen front lights for fairweather urban applications:
Here is a list of high lumen output front lights that can be turned down for bike path applications and also turned up for really dark riding settings (we recommend this style of light for anyone who rides in a suburban or rural setting with few street lights):
Here is a list of wide beam front lights that can be used for trail, gravel, and other nighttime adventure applications (some of them project over 2000 lumens!!):
Headlamp Type
Handlebar Type
Rear Light Basics: Flash Modes, Visibility, & Runtime
Rear bike lights have a red output and can be mounted to your seat post, backpack, and (oftentimes) rear bike racks.
When selecting a set of rear lights, it's important to remember that this very small light is sometimes the only reason why cars do not hit you at night.
Even during the day, it is never a bad idea to have a rear light on your bike — just to make sure motorists know you are there. These are referred to as daytime running lights (DRL) and are considered the current standard for road cycling safety.
Usually rear lights come with several flash modes. For the longest runtime, choose the flash setting that is slow and omits steady bursts of red light. Many rear lights also come with a pulse setting, which keeps the light on at all times, but slowly gets brighter and darker. This can be a nice setting to use if you are riding at night with others and do not want to annoy the rider behind you with a quickly flashing light.
In terms of visibility for motorists, there is no clear indication as to whether or not quick flashing is more visible than a pulsing light, so you have the option of choosing based on your battery level and other riders that may be around you.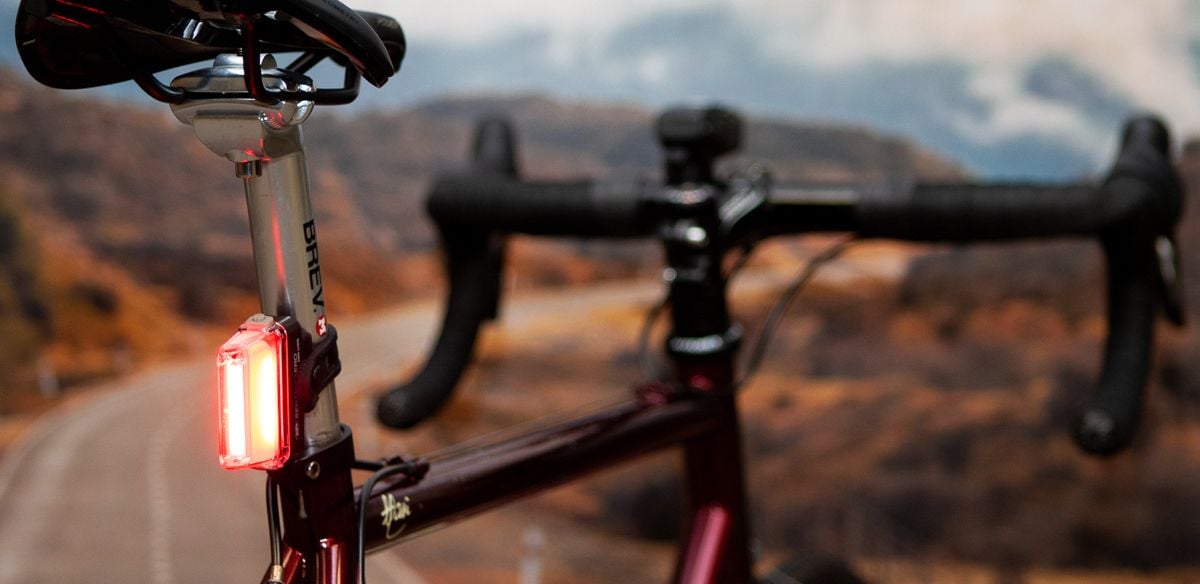 Every rear light has a runtime specified on their product page. This runtime can generally be extended if you use a battery conservation mode, like the quick flashing setting for example. It is imperative to make a mental note of your light's runtime so you know when to charge it. Almost none of the lights we sell have a battery life indicator.
Here is a list of recommended high lumen output rear lights for rural and suburban settings when it is very dark. They come with multiple output settings:
Here is a list of lower lumen rear lights for urban riding, which also come with many output settings:
Battery-Powered vs. Rechargeable
Rechargeable bike lights have quickly become the standard. Back in the day, rechargeable lights had short burn times and required bulky battery packs strapped to your frame. These days, simple commuter lights are available with rechargeable Lithium-Ion batteries integrated into the small lightweight housing, and they have run times of up to 24 hours or more in certain power modes.
In other words, you can commute with these lights for a week or more and then just plug them into the USB slot on your computer for a workday — and you're set for another week.
Some extra-bright lights, like those designed for nighttime trail riding, have separate battery packs that can be replaced with fully-charged packs as needed to extend run time. These external batteries can be mounted on your frame or carried in your jersey pocket.
While we have a few battery powered lights in stock, but they are becoming a thing of the past. The only real application is for urban commuters who commonly forget to charge their lights or are worried about their lights getting stolen.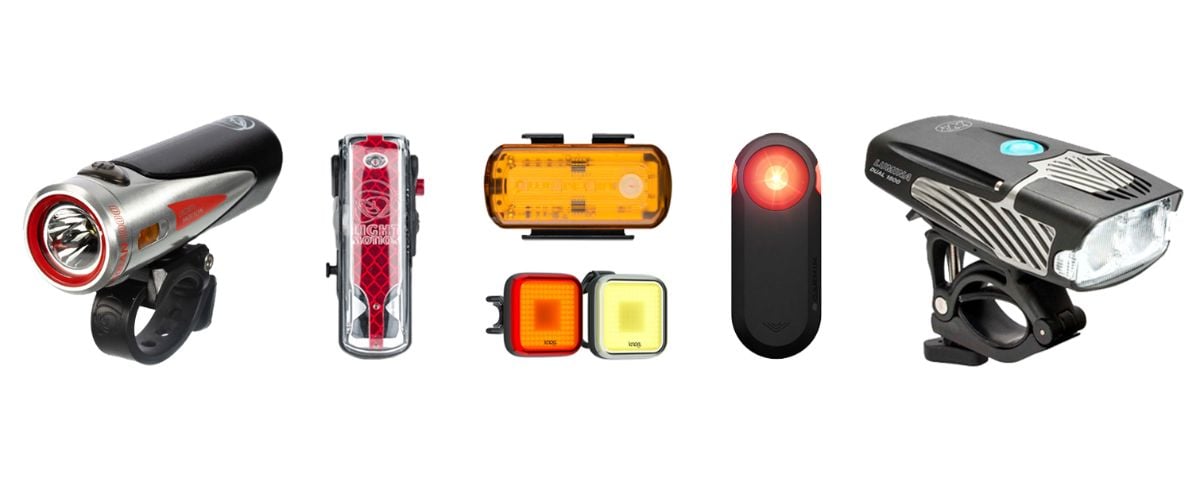 Smart Lights
Smart bike lights offer the latest tech in bike safety. Garmin has designed sensor lights that react to the environment around you — such as alerting you of a vehicle approaching from behind. This light series, called the Varia, connects seamlessly with the Garmin ecosystem and gives you notifications on your Garmin cycling computer.
Cycliq has even gone farther to integrate a camera on the smart light, so you can have video evidence in the case of an accident — or footage of a sweet ride. The Fly6 series can capture high resolution footage on both the front and rear of the bike.
Among many other features, these lights shine brighter and flash faster to attract attention from motorists or other cyclists, depending on your riding conditions.
The Garmin Varia RTL515 Radar Tail Light and the Cycliq Fly6 CE Gen3 Rear Light can be easily mounted to your seatpost.
The Garmin Varia Front Light and the Cycliq Fly12 Front Light & Camera can be mounted to the handlebars or integrated with cycling computer mounts.
Please Note: Many of our lights come with a factory hold so they do not turn on in transit to you. If you receive a light and it is not turning on, please hold the on button for 30 seconds and it should lift the factory hold. We have found this a common theme in NiteRider's products, for example. Also, we recommend charging the unit before the first time you use it.
Our Most Popular Articles