One of the fastest-growing subsets of cycling, bikepacking, is a hybrid discipline that fuses camping with adventure riding. Imagine backpacking, but on a bicycle. Fun right? In a broader sense, bikepacking borrows the free spirit, self-reliance, and multi-day adventure from old school bike touring, but with modern gear nudging it deeper into more backcountry-capable territory.
Some approach bikepacking as an antidote to competitive, race-centric cycling culture, rambling quiet trails and backroads in search of the perfect campsite, while others use the discipline to push the boundaries in longform, ultra-endurance races like the Tour Divide or the Atlas Mountain Race.
Bikepacking and backcountry touring admittedly involve a fair amount of gear. That means everything involved with your sleep, shelter, food, hydration, and clothing somehow needs to be strapped to your bike. It can be a lot to wrap your head around and will invariably require some trial and error to get your ideal setup dialed in.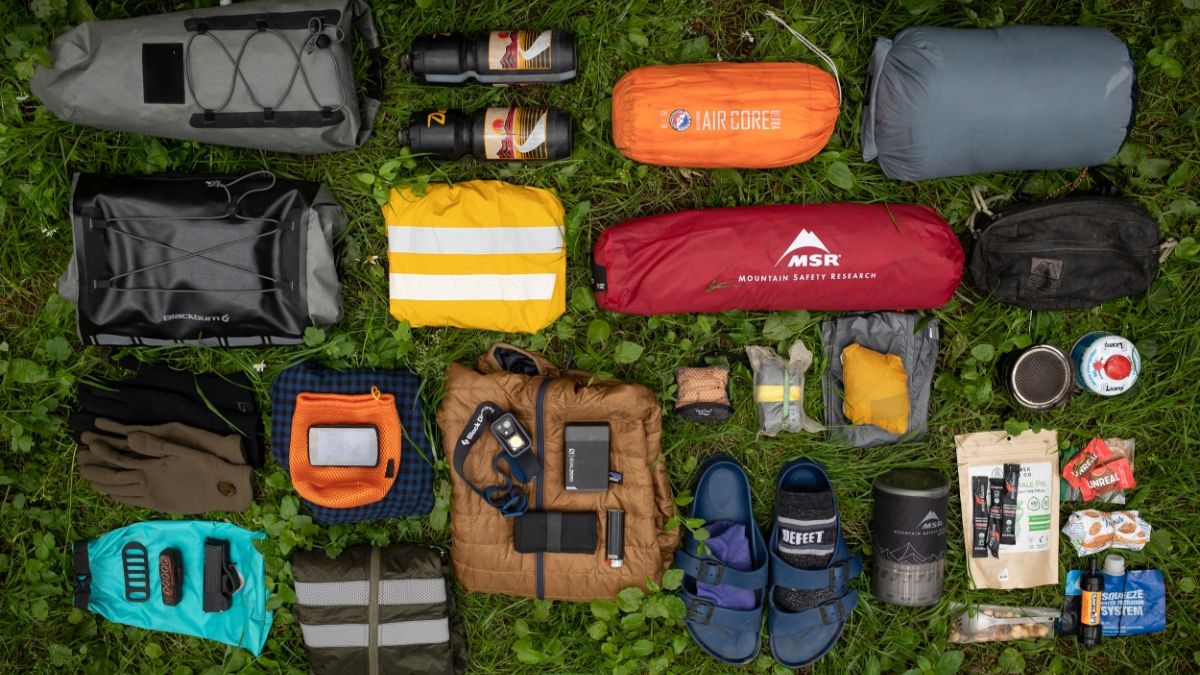 Sleep and Shelter
Overnight camping is, of course, central to the concept, but what that looks like is entirely up to you. Your configuration will be informed by region, seasonality, and preferred comfort level. Sleep and shelter systems come in all shapes and sizes, ranging from a simple sleeping bag under the stars, to minimal bivy setups, to more elaborate and spacious multi-person tents.
All the truisms of backpacking will apply here. You will want to choose a system appropriate for your season, weather, and intended destination. Even in dry weather some form of shelter, tarp, and footprint are advised to stave off overnight condensation, keeping you and your gear dry.

The MSR FreeLite 1 Ultralight Backpacking Tent is a compact, versatile single-person tent with modular capability. It can be set up either as a fully-enclosed tent or as a minimalist bivy with only rainfly, poles, and a footprint. In full-tent mode, the rainfly acts as a spacious external vestibule providing extra coverage for drying out shoes, socks, and jerseys in damp weather.
The Therm-a-Rest Parsec Sleeping Bag is an ideal foundation for ultralight three-season camping. Extremely packable, the Parsec is rated to 20F with connectors securing the bag to your sleeping pad to maximize thermal efficiency, keeping you warmer. Paired with the NeoAir Xlite Sleeping Pad, this system is exceedingly compact and comfortable, weighing in at a cumulative 1170g.
Camp Kitchen
Considered by many to be the heart of the bikepacking setup, the fully-dialed camp kitchen can be a point of pride — the centerpiece, so to speak, around which many other pieces of gear revolve. Most consist of some kind of iso-butane or alcohol stove and cookset combination. Whether you are simply boiling water for packaged pouch-meals or cooking more elaborate recipes from scratch, camp cuisine can be one of the most satisfying aspects of your trip.
On the ultra-minimal end of the spectrum, the Snow Peak LiteMax titanium backpacking stove is as streamlined as they come. Weighing in at a mere 65 grams, it is simply a compact titanium burner and regulator valve which threads onto your fuel canister. Another versatile option is the stainless steel MSR WhisperLite International stove which has the ability to use multiple types of fuel — white gas, kerosene, or unleaded gasoline.

When it comes to cooksets, titanium is the name of the game, and nobody does premium titanium like Snow Peak. Crafted in Japan, the durable Snow Peak Titanium Mini Solo cookset is an ultralight option consisting of a nested cup and cookpot large enough to store two canisters of 110-G fuel inside.
Another set of classics are Snow Peak's Titanium Spork and Titanium Foon. As their names would indicate, they are both hybrid utensils, the former a bit more spoonlike, versus the latter's longer forkish tines for noodles or rice.
Another thoughtfully designed utensil is MSR's Alpine Long Tool Spoon. While the humble spoon can be one of the most unexpectedly valuable items on your journey, this long-handled design reaches the bottom of tall pots and stand-up pouch meals, often quite difficult with standard-length utensils. Additionally, it has a jet-and-cable tool for servicing MSR liquid-fuel stoves integrated into the handle design.
Hydration
Another critical element to bike camping is water filtration and treatment. Thankfully a wide range of contemporary options are available, making it easy to dodge nasties like protozoa, bacteria, viruses, and giardia. While most clear running creeks in wooded or natural areas can be reliably filtered, it is best to avoid ponds, larger rivers or water sources in farmland or agricultural areas which are often contaminated with chemicals and livestock runoff.
The current generation of miniature squeeze filters has revolutionized backcountry water treatment. They travel incredibly light, take up minimal space, and turn most clear-running creeks into reliable water sources. The Platypus QuickDraw Microfilter system weighs only 95g yet treats up to 3L a minute.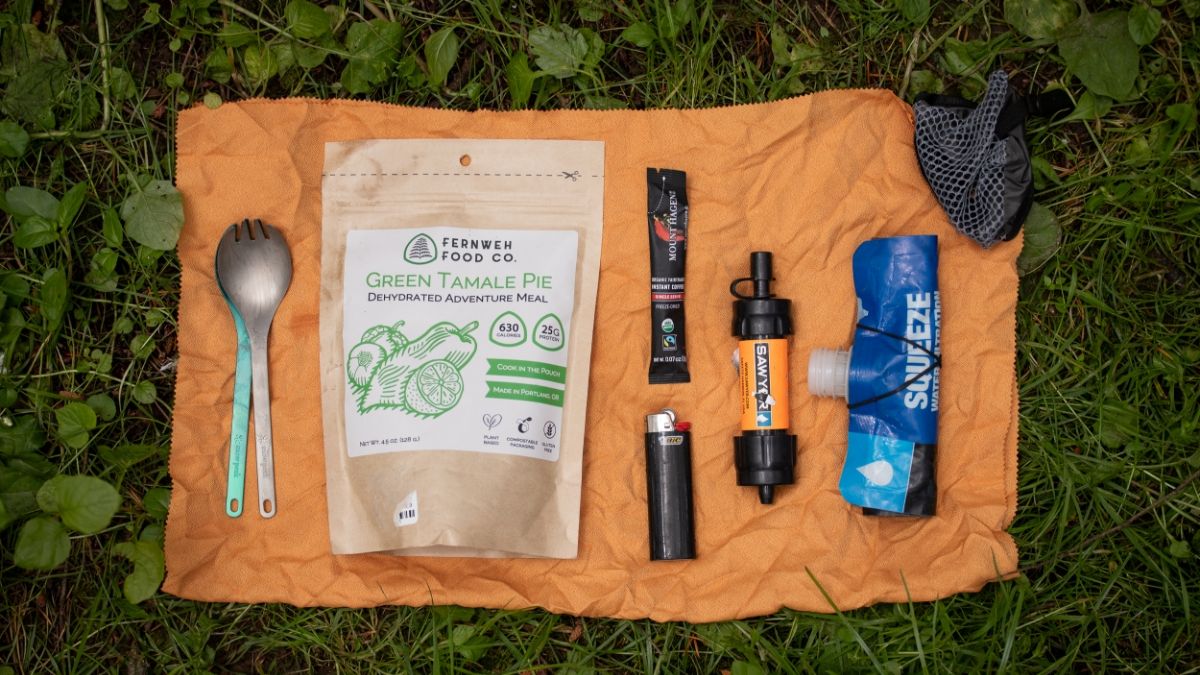 The MSR Trailshot microfilter is a super simple pump-style filter requiring zero setup which can be operated with one hand. Simply float the intake in a water source and squeeze the rubberized pump and the water filters right into your bottle. The Trailshot also allows users to drink clean water straight from the nozzle.
One of the more innovative water treatments on the market is the Steripen Ultralight UV Water Purifier which uses ultraviolet UV-C light rays to kill bacteria in less than 90 seconds. The Steripen is USB chargeable, treating 1L per application, with roughly 50 treatments per charge.
It is also good practice to carry a handful of tablets, like MSR's Aquatabs water purification tablets even if you don't use them often — they weigh basically nothing, can treat fairly sedimented water, and get the job done in case of an absolute emergency.
Clothing
In the backcountry, there is a lot riding on your wardrobe choices. What you bring can mean the difference between a snug, cozy night around the campfire or abject misery, wishing for extra layers.
Natural fiber merino is always a solid bet — fantastically warm, soft, and great at wicking moisture, it stays cool in the heat, dries quickly, and insulates even when wet. We'll stop shy of calling it a super-fabric, but it also resists odors like few synthetics can. Merino base layers are exceptionally versatile, transitioning from the bike to camp to sleeping bag back to bike while remaining fresh.
Smartwool makes a solid line of merino basics from base layers to tees to jerseys, socks, and shorts. These comfortable and versatile layers are an ideal foundation for a full spectrum of conditions. Socks in particular are where merino really shines. DeFeet Woolie Boolies are a thick merino sock with 3% lycra for stretch and heel-to-toe padding, providing extra cushion and comfort for long days. For warmer weather, DeFeet's Wooleator is essentially a thin, summerweight performance sock with all the benefits of merino — win-win.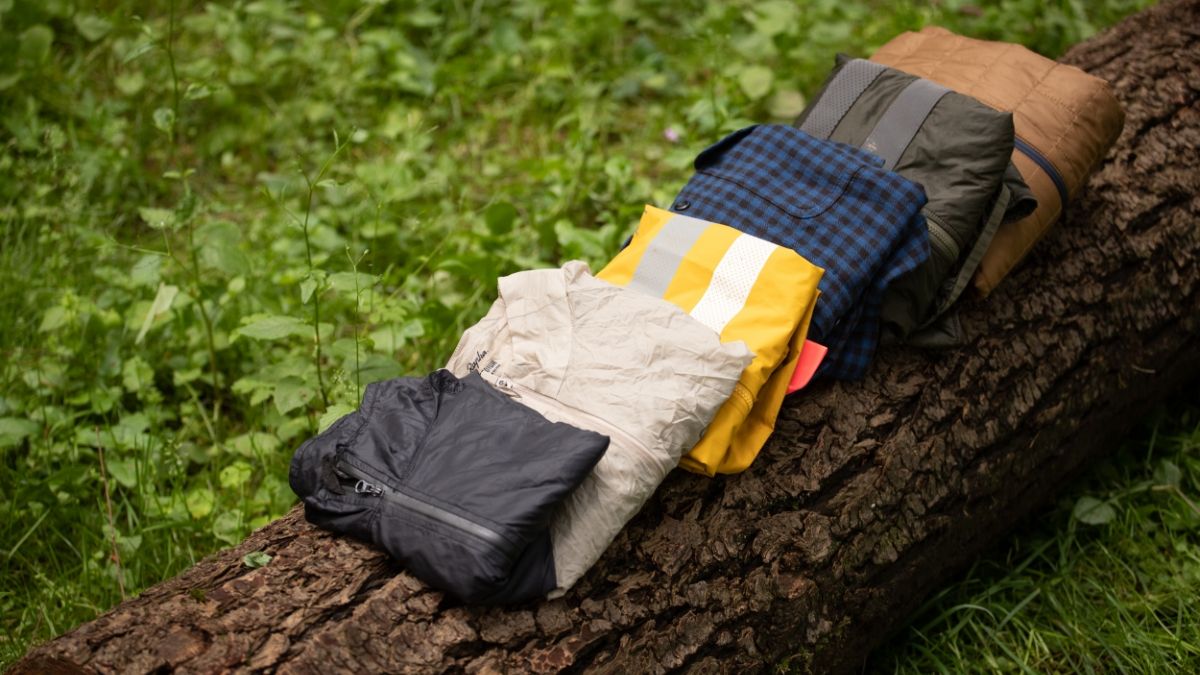 Trail shorts with integrated liners are great when traveling light, alleviating the need for bibs. Pearl Izumi's Canyon Shorts deliver technical functionality, premium comfort, and trail-casual vibes. For those who prefer to roll au naturale or with bibshorts beneath, Chrome's Union 2.0 Short is the stuff of legend. Built like a durable jean short but with stealth tech features like 4-way stretch, gusseted seat, and secure zip-closure pockets, the Union 2.0 can take anything the backcountry dishes out.
When the weather gets testy, a solid layering system is critical. Waterproof rain jackets keep the elements at bay while lightweight, insulated layers like Castelli's Unlimited Puffy Jacket transition perfectly from chilly mornings on the bike to evenings around the campfire.
Bags and Luggage
Once you've rounded up your gear, it is time to consider how it all fits on the bike. The most common format is a combination of saddle pack, frame bag and handlebar bag. Fork-mounted cargo cages are also a good way to increase capacity while keeping top-heavy bulk to a minimum.
How you distribute the load is up to you, but a good rule of thumb is to place heavier items lower and toward the center of the bike with lighter packable layers such as jackets and sleeping bags higher and toward the front. This lowers your bike's center of gravity and keeps the handling nimble.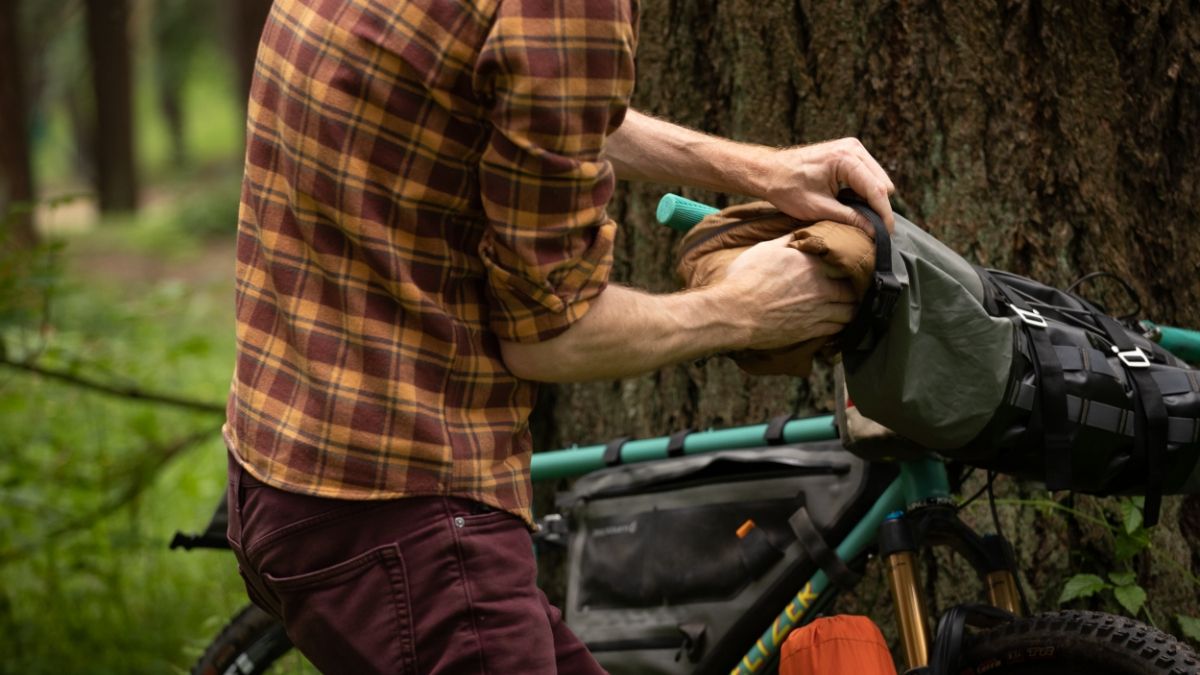 Saddle bags like the Apidura Expedition Saddle Pack, the Blackburn Outpost Elite Seat Pack and Dry Bag, or our most popular offering, the Ortlieb Seat Pack allow you to stow a surprising amount of gear into the empty space behind your saddle. All feature fully waterproof compression-style roll-top closures with external bungee webbing for extra capacity. The Blackburn Outpost includes a layer of thoughtful features that are especially practical. Designed as a two-piece cradle and dry bag system, it is simple to attach and remove. This makes stowing and accessing your gear in camp considerably easier. Additionally, a compression-assist valve enables a much more compact and secure load on the bike. The Apidura and Ortlieb options come in multiple sizes as well, allowing you to tailor your gear to your storage needs and space limitations.
Please note that not all saddle bags are fully compatible with dropper posts, so keep this in mind when making your choice if your bike is equipped with one.
Frame bags range in capacity from small micro-pouches nestled beneath the top tube to full-size framebags blocking out the entire front triangle. The Apidura Expedition Compact Frame Pack is a popular half framebag style choice among the adventure set, offered in three sizes to outfit trips of varying scope and scale. Blackburn's Outpost Elite Frame Bag is a stellar, purpose-built full-size option that is fully waterproof, ultra-durable and loaded with technical design features like structured internal compartments, hydration bladder compatibility, recessed and protected zipper pulls, and easy-access rubberized external pouches for tools and ride snacks. Similarly, Ortlieb offers a full range of frame bag options to accommodate a wide range of frame styles and storage needs. For the racers out there looking for a lighter setup, Apidura provides a series of speed-oriented bags to fill this niche.

Ranging in size and capacity from simple burrito-bags to modular cradle-and-drybag systems, handlebar and cockpit-based bags and rolls can stow a lot of gear into a relatively small space. Ideal for bulky-yet-compressible items like sleeping bags and pads, extra layers and soft goods.
For shorter trips, options like the low impact Road Runner California Burrito Bag augment capacity for clothing, food, and supplies with 3.5L of easily accessible storage. Toward the center of the field, the Lezyne Bar Caddy is a durable mid-sized compressive, side-load bar bag with 7L of cargo space. As with many mid to large-sized bar bags, the Bar Caddy features water-resistant side-roll closures and external webbing for extra gear.
The full size expedition-grade Blackburn Outpost Elite Handlebar Roll and Apidura Backcountry both feature heavy duty, waterproof, compressible seam-welded nylon construction, water-tight side-load expandable roll closures and external shock cord webbing for additional gear capacity. As with other products in the Blackburn lineup, the Outpost Elite features thoughtful extras such as a cradle-mount, which locks gear down for a stable ride while allowing effortless removal in camp for easy loading. Other features include an air-purge valve to assist in compression and two rows of external straps for auxiliary gear.
Expanding on the universal mounting idea, Salsa created the EXP Series Anything Cage as a standalone bar-mounted cradle for securing dry bags, sleeping bags or bedrolls. The cage is slightly offset from the bars, giving cables and levers plenty of space without stressing, compressing, or kinking your housing.
Auxiliary Capacity
The fully-loaded bikepacking rig comes with its own unique challenges. Things like tents, sleeping pads, extra food, oversized water bottles, or any kind of water bottles for that matter if using a full framebag — where do they fit? Luckily a lot of these problems have already been solved for you.
Blackburn's Outpost Cargo Cage and Topeak's VersaCage Rack are solid universal, fork-mount solutions ideal for strapping on tents, water bottles, sleeping bags or stuff sacks full of extra gear. The Apidura Fork Pack provides 4.5L of fully waterproof gear capacity that keeps your front end stable and your center of gravity low.

Feed pouches and top tube bags are also a great way to keep small gear accessible. The Road Runner Co-Pilot Stem Bag or the Apidura Backcountry Food Pouch are both stellar cockpit-based add-ons ideal for toting an extra bottle, snacks, and frequently-needed bits of gear. Top tube or gas tank bags like the Apidura Expedition Top Tube Pack are perfect for phones, chargers, cameras, lights, or quick nutrition.
Wolf Tooth Components' B-Rad line of innovative mounting solutions is a veritable treasure trove of unconventional cargo hacks, universal mounting bases which slide around for optimal gear spacing and strap-on eyelets, which allow cargo cages to go pretty much anywhere on your bike.
Navigation
Certainly one of the most, if not the most critical piece of the puzzle will be your means of navigation. Dedicated GPS head units are absolutely essential to safe and reliable wayfinding anywhere off the beaten path. While the market is flooded with GPS-enabled cycling computers and platforms, some shine more than others in the context of reliable backcountry navigation.
The Garmin Edge 1030 Plus GPS Computer is the result of multiple generations of incremental refinement from one of the most trusted names in the business. This incredibly versatile model features a 3.5" color touchscreen display, up to 24 hours of battery life, and is reliably stable and dependable when you need it most. It is also compatible with Garmin's InReach emergency satellite communication system.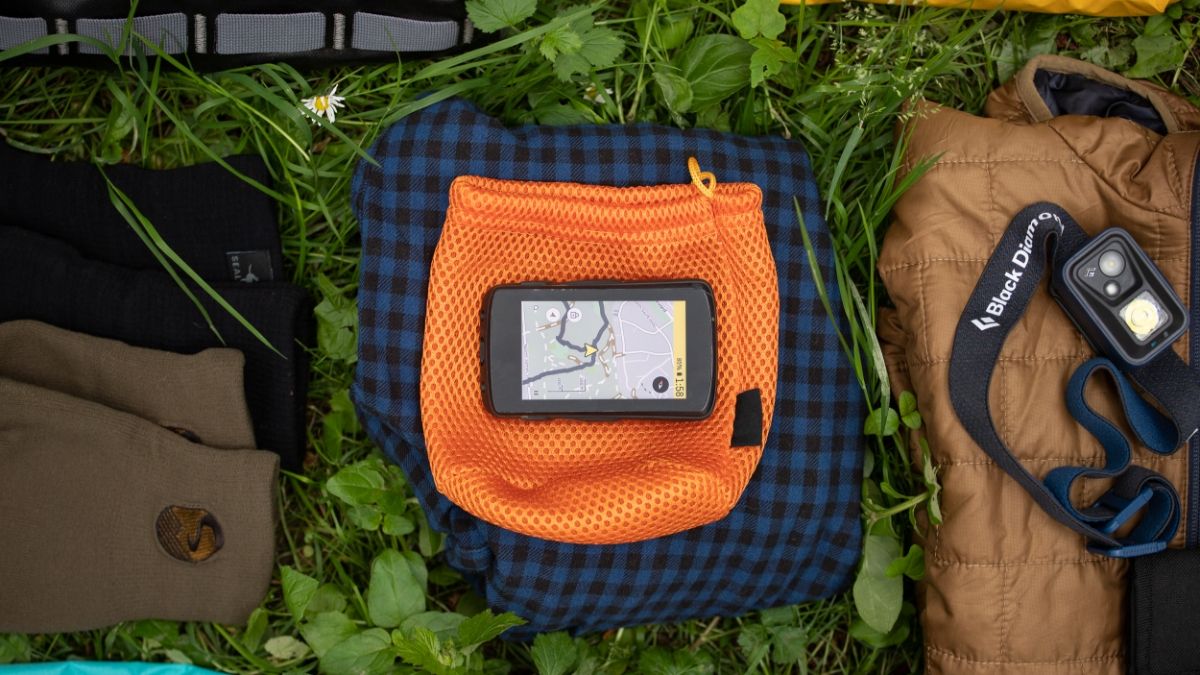 The Hammerhead Karoo 2 GPS Computer is a relative newcomer to the head unit landscape, but delivers a premium platform with excellent navigability, precision tracking accuracy, simple, straightforward third-party route management dashboard, fully customizable data fields and multiple map overlays.
For riders pushing deeper into the backcountry, units like the Garmin InReach Explorer + provide peace of mind, enabling topographical mapping, point-to-point navigation, reliable satellite communication and emergency SOS capabilities anywhere in the world regardless of cell signal. Based on a subscription service, you simply choose the plan that works for you and you'll always have a backup plan in case things go south.
Happy Trails
One of the most appealing aspects of bikepacking is that there is no right or wrong way to do it. The experience is going to be whatever you make of it. And while this article covers the factual basics and gear-specific essentials, the experiential realms of where you go and the routes you will take to get there are all part of the joy of discovery. Whether you are a first-timer looking to stay close to home, a pack-light/travel-far soloist out for a quick sub 24, or heading out with friends to ramble for a week off the grid, we're glad you're here. Adventure awaits!
Shop Bikepacking Bags, Accessories, and Gear.
Words by Ron Lewis and Kenneth Wahrenberger
Photos by Bertrand Morin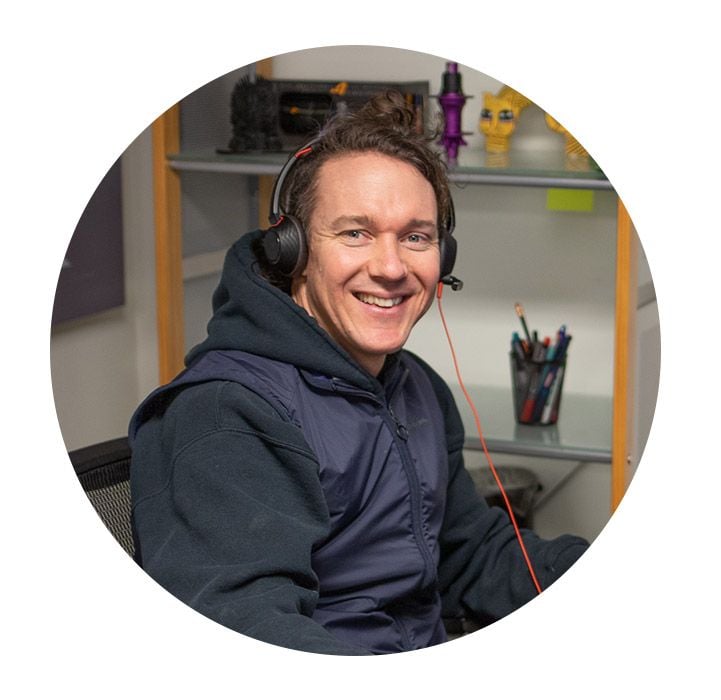 If you have further questions about this article or any of the products we carry, please feel free to reach out to our customer service team at the hours listed below.
**Got any additional tips for bikepacking basics? Share it with us at [email protected]m or on our Facebook page!
Happy riding!
Email
[email protected]
Phone
1-800-682-0570
Hours:
Mon-Sat 8am-5pm PT
Our Most Popular Articles