Bike Computers
Bike computers range from inexpensive wired systems that show you your speed, distance, and not much else to elaborate GPS units with touchscreen displays that will give you directions, measure your power output and heart rate, and help you train more effectively or share your results with your social networks.
Magnetic Sensors
Let's start with the basics. At their simplest, bike computers consist of a magnetic sensor placed on a fork blade—or, less commonly, a chain stay or seat stay—attached by wire to the small display mounted on the handlebars or stem. A small magnet is attached to a spoke so that it lines up with the sensor every time the wheel rotates. The computer uses this, along with information about your rim and tire size, to calculate your speed and distance. Many computers have several trip odometers. They can usually display current time, elapsed time, and current speed, as well as store average and maximum speed data. The Cat Eye Velo 9 Wired Bike Computer is a great example of an inexpensive, functional wired computer.
Moving on up from there, computers go wireless, transmitting signal from the sensor to the display without fussy wires. The popular Cat Eye Strada Wireless Bike Computer falls into this category. Computers may also include more functions, particularly cadence, via a magnetic cadence sensor attached near the crank—for example, the Cat Eye Strada Digital Wireless Cadence CC-RD410DW. All of these magnetic sensor cyclocomputers tend to be quite compact and have very long battery life.
GPS
The next step up is GPS. GPS computers tend to be more expensive, but they work with any bicycle without sensors or fuss, since they're getting all their data from GPS satellites. They also often offer features like route tracking and altitude. Many are compatible with ANT+ devices (heart rate, power, and cadence sensors) for expanded versatility, and some may include these sensors already. For basic GPS functionality, the Lezyne Macro GPS Computer can't be beat.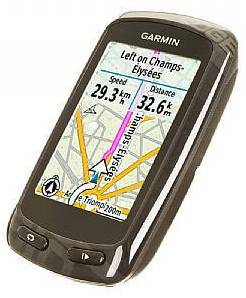 The Garmin Edge series is the leading line of bike GPS computers, created, of course, by the leading GPS device manufacturer in the world. The high-end Garmin Edge 820 not only includes all the usual functions—speed, altitude, time, personal record data, ANT+ compatibility—but also features a rugged color touchscreen display, maps and navigation, training features like customized workouts and GroupTracking to keep you motivated, and connectivity features that allow you to upload your workouts to popular training sites or let your friends and family follow your progress.. The more affordable Garmin Edge Touring unit doesn't have the training features, but it does generate cycling routes on the go, just like your car's GPS unit, making it perfect for improvisational bike touring. Garmin also offers watches designed for triathletes that offer many of the same functions, plus run and swim functions as well, like the Garmin Forerunner 735XT Watch.
Using a Computer on a Trainer
In order to use your computer to track "speed" and "distance" when you're riding indoors on a trainer, your bike will need to have some kind of sensor that picks up on rotation of the rear wheel (unless you ride on rollers, in which case front wheel is okay). If you use a GPS computer, invest in a speed/cadence sensor for indoor training—as a bonus, the cadence sensor works outside, too, of course! If you use a less expensive magnetic sensor computer, make sure, again, that the sensor is on the rear wheel.
Keep in mind that speed readings on trainer rides don't necessarily mean all that much—it's pretty easy to change your bike's "speed" on a trainer just by changing gears. That said, tracking power, cadence, and heart rate while training indoors can really help you maximize the value of your indoor workouts.
Bike Computers
Whether you want to analyze your power output to shave a few seconds off your race times, or you just want to find out how fast you're really going on that great descent on your commute, there's a bike computer out there to suit your needs. Our staff has used personally many of the computers we sell, and we'd love to help you find what works for you. Give us a call at 1-800-682-0570 or email us at [email protected].
Our Most Popular Articles