ONE TIRE TO RULE THEM ALL?
The Vittoria Syerra is a 2.4" down-country* mountain bike tire that was released in October of 2021. I've had a pair on deck for review for a few months now, but a particularly wet Portland, Oregon fall/winter has kept my MTB mostly in the garage.
I was fortunate enough to have an opportunity in early-March of 2022 to cat-sit (scroll for photo of said cat) with my coworker Ken in Albuquerque, New Mexico—aka work remotely and ride mountain bikes in the gorgeous sunshine every day, with the added benefit of hanging with a furry friend. I couldn't think of a better opportunity to mount up the Syerras and put them through the paces.
Over the course of the 10 day trip, I logged 207 miles with 18,137 ft of elevation gain—over 80% of which was singletrack and trail.
*But Mr. BTD employee, what does "down-country" mean?
Before reading the press release for the Syerras, I had never heard of the term down-country in relation to mountain bike disciplines. If you are unfamiliar with the term, here is a little bit of context:
In short, down-country is a hybrid of the downhill (DH) and cross-country (XC) disciplines. The term itself, and the bikes / gear that fit into this category, were developed in response to modern XC courses that have grown significantly more technically difficult in recent years. Bicycles in this category are lightweight and nimble like XC bikes, typically have medium travel (~120mm), fit wider tires (~2.4"), and often take geometry cues from their all-mountain / endurance siblings, leaning towards greater stability and comfort over long efforts.
So did these hybridized tires from Vittoria check all of the boxes with souplesse, or were they a jack of all trades yet master of none? I'm excited to share my experience with you.
VISUAL IMPRESSIONS & SETUP
The Vittoria Syerras are visually striking—the tire name is printed in a large font on one side, and on the opposite side of the tire Vittoria used a new red-to-black gradient hotpatch for the brand name that immediately catches the eye and pops against the dark gray graphene compound.

On the scale, one tire weighed slightly more than the claimed 850g, and one weighed slightly less, so the average ended up being spot on.
In my hands, the rubber felt supple and grippy. The center knobs are of medium height, arranged in a chevron pattern, and are generously spaced to shed mud and debris, while the shoulder knobs are more aggressively pronounced and packed a little closer together in order to bite when cornering at speed.
To me, the Syerra looks like a combination of Vittoria's Agarro center knobs, with the side-knobs and generous spacing of their Morsa.
Mounting the Syerras was a dream. I set the bead on both with only a floor pump in a blisteringly short amount of time. Due to the amount of rim/tire combo variants, many folks could have different experiences, but compared to some of my previous tubeless setups, I was impressed.
VARIABLES OF THE EXPERIMENT
Everyone's set-up is different, so I'll give you a brief overview of my bicycle and myself as a rider for context and transparency.

The Ride
My mountain bike is a 2020 Surly Karate Monkey frame outfitted with an ENVE rigid mtb fork, ENVE Alloy MTB stem, ENVE M6 handlebars, PNW Loam dropper post and lever, SRAM Guide T brakes, a 12-speed groupset comprised of SRAM X01, GX & SX components, Shimano XT pedals, 29er wheels, and the 29x2.4" Vittoria Syerra tires.
As it is currently set up, the bike weighs 27.5lbs, has a head tube angle of 68 degrees, a 44mm offset, and just under 100mm of trail.
The Rider
I am on the shorter/lighter side of male riders, at 5'8" tall and 145 lbs. I cut my off-road teeth racing cyclocross and then expanded into the adventure-gravel category of riding. I've been mountain biking since 2020, and the Karate Monkey is my first MTB.
I love climbing, lean towards fast XC trails, but don't shy away from technical descents. Big air jump lines are beyond my skill level so I roll or route around the larger stuff, but enjoy catching a little air on smaller kickers.
While the rigid Karate Monkey as a bicycle doesn't perfectly fit into the down-county category as the bike industry defines it, I certainly use it for the type of terrain that is within that category and find it to be incredibly capable.
DEVELOPED IN ITALY & THE USA, MADE IN THAILAND, MOUNTED IN OREGON, AND TESTED IN NEW MEXICO
The Syerras were brand new and only dry-mounted when I packed my bike up for the trip to the Southwest, so after re-building the rig I injected 3 oz of sealant into each one, aired them to 21psi in the front and 23 in the rear, and hit the trails.
Never having ridden in the desert before, however, I quickly learned that my tire pressure was far too high for the frequent patches of deep sand I would encounter. I also learned that you need to give cacti plenty of space.
A few adjustments later and I found a good starting point, and over the next 10 days I settled on a sweet spot of 18 psi in the front and between 19-20 in the rear depending on the terrain.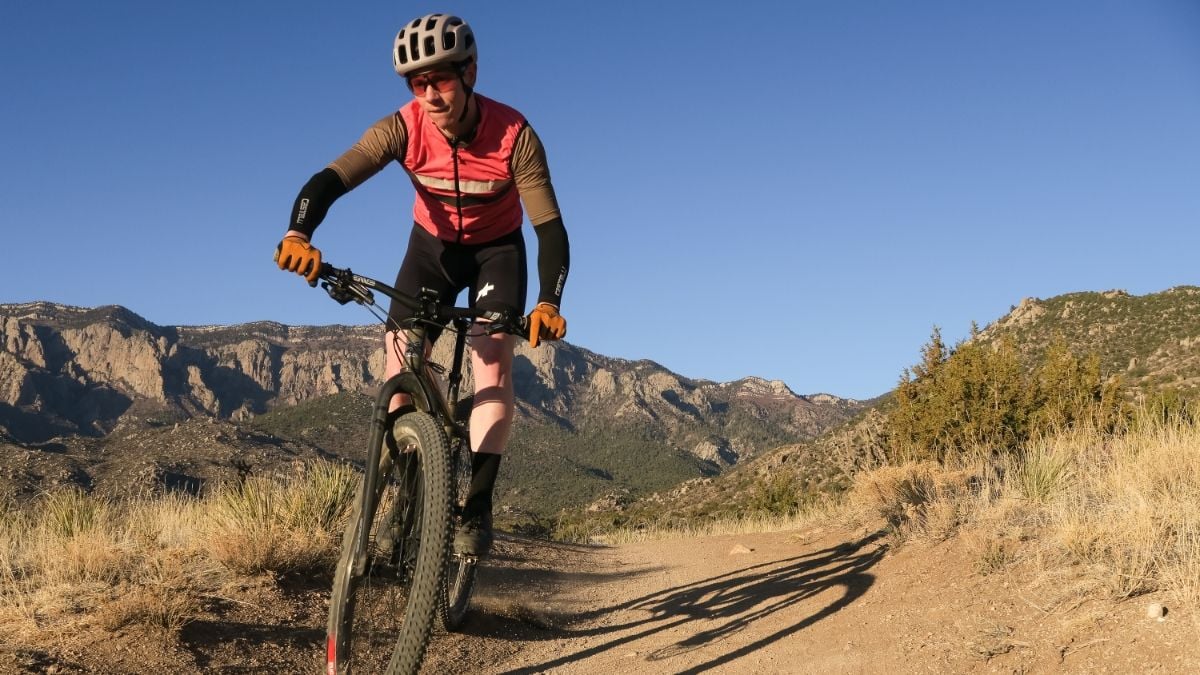 After the initial futzing period, the maximal grippaciousness and speed of the Syerras were the first qualities that felt distinctly different from previous MTB tires I'd ridden. When I put the power down for big accelerations the Syerras dug in deep and maximized the effectiveness of those efforts without feeling sluggish, and they absolutely ripped on loose descents, particularly shining in moments where I leaned the bike enough to fully engage the aggressive shoulder knobs.
TIERRA DEL NUEVO MEXICO
Over the 10 day trip Ken and I rode a wide range of terrain, all of which the Syerras handled marvelously.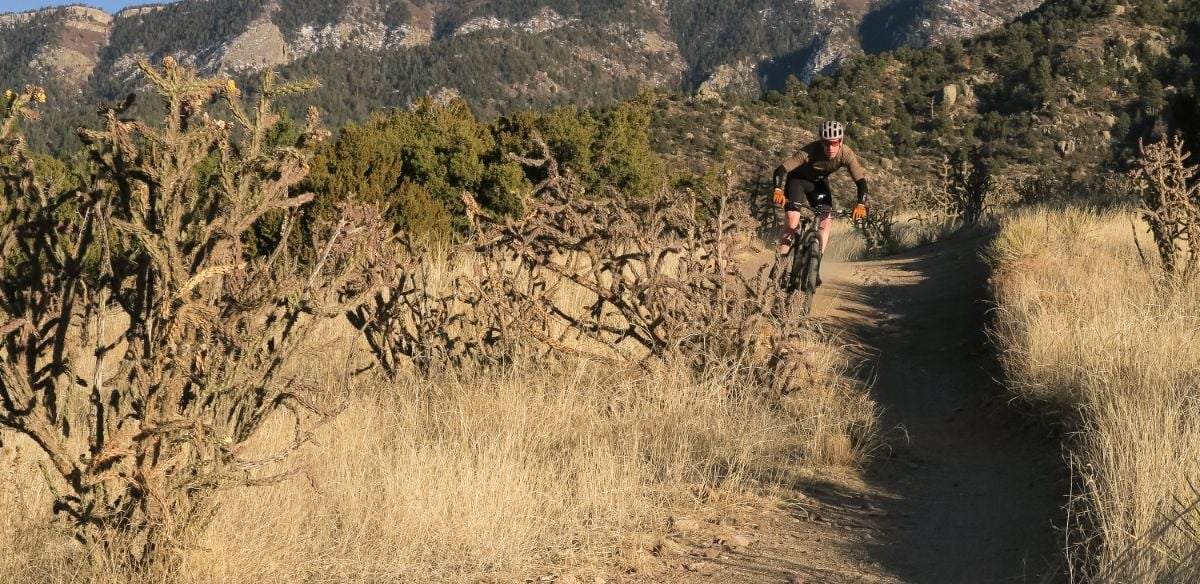 Our most-ridden trails were right out of the back door in the Sandia foothills of Albuquerque. The terrain in this region is mostly hardpack, or loose over hard, with both deeply sandy and densely rocky areas interspersed throughout. The landscape is also littered with arroyos, which are dried up steep-sided drainage paths carved into the desert that rush with water during heavy rains or flash floods.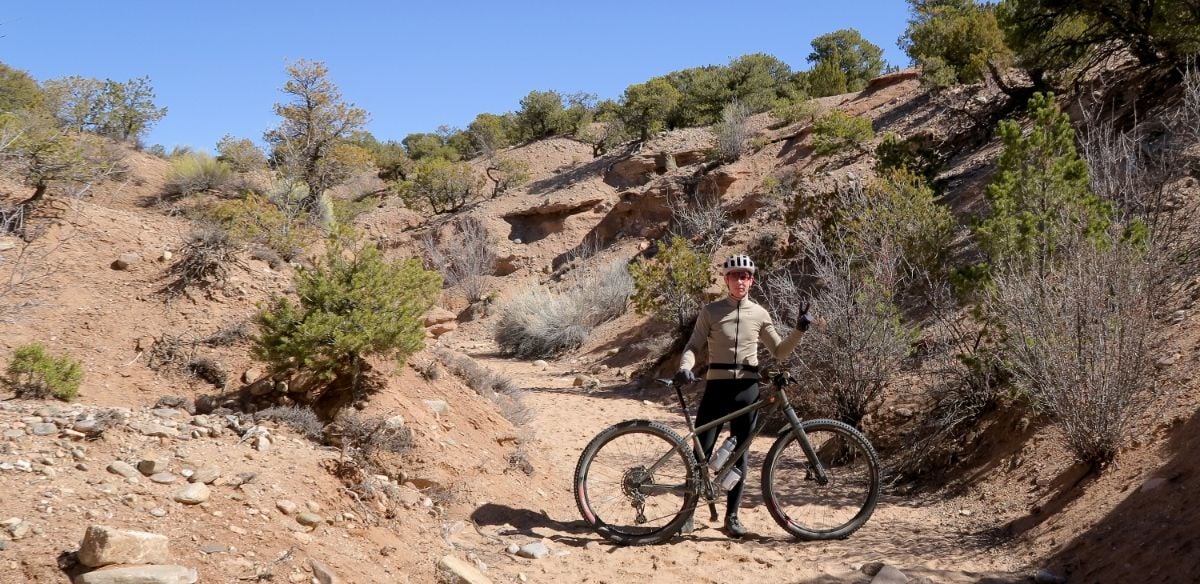 The Syerras stayed true and kept traction while traversing the sandy arroyos, ripped their way up and down rock gardens and off smaller drops, and climbed like mountain goats.
On a day-trip to Santa Fe—a gorgeous hour-long train ride to the north of Albuquerque—Ken and I rode around the La Tierra Trails in the northwestern part of the city. While some of the trails were similar to the natural style of the ABQ foothills, others were much more built up and manicured, featuring huge berms, tabletops and other features.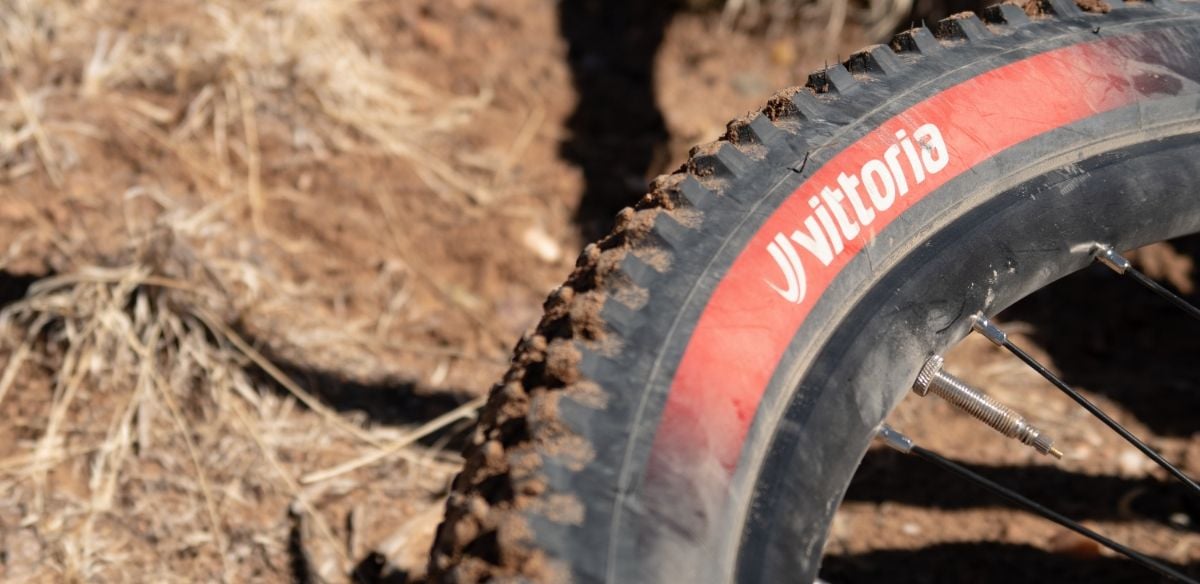 Due to the shade on northern faces and elevation, there were patches of snow and wet spots here and there, interspersed with the dry dirt, sand, and gravel. These conditions were a good test of the self-cleaning capability of the tires. Because of the ample spacing between lugs on the Syerras, any sedimentary cocktail that would stick to the tires was short lived, and flung asunder with just a handful of rotations.

On our final ride, we did a 10 mile loop around White Mesa, to the west of Albuquerque. White Mesa sits on a massive gypsum deposit and features a vast, stark landscape poised beneath the endless Big Sky™. Narrow serpentine singletrack takes riders alongside sheer cliff lines, up and down giant rock scrambles, and across precipitous spines—the most notable of which is appropriately named the "dragon's back."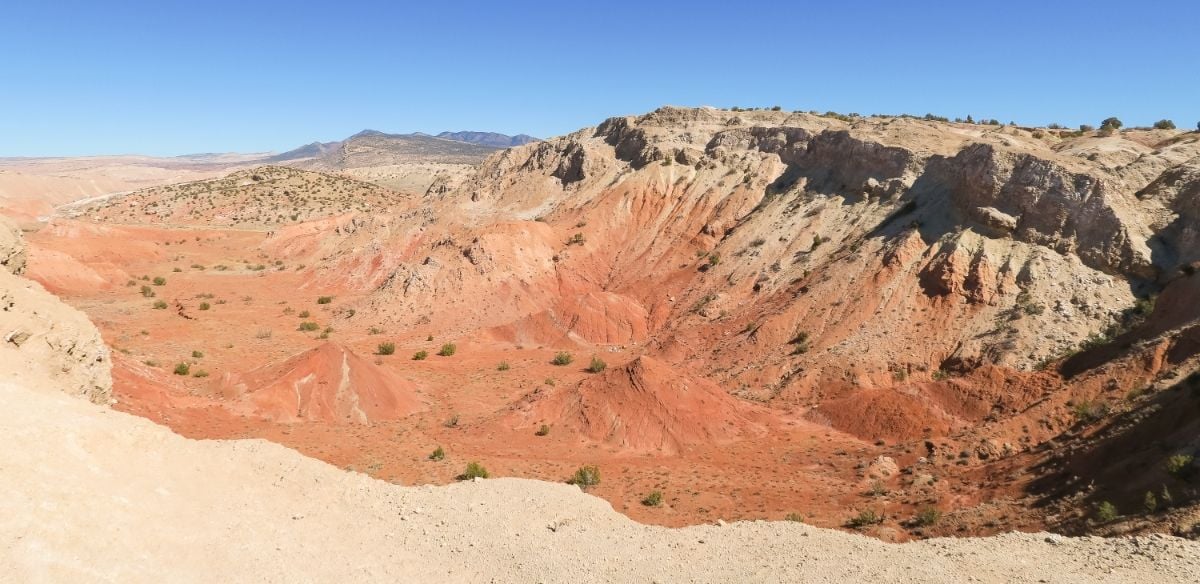 The terrain here was the harshest of the trip, but the excellent durability of the Syerras prevailed. Despite constant threats to the sidewalls from jagged rocks they emerged with only superficial scratches, and one puncture that sealed up almost immediately. Add to this countless cactus barbs and goat heads that I'd pulled out over the previous nine days, and the tires held up incredibly well.
White Mesa was also home to the steepest pitches we rode, with spots of both up and down in the mid-high 20% range and perhaps even a bit steeper at times. Yet again, the Syerras gripped it and ripped it, keeping me rubber side down and pedaling in the saddle through the tough stuff.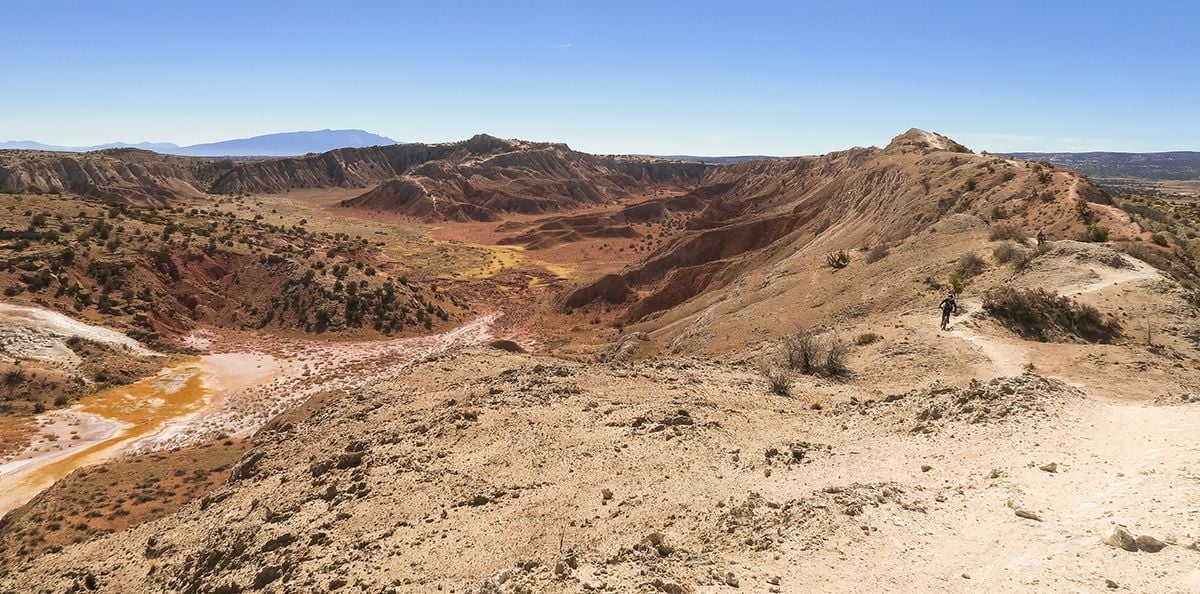 THE VERDICT
The Vittoria Syerras are fast yet supremely grippy, durable yet fairly lightweight, and once you get a good feel for them, super predictable, but still wildly versatile.
What this added up to for me in New Mexico is that once I had the pressure dialed in, I barely had to think about them—they just worked, and worked well.
Looking back at the trip, I was really able to focus on taking in the new-to-me landscape, enjoying the subtle changes in topography, and being completely present in the experience of navigating the absolutely stunning terrain by bicycle.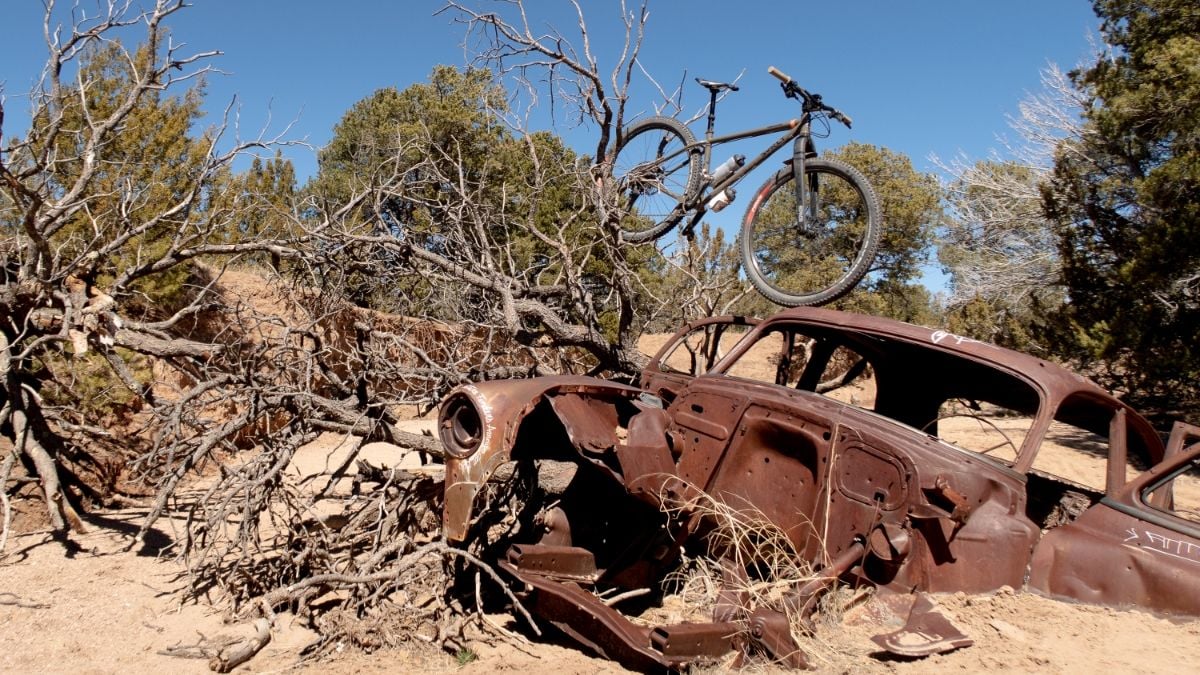 Sure, there are purpose-built DH tires that are going to grip and handle gnarly terrain better, and there are featherweight XC tires that forego ruggedness for pure speed, but for a rider like me—who sprinkles in bits of riding from many disciplines—the down-country Syerras really fit the bill.
They traversed fields of boulders, rock gardens and drops, off-the-map game trails and arroyos, washed out off-camber sandy corners, sheer precipices, jagged fields of stones, pristine singletrack, groomed trail-systems, gravely descents and climbs—and what's more, they comfortably ferried me to the New Mexican sopapillas and carne adovada to fuel up for the next ride. For my style of riding, I couldn't ask for anything more, and am eager to see what other terrain they are able to tackle in the future.
Shop Vittoria Syerra Downcounty MTB Tires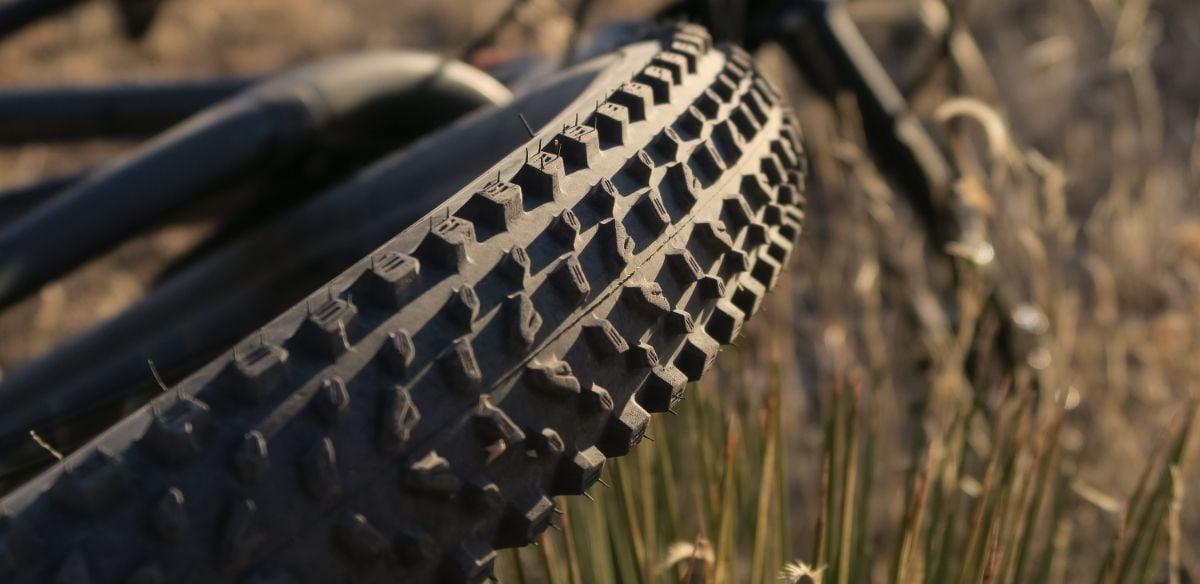 El gato.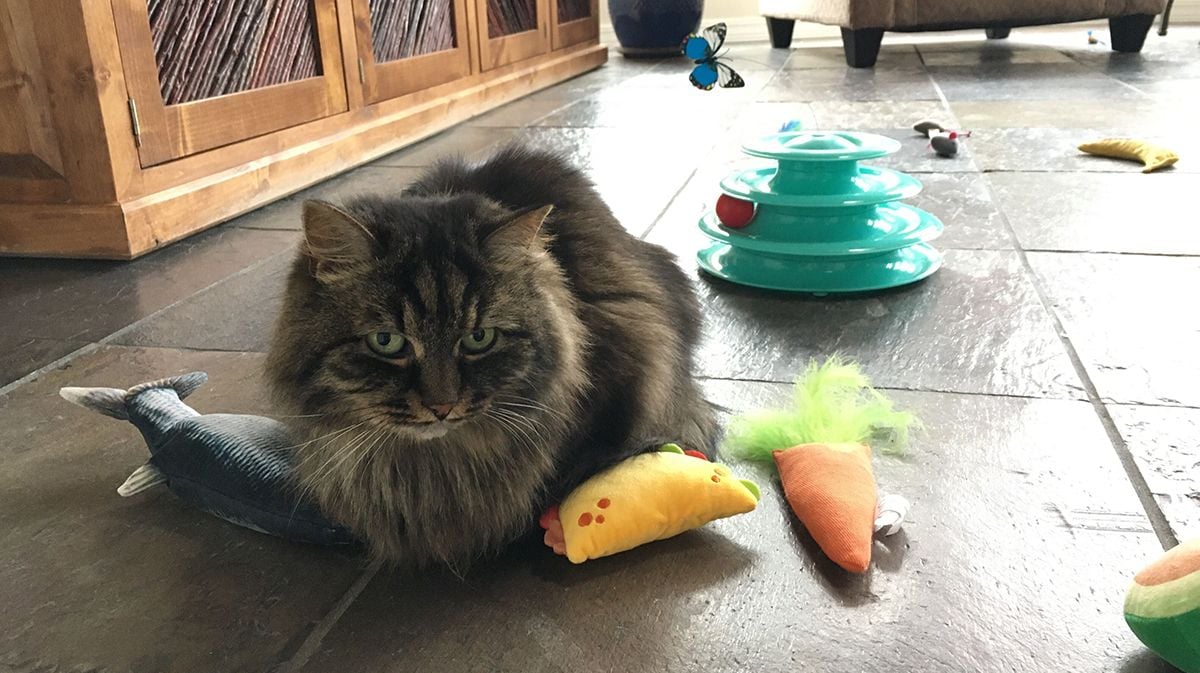 Worlds and Photos by Bertrand Morin, with patient assistance from Ken Wahrenberger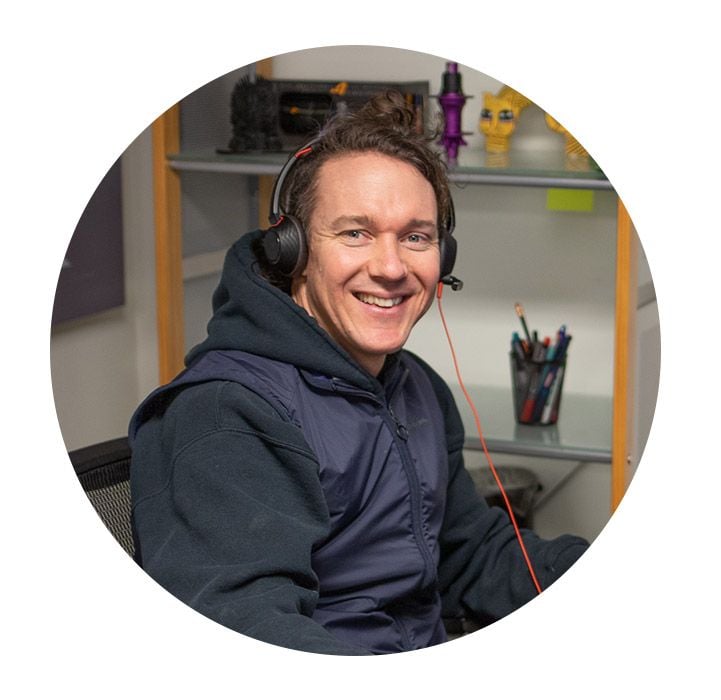 If you have further questions about this tire or any other product we carry, please feel free to reach out to our customer service team at the hours listed below.
Happy riding!
Email
[email protected]
Phone
1-800-682-0570
Hours:
Mon-Sat 8am-5pm PT
Our Most Popular Articles