Road Bike Handlebars
Road bike handlebars: if you've seen one, you've seen 'em all, right? Yup, they pretty much all have a straight part across the top and then swoop forward, down, and back, but subtle differences in the shape, size, and material of the flats and drops on a handlebar can make a big difference.
As with most cycling components, the range of available handlebars has greatly increased in recent years. The introduction of carbon fiber as a primary material in the construction of bike parts has contributed to a great deal of variety in the types of handlebars available. Of course, the focus on carbon fiber components has also made for some expensive parts! Here, we'll try and cut through some of the marketing hype to help you decide which handlebars will best suit your needs.
Carbon Handlebars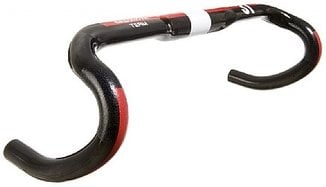 Carbon fiber has dramatically increased the variety of handlebars available. As with stems, much of the appeal of carbon is cosmetic or related to its contribution to the difficult-to-articulate overall "road feel" of the resulting ride. Carbon bars, generally, will provide a more muted, smoother rider than alloy bars. Of course, on a carbon frame with carbon wheels, this smoothing effect will be negligible. On a stiff aluminum frame, though, the increased smoothness may be very welcome.
Carbon is also infinitely moldable, which means that carbon bars can be made with all kinds of ergonomic shaping and sleek cable routing.
On the "cons" side is the durability issue. While no handlebar should ever fail under normal riding conditions, bars often get the worst knocks in a crash. Carbon bars should be discarded, or at least demoted from your race bike, in the event of a crash. Even if no visible damage has occurred, carbon components can develop internal cracks that severely undermind the structural integrity of the product. Carbon bars can also be damaged by an overtightened clamp.
Aluminum Handlebars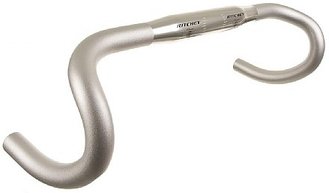 Aluminum bars have two things going for them: light weight and reliability. They also tend to be less expensive than their carbon counterparts. Aluminum is light and extremely rigid. The drawback is that the rigidity of aluminum limits design possibilities. Many of the more elaborate ergonomic designs and cable routing methods would compromise the material's stiffness and make the bars less reliable.
Aluminum bars remain the choice of many pro riders. A high-quality aluminum bar like the Zipp Service Course SL-88 Handlebar is definitely race-worthy, with a weight comparable to carbon, a high degree of stiffness, and utilitarian design. Perfect for the hardest climb or the toughest cyclocross course. While these bars may lack the stylish appeal of flashy carbon, they match the performance at a much friendlier price.
Clamp Size
Once upon a time, hard-working bike component engineers realized they could make handlebars lighter and stiffer by increasing the diameter of the bar where it clamps to the stem. This gave rise to a new "oversize" 31.8mm clamp diameter standard, which is now more prevalent than the old 26.0mm clamp diameter. Both are still widely available, however. A "standard" 26.0mm can be used with a 31.8mm stem by using a Problem Solvers Handlebar Shim.
The Bend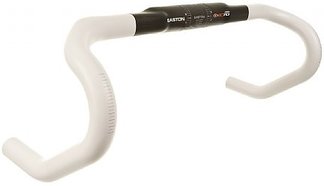 Many handlebars are labeled as either "ergo" or "classic" bend. These labels refer to the lower grips—the "drops"—of the bar. Classic bars feature smooth half circles between the tops and the drops, while ergo bars feature a flattened section as the bend approaches the drops. Ergo bars are designed to more comfortably accomodate varied riding positions while in the drops.
The round arch of classic bend bars is graceful, but the lower section of the semi-circle tends to be difficult to hold onto. When a rider is generating a large amount of power, as one usually is while riding in the drops, it can be frustrating to be grasping at an area of the handlebars not designed to fit your hand. Manufacturers solved the reach problem by flattening out the lower section of the bend to provide a larger surface area to hold onto. The Easton EC70 Aero Road Handlebar, for example, has a very pronounced ergo section. Exaggerated bends like this are especially popular with criterium and cyclocross racers, who demand a quick switch to the drops.
Many road bars sold today offer subtle ergo bends. If you look closely at the Easton EA50 Compact Road Handlebar, for example, you'll see that the bend is slightly flattened as it reaches the drops. This goes a long way towards providing comfort on the bike when you need it most.
Of course, some riders prefer traditional round bends, finding them more versatile. The Ritchey WCS NeoClassic Handlebar or Ritchey Classic NeoClassic Handlebar will serve those riders well.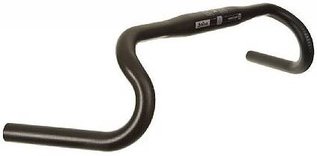 There's one more thing to consider about the bend. With the growing popularity of cyclocross bikes and gravel grinders, some manufacturers have worked to optimize handlebar design for these applications. The Salsa Woodchipper 2 Handlebar and Salsa Cowbell 3 Handlebar both have flared, shallower drops for extra control in off-road conditions.
Width
Handlebars are sized by their width, typically ranging from 36-46cm. The rule of thumb is that you want a bar that's as wide as your shoulder, so that your arms reach straight down to the drops, rather than slightly out. Big powerful sprinters may prefer to err on the larger side, as wider bars allow more leverage for forcing every last bit of power out of the bike.
Choosing Handlebars
So, which bars are for you? A quick glance at the peloton shows that the pros ride both carbon and aluminum. Powerful sprinter types tend to ride durable aluminum bars, while spindly climbers prefer the smoother feel of carbon. Weight-wise, the lightest aluminum bars are comparable to the lightest carbon bars. Price-wise, aluminum almost always wins out. If you've experienced a particularly good fit with an ultra-ergo carbon job, you're probably carbon for life; if you've tried several aluminum bars but can't quite get comfortable, a more ergonomically-designed carbon bar may be the answer. Nothing says high tech like glossy carbon parts, but races are won on the highest level with both materials.
As with any component, there is no one right answer and no holy grail handlebar that will turn you into the second coming of Eddy Merckx.
Our staff of cyclists would be happy to help with any questions regarding handlebar selection and compatibility; just contact us at 1-800-682-0570 or [email protected].
Our Most Popular Articles