Pirelli P Zero Velo Tire Review

First things first, a little context.
Pirelli is a 145-year-old company with deep roots in motorsport and an early connection to cycling with their notable presence at the inaugural Giro d'Italia in 1909, where at least half of the peloton mounted Pirelli tires (1) (2). Subsequently, their focus went to motorsports with a limited presence in the cycling world until 2017, when they returned with a new range of road bike tires after a 25-year absence.
The P Zero Velo was released in Spring/Summer 2020 and has been marketed as fast, durable, and grippy. Some of its notable technologies include SmartNET(TM) Silica, a rubber compound that promotes rolling efficiency and wet grip, Functional Groove Design (FGD), a lightning bolt tread pattern that enhances comfort and water drainage, and Ideal Contour Shaping (ICS), an optimized tire shape that boosts stability and responsiveness (3).
I didn't know about any of this - the history, technologies, or design features - before testing these tires. In fact, it was my first time riding Pirelli tires ever. I chose to lean into my inexperience and lack of knowledge, held off on research, and commenced the testing with an open mind and blank slate.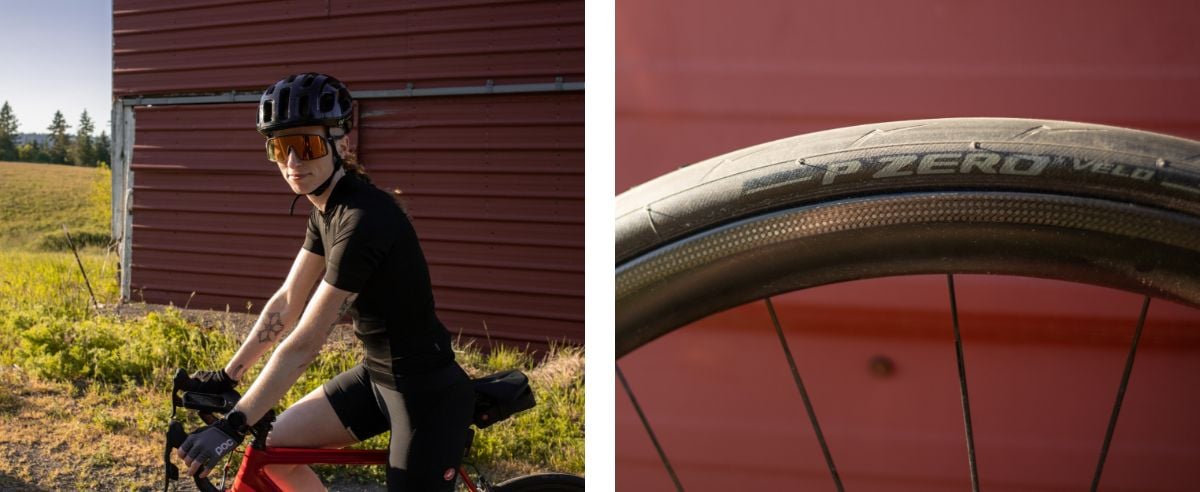 Because aesthetics matter.
I ride a Cannondale SuperSix Evo - it's bright red, which is a bit flashier than I usually go for, so I like to balance it out with dark and neutral tones. True to form, I opted for the "anthracite" colorway, which is a fancy way of describing a dark gray logo on a black tire. This is the most low-profile color option available. The "black" option is another neutral option with a white-outlined black logo on an all-black tire.
If you're more adventurous than me, you'll be glad to know there are several other colorways to choose from, and you can match, clash, and complement your bike to your heart's content. There's even a classic option with a brown sidewall and black logo for you traditionalists out there.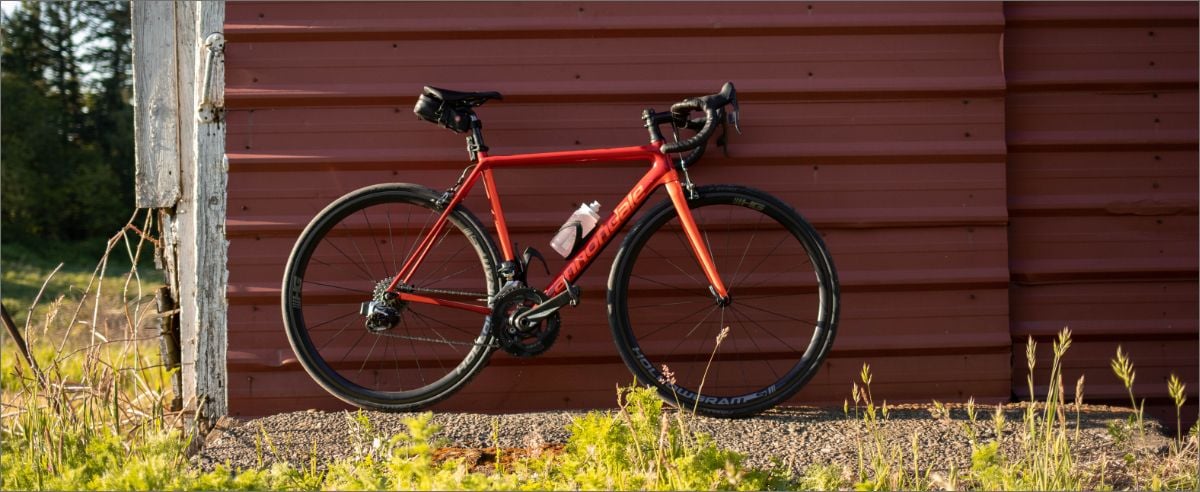 The not-so-dreadful mounting.
I was thrilled with how easy they were to mount on my Hollowgram rims. While I love my SuperSix and the Hollowgram wheels that it came with, I have had a trying relationship with the rims. Without fail, when it came time to mount new tires, I'd spend an extra 30-45 minutes stretching, pulling, pushing, kneading, and outright wrestling with each tire to move the last several inches of the bead over the rim and properly seat it. On a few occasions, I recruited a friend or shop to swap my tires (don't judge me), and they struggled too!
As you might imagine, I wasn't looking forward to going through this grueling process with the P Zero Velos. I even dragged my feet a bit and put it off for a week or so. However, much to my surprise, they were literally (well, actually figuratively) a dream to mount on my rims. What usually takes me nearly two hours (again, don't judge me) was done and over within 45 minutes. I can only assume the tires played a significant role in expediting this process.
So, for those of you out there with rims like a possessed Regan MacNeil (Editor's note #1: Supporting character from the 1973 American supernatural horror film, "The Exorcist") the P Zero Velos may be the Father Karras (Editor's note #2: Ditto) you've been waiting for. Finally, these tires are rotational and have clearly debossed markings on the sidewall that denote which way to mount them - it's easy to forget but don't!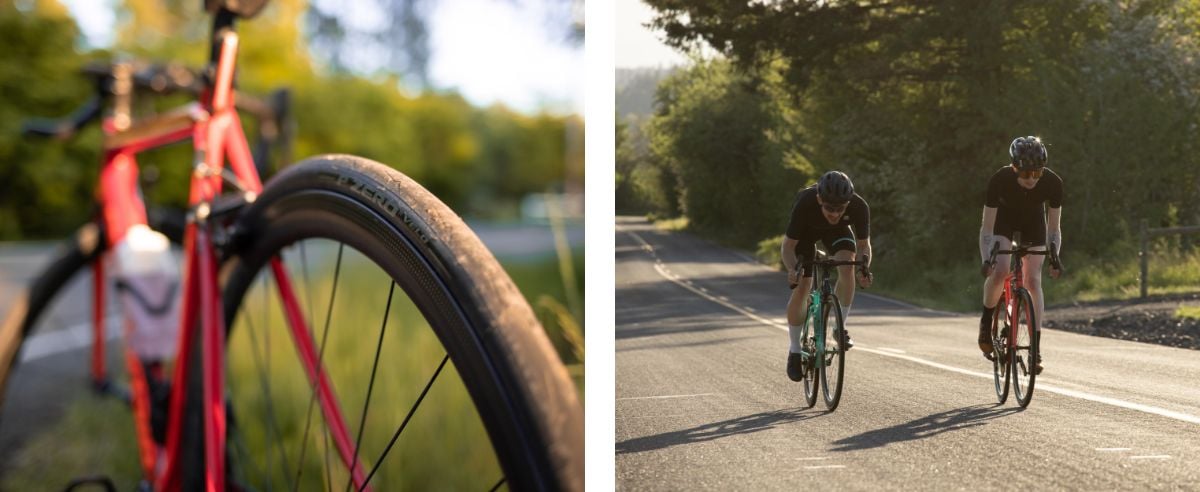 The PZVs in the wild.
I took the P Zero Velos on several spins during peak spring season. Typically, "springtime" in the Pacific Northwest is really just another word for "more rain, slightly less cold." However, this year the normally sullen weather gods gifted us with mostly dry, nearly warm, and moderately sunny conditions. It was a weird and wonderful surprise. As such, most of my test rides were dry, seeing only about 15 minutes of rain total.
On dry pavement, the PZVs felt great, a bit zippy even, and performed swimmingly in corners, curves, and meandering descents. I'm no expert at cornering, nor am I the most daring descender, but I pushed the pace, took some calculated risks, and was delighted by the tires' sticky, confidence-building feel.
To test their durability and puncture resistance, I subjected the PZVs to the dreaded "Dirty Thirty" on several occasions, as well as the notorious bike lanes of N. Lombard Street, N. Marine Drive, and N. Portland Road. I rolled through more glass and debris than I'd like to admit but for the purposes of this review, believe me when I say it was a lot! The PZVs held up fabulously. I didn't get a single flat, and the tread is still in really good shape. I even inspected them with a headlamp a few times and haven't found any nasty bits lodged in the rubber.
In the little bit of wet pavement I encountered, the PZVs felt grippy and consistent. When the rain hit (the first and only time), I was on a flat, straight, and lonely road, and I performed several cycles of hard, sudden braking at speed. The tires felt solid all the way through with no skidding, sliding, or freaky business of any kind. I felt safe and grounded. I encountered a few sharp curves post-rain on moderately wet pavement, and I rounded those out with ease, feeling controlled and stable.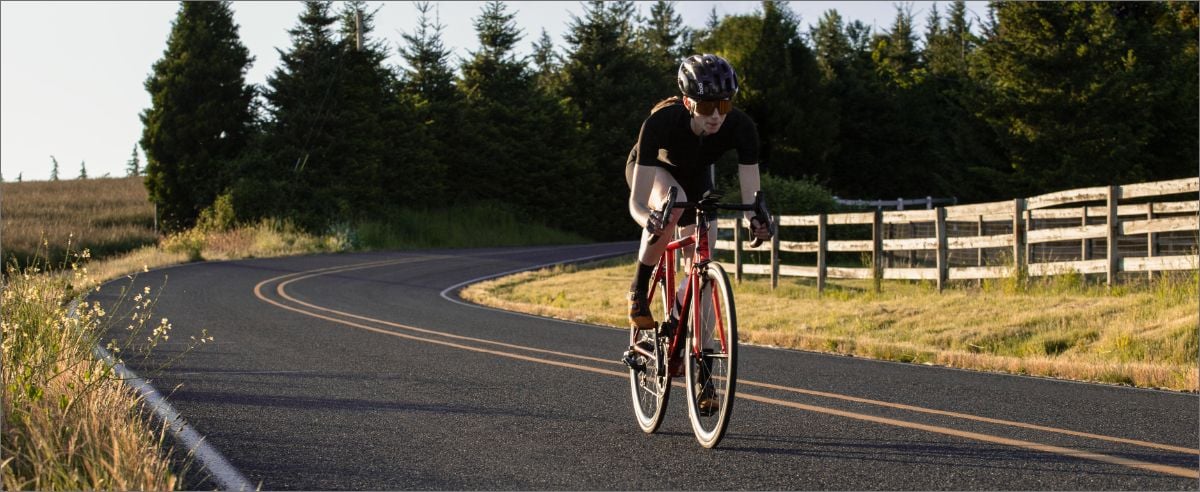 Final thoughts on the Pirelli P Zero Velo tires.
I'm impressed. They look cool, and with a variety of colorways, they're adaptable to whatever "cool" looks like for you. They're easy - the mounting process was quick and relatively painless. They feel safe and reliable in corners, curves, and descents, so much so that I felt inspired to go beyond my comfort zone. Finally, they stood up to some of the nastiest shoulders and debris-filled bike lanes Portland has to offer with no flats or excessive wear. My next steps: log more wet miles and see how the PZVs handle in races.
If these sound like the tires you've been waiting for, you can get them here, and please leave a review on the site to let us know what you think!
More of a gravel rider? Read our review of the Pirelli Cinturato M Gravel Tire!
(1) 13 May 1909: The Start of the First-ever Giro d'Italia
Elyse Johansen is a racer and copywriter based in Portland, Oregon. She loves horror movies, hates mounting tires. Follow her on Strava for more training and racing tips.
Our Most Popular Articles