Buyer's Guide: Trainers And Rollers

I get it. You're a purist.
Riding bikes is meant to be done outdoors. The wind blowing through your hair, the smell of the open fields or city streets.
Riding indoors? Sweating out the minutes staring at a wall? There's a reason runners refer to it as the "dreadmill."
But indoor trainers have evolved over the years. All those fancy new apps and smart controls have changed the game when it comes to training indoors. Maybe your interest is piqued and you want to dip your toe in the indoor training community. Maybe a quarantine has limited your options for group rides. Maybe you're ready to dive in head first!
Before you add a new gadget to your cart and click "place order," let's look at the who, what, where, why, and how of indoor trainers.
WHO SHOULD BUY AN INDOOR TRAINER?
You should.
Everyone should.
No, really. Indoor training is for everyone. Anyone from a mountain biker, to a crit racer, to a time trialist or triathlete can benefit from some time spent on a trainer.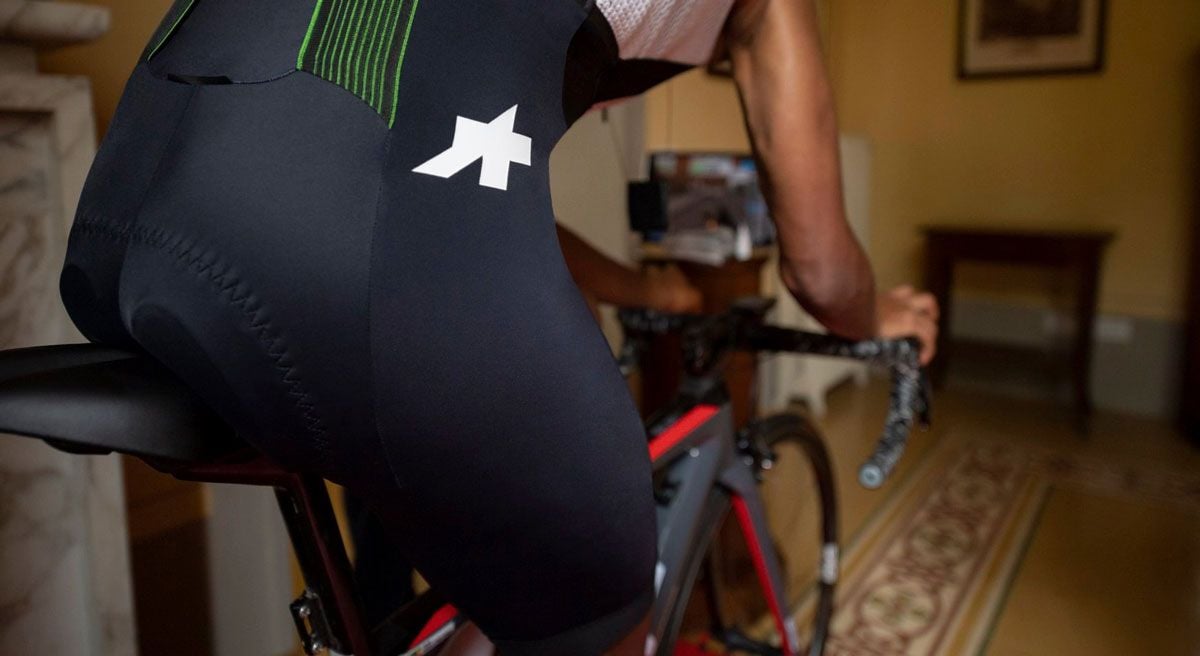 WHY
There are a number of reasons indoor training does you good.
1. Safety - The only way to get hit by a car while riding indoors is if one comes crashing through the wall of your house.
2. Efficiency - It's quicker to squeeze in a quality workout indoors. It also opens up early mornings and evenings to workouts when it would otherwise be too dark outside (see point number 1).
You also don't have the time spent coasting or braking which means you spend the full workout putting power into the pedals!
3. Structure - Your coach or training plan prescribes a workout, but that stop light always breaks up those long threshold intervals. Have you ever been there? Indoors you can nail the structure of your workout and get the right amount of time in the right zone no matter what. (That goes for rest intervals too!)
WHAT KIND OF TRAINER SHOULD I GET?
Now that's a complicated topic.
Let's start by saying there is no such thing as a one-size-fits-all trainer. It's a very individual thing when it comes to preference on trainers. And even terms like "the best trainer" simply refer to the "most accurate" or the "most features."
There are so many options with smart trainers and wheel-on and wheel-off trainers and... and... and...
Let's make some sense of the landscape.
First, all indoor training equipment falls into two categories: smart and traditional (not "dumb"... but you may see that term used to describe them online). All trainers have some way of applying resistance to the drivetrain on your bike, whether to the rear wheel or cassette. Smart trainers can be controlled by an app, increasing or decreasing the resistance for you. Traditional trainers are not controlled, but will still have various levels of resistance that you can set. Because of this, traditional trainers tend to be cheaper than smart trainers.
Traditional Trainers
On the traditional trainer side, something like the Saris Mag Trainer will use magnets inside a drum that presses on your rear wheel to increase resistance. Mag trainers tend to have a few resistance settings that you control manually.
Another option for traditional trainers is a fluid trainer like the Saris Fluid 2 Trainer. As the name implies, fluid trainers use impellers inside a fluid-filled drum to progressively increase resistance as you pedal more quickly. This allows you to change the resistance simply by changing gears on your bike.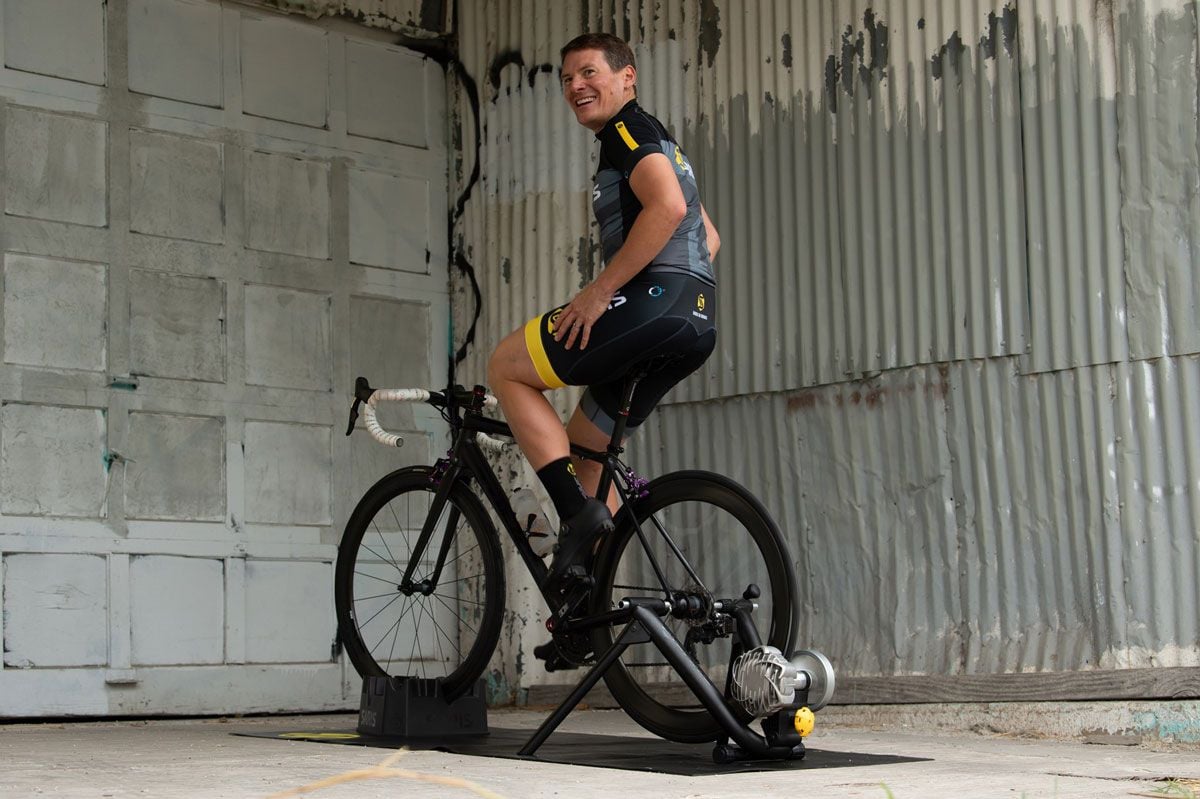 Smart Trainers
On the smart trainer side, these are usually divided between wheel-on and wheel-off trainers. With wheel-on trainers like the Tacx Neo 2T, you leave your wheel on (as with traditional trainers) and the unit adds the resistance to your wheel. The advantage with these trainers is that they are generally cheaper and fall somewhere in price between wheel-off and traditional trainers. You also don't have to deal with putting your wheel back on your bike before you take it out the door for a ride.
Wheel-off trainers like the Elite Suito T Interactive Trainer or Elite Direto XR Smart Trainer trainers will have a cassette that your bike locks into, replacing the rear wheel on your bike. This allows a more consistent experience with resistance control and reduces wear on your tire and the cassette on your wheel. These tend to represent the higher end of the market and are where most trainer companies are placing their resources for innovative features.
What trainer is right for you will depend on your budget and what you are looking for in a trainer. I used a simple sub-$150 fluid trainer for many years before upgrading to a smart unit. But the interactive experience of a smart trainer paired with a training app is a lot of fun!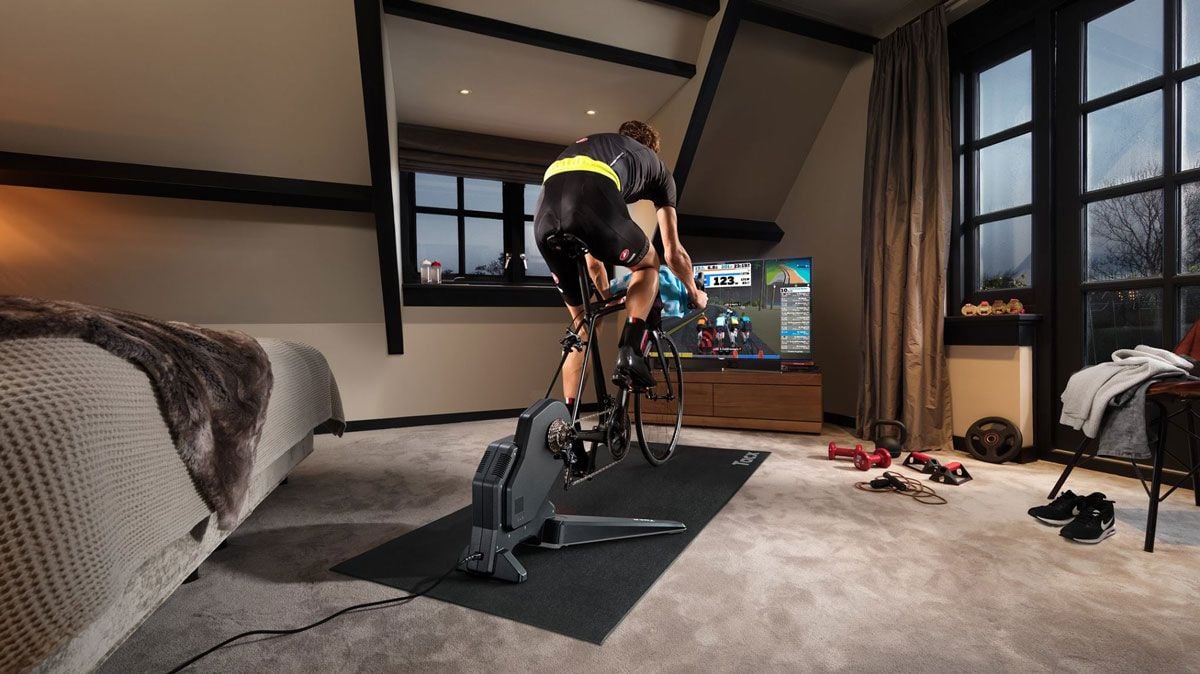 WHERE SHOULD I SET UP MY TRAINER?
Indoors. Duh!
Actually, there are quite a few instances of people training with an indoor trainer outdoors.
Race warm up?- Yes!
Out on your deck on a beautiful day?- Go for it!
In your basement or garage?- Did you say "Pain cave"?
In your office at work?- I'd ask my boss first... but it's possible!
The point is, you can pretty much set up your indoor training space anywhere! You just need your bike and your trainer. But a few accessories will make your time on the trainer more enjoyable.
First, I highly recommend a good fan. A simple box fan will work, but I've found the industrial type blower fans like those from Lasko to be great! With no wind from the open road, extra cooling will keep you from overheating as you throw down the watts. Along those lines, a trainer matt and a sweat cover like the Tacx Sweatcover can prevent puddles of sweat from collecting on the floor! This is especially important if you are set up in a carpeted room.
It is worth mentioning that, while most trainers come with a front wheel riser, if your's doesn't it's worth the money to buy one. Some, like the Elite Sterzo Smart Interactive Steering Block, can connect with virtual training apps to simulate the effects of steering your bike in the real world.
You'll also probably want some type of app to structure your training and keep you engaged (more on that later). Having something like the Elite POSA Device Holder to keep your laptop or mobile device handy is a great addition.
With accessories and extra, the sky's the limit! You can go big with TV's, mirrors, multiple fans, the works! You can also keep things simple with the bare necessities. It's up to you! The main thing is that you are comfortable and the barriers you have to overcome to get on the bike are minimal. If that extra small comfort gets you on the bike one more time each week, it's worth it!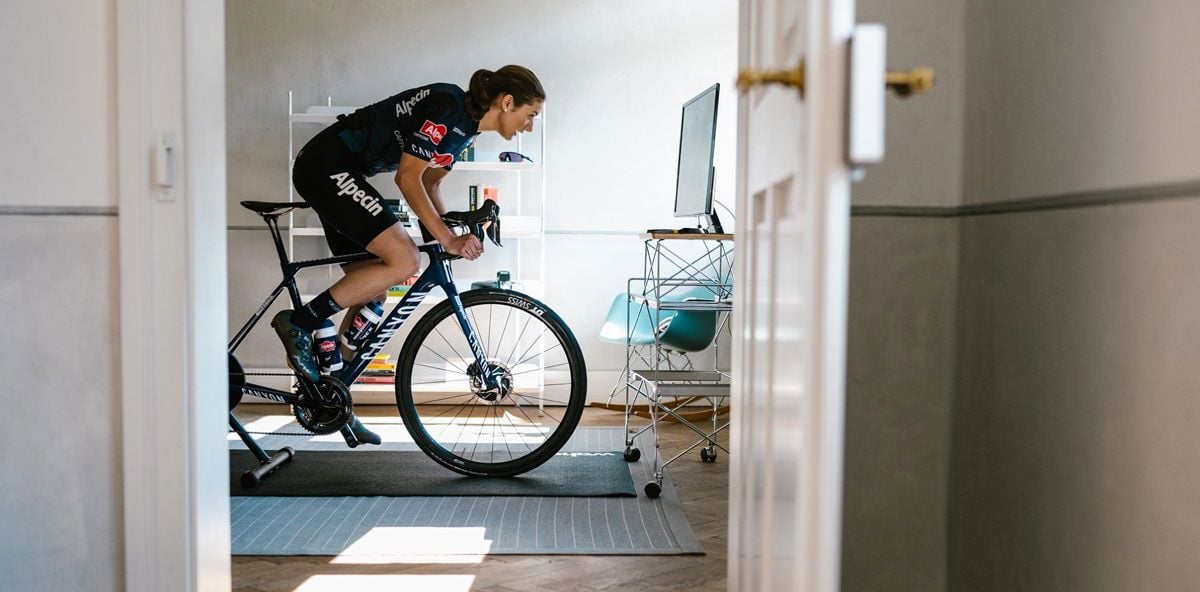 HOW DO I TRAIN WITH A TRAINER?
This question gets more into the idea of apps and plans. As mentioned in the beginner's guide to power meters, it really helps to have a coach or a plan guiding your training. If you just train based on how you feel that day, you will never quite push yourself like you could (especially on a trainer!). There's also the risk of simply going out and trashing yourself every day and that won't do any good either.
Many coaches will work in plans for indoor training recognizing the benefits. Apps like TrainerRoad and Zwift are leading the way with the indoor training community and include progressive plans specific to your goals. The advantage with these apps is the entertainment and community aspect which helps the minutes tick away.
Many of these apps have a free trial period, so test it out and see what works for you. Like on the hardware side, there's no one app that fits all.
WHAT NOW?
The first step is to evaluate your needs and your budget. Take a look at what trainers are available and get the one you think will work best for you! Then download an app on your phone or computer and dive into the wonderful world of indoor training!
Ready to take the plunge? Shop BikeTiresDirect for a wide selection of indoor trainers and accessories at a wide selection of prices from top brands including Tacx, Elite, Saris, and more!
Author Nathan Deck is a husband, father, triathlete, and a teacher at heart. When he's not training, he loves to mentor junior athletes new to the sport. Read more of his work at Triathlonpal and follow him on Twitter.
Our Most Popular Articles