Grease, Lube, or Solvent?
Keep your bike in good condition and you will be rewarded with a smooth, efficient, pleasant ride. This means greasing screws and joints properly, lubing your chain, and cleaning out the grit from time to time.
Keep Your Chain Clean and Lubed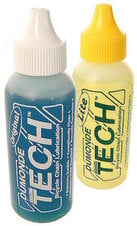 Maintaining a clean, quiet chain will not only make for a more pleasant ride, it'll decrease wear on your drivetrain and help you extend the life of your components. But all lubes are not created equal!
High-quality oil is simply the best lubricant for your drivetrain. We're big fans of Dumonde Tech Bicycle Chain Lubrication or ProGold ProLink Chain Lubricant; these'll keep your race bike purring. These lubes tend to be on the pricier side, though, and sometimes quantity is more important than quality—for bikes that you'll be riding a lot in grit or bad weather, something like Finish Line Dry Lubricant 4oz is an excellent choice. Use it generously!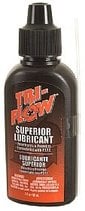 Some chain lubes contain a small amount of wax, and others don't. Whether wax is a good thing or not depends on your riding style. The wax in wax chain lubes clings to the crevices in your chain and drivetrain components, providing a base layer of lubrication that helps protect your drivetrain when elements such as water or dirt strip the oil from your chain. Wax is great for mountain bikers, all-weather commuters, and others who ride in wet or dirty conditions. We like PMS Products Boeshield T9 Bicycle Lubricant.
But you might want to avoid wax when lubing the chain on your high-end road bike or your race bike. If your bike stays fairly clean, wax will hurt rather than help—the wax that gathers in the crevices of your drivetrain will inhibit the more efficient oil in the lube from reaching the contact areas of your rain. Again, high quality oil is always the best lubricant for your drivetrain—it just won't weather the worst precipitation or dirt, making wax lubes more suitable for some riding situations.
Eliminate Squeaky Bolts and Seized Parts
Oil-based solvents like Tri-Flow Superior Lubricant or WD-40 Bike Multi-Use Product 4oz Drip are perfect for silencing squeaky bolts, cables, and clamps (like seatpost clamps and stem faces). In addition, they can work miracles on seized parts, and they'll help make old components shine like new: strip off your derailleurs and shifters, add a bit of Tri-Flow, wipe 'em down, and it's a whole new bike.

Oil-based solvents are often marketed as chain lube, and while they'll work okay to get the old bike in your garage up and running again, they shouldn't be used on high-performance bikes. The oil base in the solvent will eliminate chain squeaks in the short run, but the solvent will penetrate the pins and rollers in the chain, making for lots more squeaks (and increased wear) in the long run.
Avoid Overtightening Parts
A big tube of grease is a bike mechanic's best friend. When you're putting together a bike, anything with threads needs a big smear of grease before it's carefully tightened. The fragile aluminum and titanium screws found on many bikes can be completely destroyed by over-tightening. Grease helps prevent that.

Grease is thick, sticky, and buillt to last. Leaving excess grease on the outside of your parts is a recipe for a dirty bike (grease attracts dirt!), so once everything's put together and tightened, clean off all the extra goop.
Try Park Tool PPL-1 Polylube 1000 Tube, Finish Line Premium Grease With Teflon 3.5oz, or Shimano Dura-Ace Special Grease.
Clean the Nooks and Crannies
Want a super-clean, super-shiny chain? Citrus solvent is what you're looking for. It's strong stuff, so we like to dilute it in a one-to-one ratio with water. It's perfect for cleaning chains and will cut through the thickest road grit. Use it sparingly and consider using gloves! Park Tool CB-2 Citrus ChainBrite Chain Cleaner 16oz and Dumonde Tech Citrus Solvent are both very effective.
Citrus solvent works great on chains, but shininess isn't the be all and end all of chain performance, after all. Be careful not to over-clean—once a month should be good for an avid rider who rides in fair to good conditions. Over-cleaning can strip away too many of the good oils that accumulate in the crevices of your chain, leading to undue chain wear.
Be sure to keep this solvent away from your frame's fancy paint job—it'll eat right through clear coat.
Want some help making sure you've got the right stuff for the job, whatever that job might be? Give us a call at 1-800-682-0570 or email us at [email protected].
Our Most Popular Articles