If you are either new to cycling or an avid cyclist who hasn't used a cycling-specific shoe before, you're probably loaded with questions. Have no fear, we're here for all of them. Maybe the most important question of all is, "what kind of shoe do I need for cycling?"

Most casual cyclists get by just fine with regular shoes and flat pedals. But if you are logging regular miles, training for an event, or simply looking to go faster and further with greater comfort, then the time is right to invest in a cycling shoe. What type of cycling shoe is ultimately dependent on what kind of bike you have, and how you want to ride it, as each style of shoe has a corresponding type of pedal. Together, they can take your riding experience to the next level.
Clipless?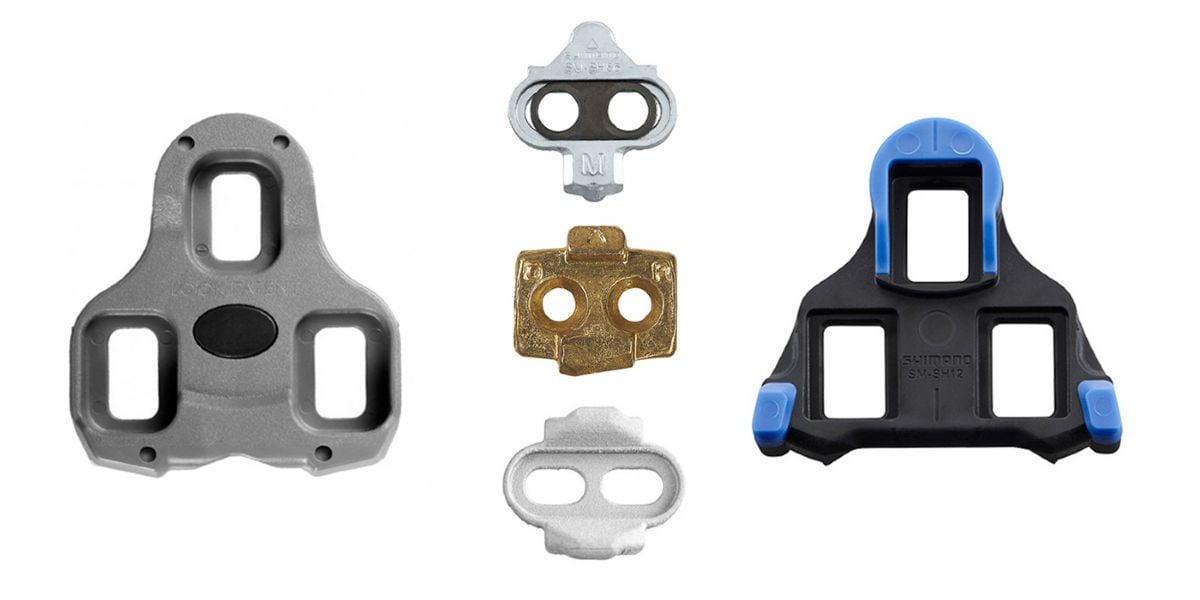 Cycling shoes that connect directly to the pedals through a cleat interface are called "clipless". While it may sound counterintuitive to what these systems actually do, their name comes from the elimination of the need for retro-style toe clips. Clipless pedals allow the rider to pedal with the most efficiency by connecting their feet directly to the pedals. There are a handful of different systems for you to choose from to match your riding preferences.
When you purchase a set of pedals, they will come with a set of cleats to match. However, cycling shoes do not come with ready-to-use cleats. You can learn more about how clipless pedals work and how to use them with a pair of cycling shoes in our Bicycle Pedal guide.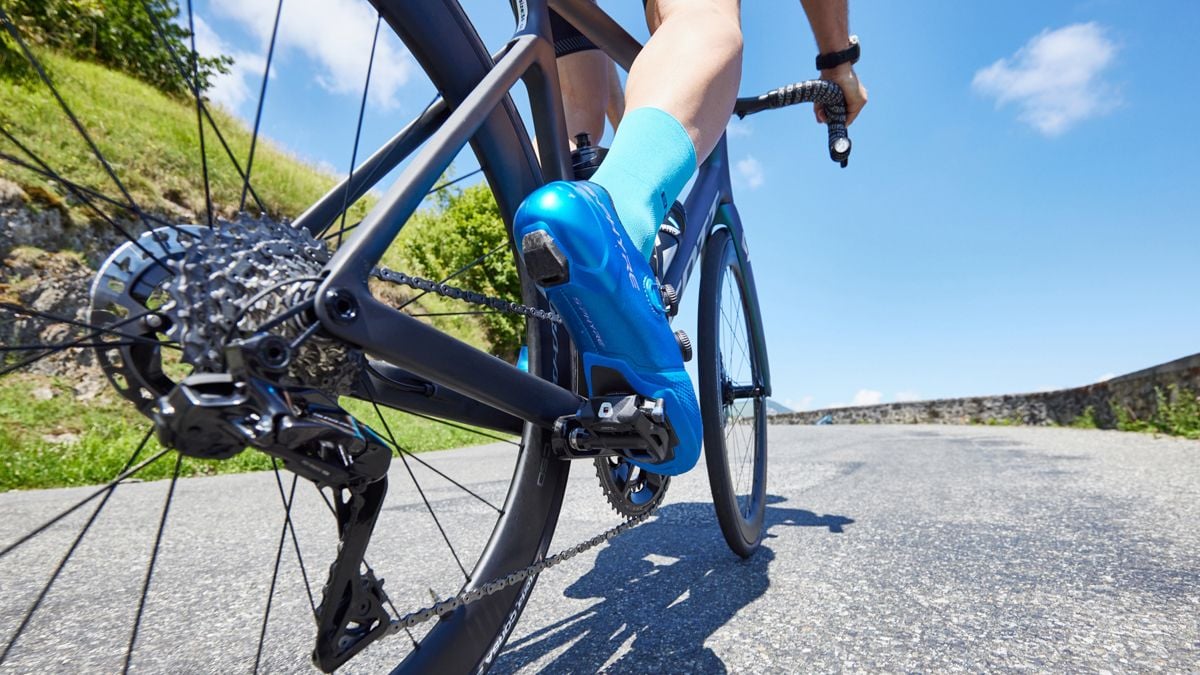 Road shoes are purely designed to maximize pedaling efficiency. They are built around stiff lower soles, usually made of nylon, carbon fiber, or a combination of the two materials, paired with a lightweight ventilated upper. On the soles, toward the forefront of the midfoot, there is a section for mounting cleats. Most road shoes use the 3-bolt mounting pattern, but some entry-level shoes will also have the 2-bolt SPD-style mount.
It's important to note that road shoes are not designed for off-the-bike use. With smooth, slick soles and protruding cleats, they can be uncomfortable (and at times precarious) to walk around in. With extensive use, your cleats will wear and will need to be replaced. Some brands make cleat covers to ease your cafe stops and lengthen the life of your cleats.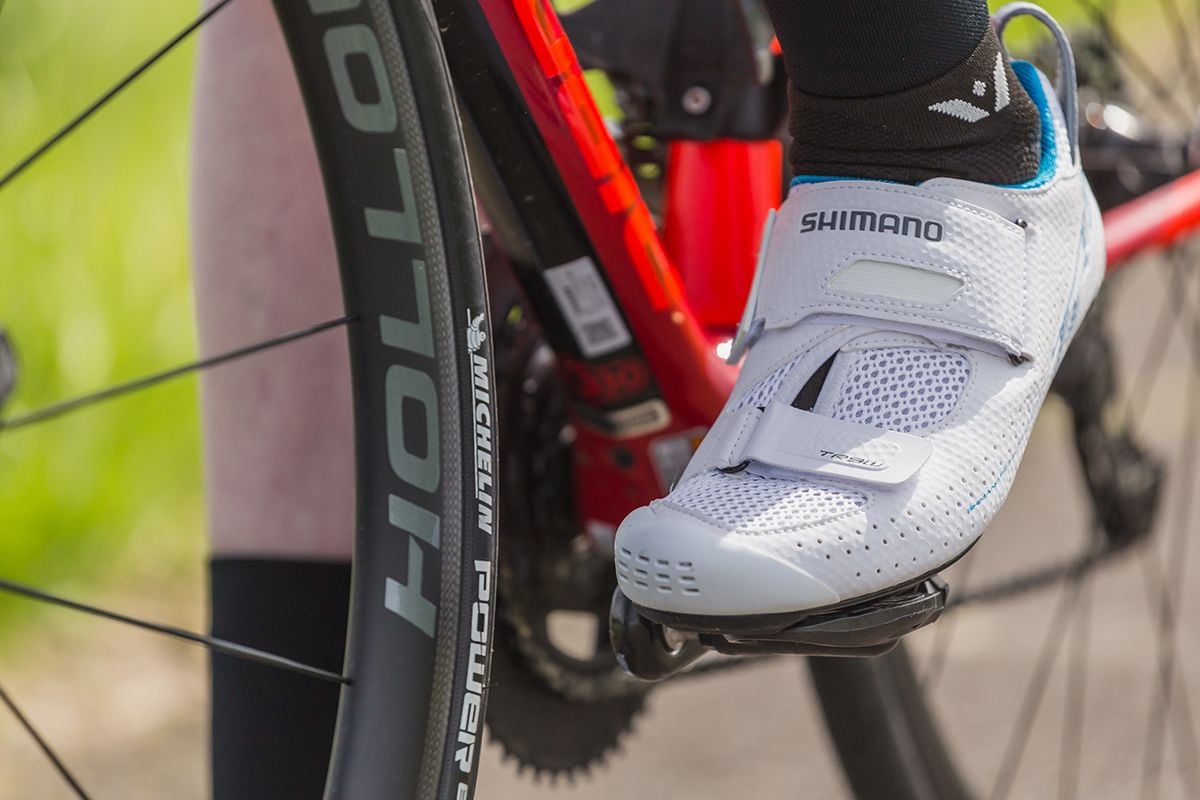 Triathlon shoes are a variation of road shoes that are designed for athletes competing in triathlon. They offer a balance between comfort for long rides and efficient power transfer. Triathlon shoes often have one or two easy-to-grab velcro straps for seamless transfers on-and-off the bike.
If you're an off-road rider, you'll want a cycling shoe with a bit of bite for any hike-a-bike or sections you need to dismount. On MTB or gravel cycling shoes, the cleats are recessed to keep them clear of dirt and debris and make them easier for walking. The lowers will typically have a rubberized tread for added traction on soil or grass, and are designed to protect the shoe from rocks or hard surfaces. Virtually all MTB or gravel shoes use a 2-bolt pattern cleat.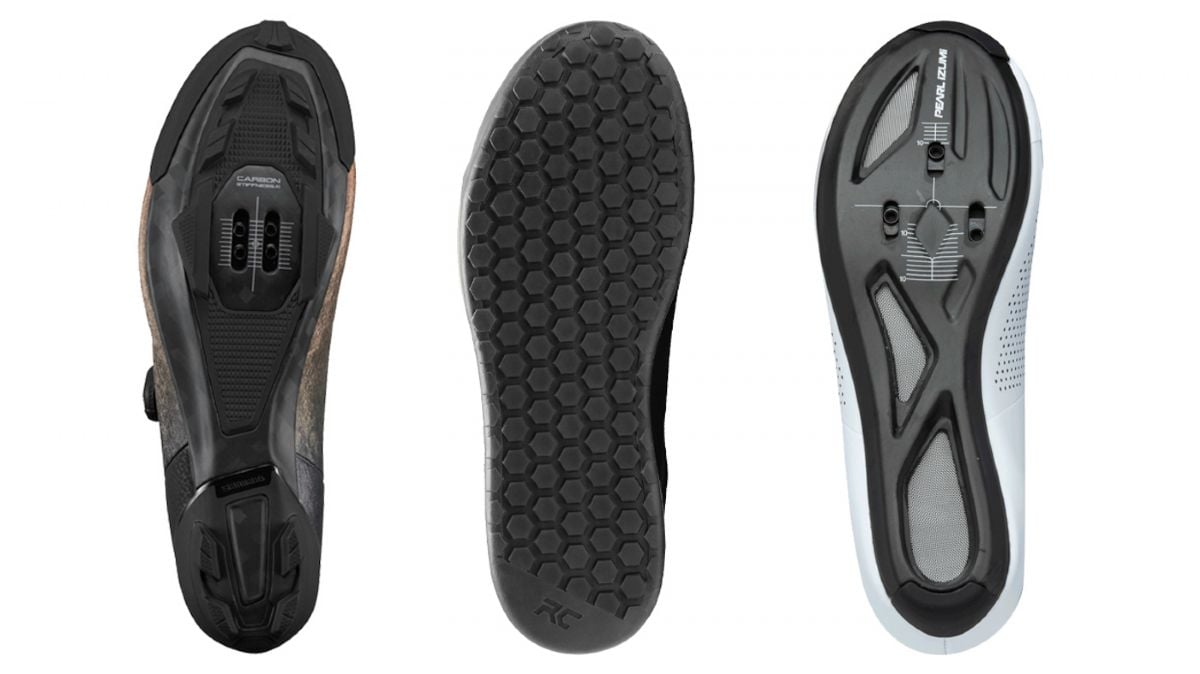 However, not all mountain bike shoes are clipless. Many mountain bikers—along with cyclists from many other disciplines—prefer to use flat pedals for their wider surface area and freedom of movement. MTB shoes without cleats are thick and grippy with treads designed specifically to interface with the aggressive traction pins found on MTB pedals. These shoes aren't as efficient for pedaling, but they will keep your feet firmly planted when navigating rough terrain.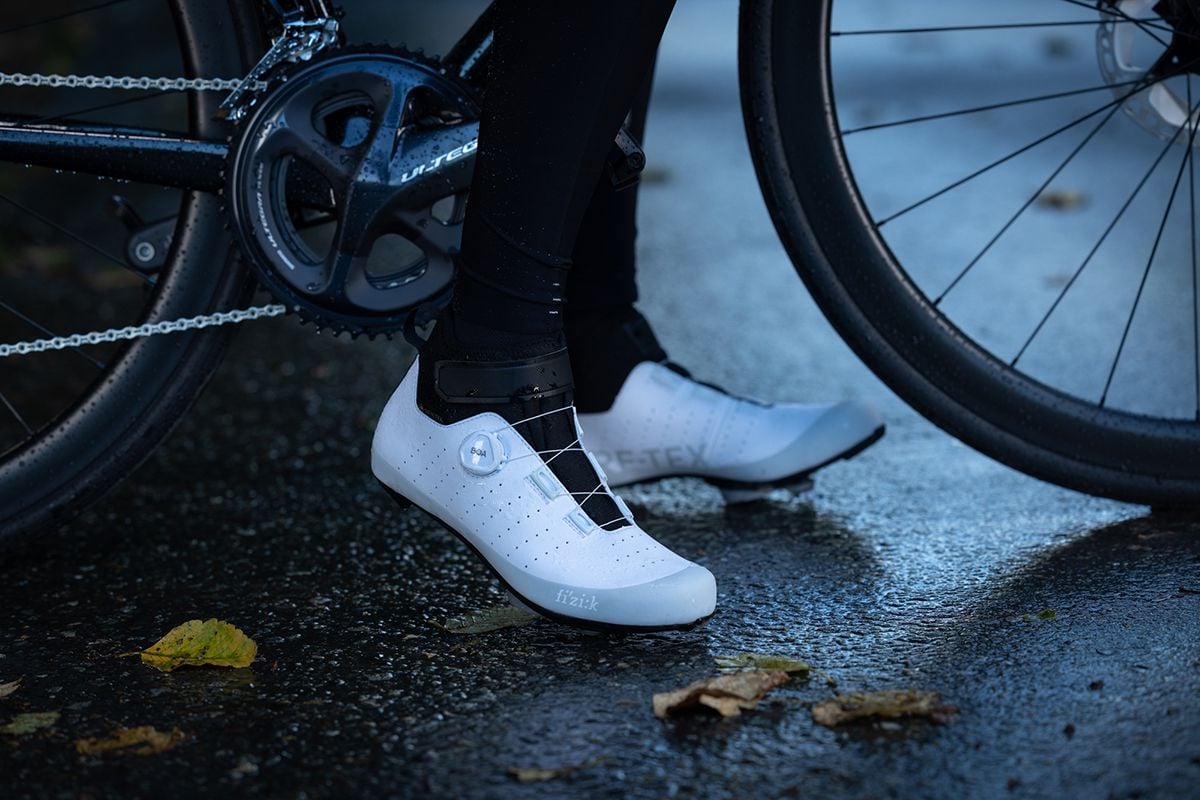 Don't let the elements keep you off the bike! If you live in colder climates or commute through the seasons, winter cycling shoes are a great solution to combat the elements. Most winter cycling shoes will be made for recessed MTB-style cleats with a treaded outer sole, however, some brands also produce a 3-bolt road cleat-specific winter shoe. The most significant benefit of choosing a winter cycling shoe is its wind and water resistance. Different models have varying levels of protection against the elements, but a common thread is the balance of insulation and breathability.
So far we've discussed the two fundamental uses of a cycling shoe, but what about just getting from point a to point b? Whether you're riding 12 miles or 120 miles, touring or commuting cycling shoes are less focused on performance and more on comfort. Most shoes in this category also typically utilize a 2-bolt cleat pattern and are categorized as MTB shoes, but are more subtle with a design akin to an ordinary street shoe.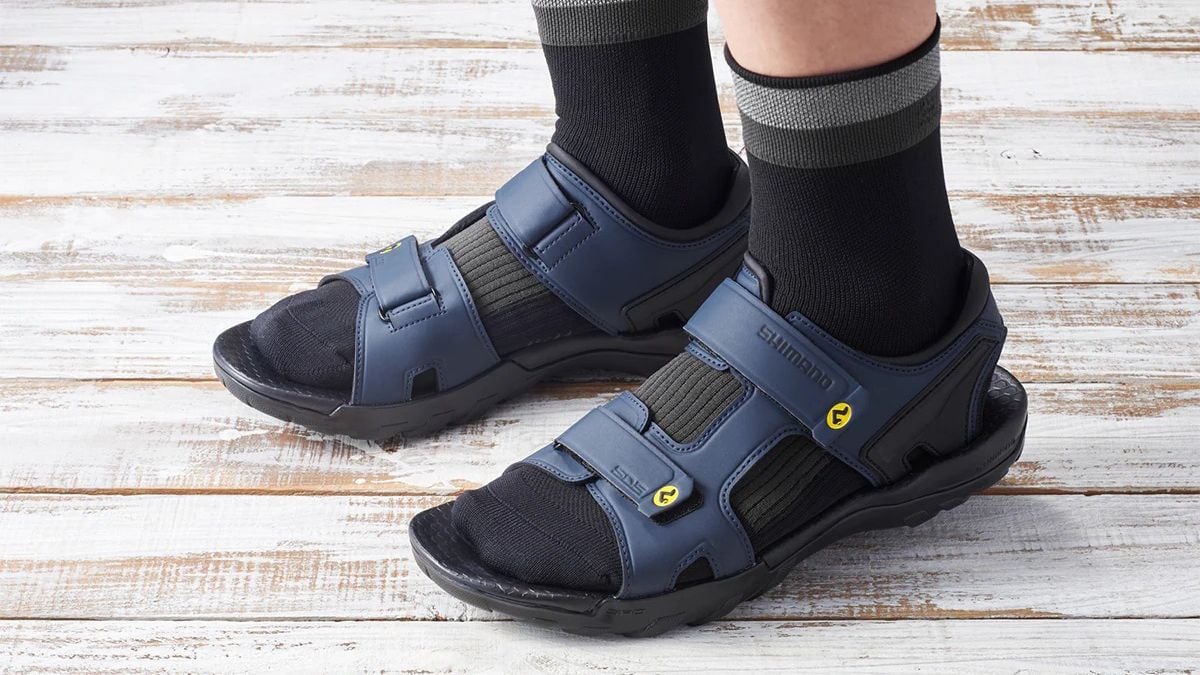 Of course, we can't forget the iconic cycling sandal optimized for both pedaling efficiency and leisure. Perfect for a long summer day in the saddle or a ride to the river for a dip!
While there are many kinds of cycling shoes to choose from, the best place to start is with what type of terrain you like to ride. No matter where or how you ride, cycling shoes are a great way to improve the experience of riding a bike. Shop all of the latest styles and accessories here!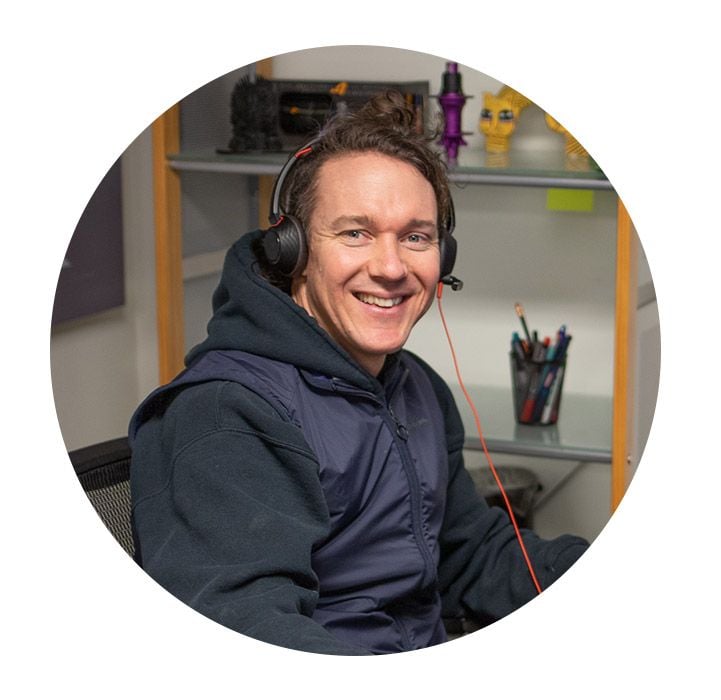 If you have further questions about the different kinds of cycling shoes available, please feel free to reach out to our customer service team at the hours listed below.
Happy riding!
Email
[email protected]
Phone
1-800-682-0570
Hours:
Mon-Sat 8am-5pm PT
Our Most Popular Articles