Bike Seat Posts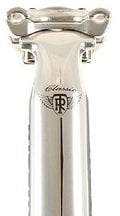 As the primary supporter of your body weight on your bike, your seatpost is a critical component. For the most part, seatposts are utilitarian in nature. For most recreational riders, the seatpost that came with your bike will probably last the duration of the bike's life. As long as it is long enough to be adjusted to the saddle height that suits you, and stays in one place when tightened correctly, your post is doing just fine.
There are two primary seatpost types, distinguished by the way they attach to the saddle. Inexpensive department store and children's bikes often employ a "one piece" clamping mechanism in which a single bolt controls a clamp around the saddle rails, usually tightened from the side. With these seatposts, adjusting the saddle position can be difficult.
Most mid- to high-end bikes come equipped with a "micro-adjust" seatpost. These posts utilize a more effective clamp that involves one or two bolts that tighten the post above and below the saddle rails. These bolts allow the saddle angle and position to be adjusted to precisely suit the rider.
Racers and fast recreational riders may choose to upgrade their saddle in the interests of saving weight or improving ride quality. Most after-market seatposts are made of either aluminum or carbon fiber.
Carbon seatposts can smooth out the ride of an overly stiff frame—and as a bonus they tend to save a fair amount of weight over most stock seatposts. Plus, they're flashy, and they'll look great with your carbon frame.
That said, they're not for everyone. Some compact frames may require a large amount of exposed seatpost and have rather sharp seatpost angles. If your frame leaves over eight inches of seatpost exposed, we suggest sticking with an aluminum post.
We love the sleek and smooth all-carbon ENVE 2 Bolt Carbon Seatpost and the more affordable Easton EC70 Zero Seatpost - 2018 Model, which has an aluminum upper clamp plate.
Aluminum Seatposts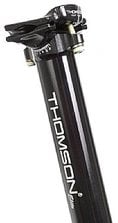 Aluminum seatposts deliver many of the qualities of carbon—stiffness and light weight—at a lower price. Thomson makes some of the most reliable seatposts and stems on the market, and the Thomson Masterpiece Seatpost is actually the lightest seatpost we offer, at a mere 158 grams for a 27.2mm x 240mm post. Or, the Fizik Cyrano R3 Aluminum Seatpost is a great, inexpensive upgrade for a stock post.
Setback
Many posts feature "setback"—which means the post bends backwards a little bit, to accommodate riders who prefer to be positioned farther back on the bike. Many racers prefer setback positions, which emphasize the role of the quads and hamstrings in the pedal stroke. Many of the seatposts we sell are available in both straight and setback varieties.