Bike Locks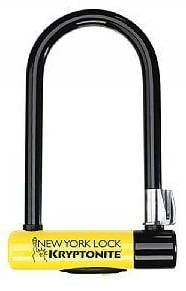 After spending a lot of time and money putting together a sweet new bike, it can be tempting to cut corners on accessories. It might seem like a simple cable lock will do the trick, but that thinking will lead to a quick lesson in bike economics. Cheap locks may be easy on the wallet now, but they're quite expensive once your bike is gone. If you ever plan to leave your bike unattended, consider a tough, sturdy lock to be as necessary a component as your saddle or your chain. Kryptonite, the most well-known and respected manufacturer of bike locks, recommends that you spend ten percent of the total cost of your bike on security to keep that bike safe. Our low prices should help you bring that number down a little bit, but the point remains that a lock is not something to skimp on!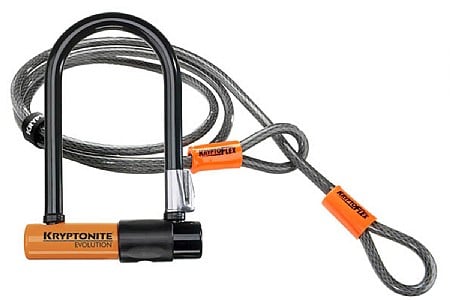 How tough your lock needs to be depends on how long you'll be leaving your bike, where you'll be locking it up, and, to a lesser extent, the value of your bike. If you live in a major metro area or regularly lock your bike up on a college campus, it's worthwhile to invest in a heavy-duty u-lock or chain, like something from Kryptonite's New York Lock series-maybe the Kryptonite New York STD U-Lock. If you'd prefer something a bit lighter and smaller, you might consider the classic compact Kryptonite Evolution Mini-5 U-Lock, a bike messenger favorite that'll fit in your back pocket. Kryptonite's u-locks come with key registration and anti-theft guarantees—if your bike gets stolen while you're using one of their locks, they'll replace your bike, up to a certain monetary value.
If you're only planning to lock up in low-crime rural or suburban environments, you might be able to get away with a cable lock, but keep in mind that these act more as a deterrent than as actual theft prevention. The Kryptonite Kryptoflex 1218 Key Cable Lock is an easy-to-use option.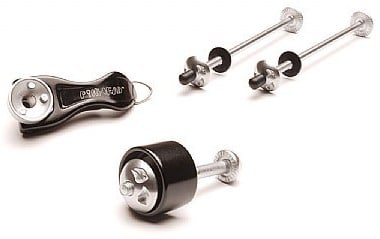 Cable locks work very well when used in combination with tougher locks to help secure your wheels and accessories. The best way to lock your bike is with some kind of lock through both wheels, around your frame, and around whatever immovable object you're locking to. This can be tricky with just a u-lock, and requires removing your front wheel to fit it in there with your rear wheel and frame. A combo set like the Kryptonite Evolution Mini-7 U-Lock with Flex Cable will allow you to lock up quickly and easily, with the cable passed through your wheels and then threaded onto the u-lock shackle. Or, use a small, lightweight cable like the Kryptonite Keeper 712 Cable Combination Lock to lock your expensive saddle to your frame.
Other accessory security options to consider include replacing your quick release skewers with skewers that are, well, less quick-release. Delta Axlerodz are an easy solution that require a 5mm Allen key, which might dissuade an opportunistic thief, or go all out with the Pinhead Locking Skewer Set 3 Pack, which protects not only your wheels but your seatpost as well with a special keyed system.
If you have any questions about what kind of lock is most appropriate for your situation, please don't hesitate to contact us at 1-800-682-0570 or [email protected]. Our staff has plenty of experience locking up our bikes all kinds of ways in all kinds of places, and we'd love to help you out.
Our Most Popular Articles