Arm, Leg, and Knee Warmers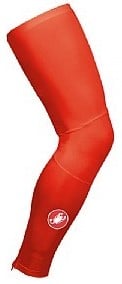 Leg warmers provide perfect in-between or supplemental warmth, as well as a little extra protection from wind, rain, and road debris. And unlike tights, when the weather warms up, they're easy to slip off and carry in a jersey pocket; many of them feature zippers for easy on/off over shoes. Consider Castelli Nanoflex Plus Legwarmer or Pearl Izumi Elite Thermal Leg Warmer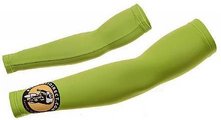 arm warmers act as an extra bit of warmth and protection when a jacket is too much and a long-sleeved jersey is inconvenient. I love to start cool morning rides wearing my arm warmers; when it gets hotter, I just roll them down to my wrists, where they act as sweatbands! Plus, they come in lots of colors to match your kit, your bike, or your mood. Try Castelli Thermoflex Armwarmer or Pearl Izumi Elite Thermal Arm Warmers . If arm warmers just aren't your thing—some may find them uncomfortable or experience slipping—you might consider a shrug like the Pearl Izumi Women's Elite Escape Shrug, which will also keep your arms warm. When the sun's a little higher in the sky, stash it in a pocket or just tie it around your waist!
Knee warmers provide that extra bit of warmth where it matters most: your joints. They'll help warm up creaky knees before you get going. Castelli Thermoflex Kneewarmer and Louis Garneau Knee Warmers 2 are two great options.
Pearl Izumi Sun Sleeves and Pearl Izumi Sun Knees are not exactly "warmers"—instead, these thin, "cooler than nothing" sleeves protect your skin from ultraviolet rays with UPF 40+ protection and offer great moisture-wicking. 2XU Compression Performance Run Sleeves and other compression sleeves also serve a different purpose than simply extra warmth; compression provides extra support to joints and muscles, and may aid recovery after hard efforts.
Think beyond the jersey and shorts and consider these pieces for layering and versatility in unsure and changing weather conditions. We've got lots of options, and would love to answer any questions or help you choose-just contact us at 1-800-682-0570 or [email protected].
Our Most Popular Articles