Saddles for Women
Whether you're touring long-distance, cycling to the corner store, racing around a track or down a trail, or commuting to work, it's important that you've got a seat that fits you well. Women have unique anatomies, so we offer plenty of women's-specific saddle options for you to choose from. Whether you're looking for comfort or high performance (or both!), we hope you'll find the perfect seat for your bike in our selection.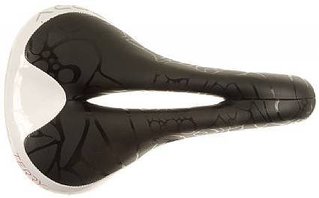 We offer women's saddles from brands like Terry, Selle Italia, Fizik, WTB, Brooks, and others. Terry was the first company to offer a women's-specific saddle, and they continue to offer a wide range of saddles for women. Their Butterfly saddle has been a bestseller since its original release more than a decade ago, and is available in several versions. Terry also offers performance-oriented racing saddles like the Terry Women's FLX Carbon Saddle, as well as comfortable saddles like the Terry Women's Cite X Saddle, perfect for around-towners.
Some of our other favorite high-performance bike saddles are the lightweight Fizik 2013 Arione Donna 00 Women's Braided Carbon Saddle and the ergonomic Selle Italia SLR Lady Flow Saddle. These saddles then to be a little wider in the back than men's saddles, since women's sitbones are usually wider than men's. They're also a bit shorter to accommodate women's smaller bodies.
Another option to consider is a classic leather saddle. Many riders, men and women alike, swear by Brooks leather saddles, which mold to a rider's unique anatomy and offer exceptional comfort on long rides and tours. The Brooks B17 S Standard Women's Saddle is a wider, shorter version of the classic tried-and-true B17.
We aim to continue to expand our selection and make great saddles available to all the riders who shop with us. If you have any questions, comments, or suggestions, please get in touch with us! Call 1-800-682-0570 or email [email protected].
Our Most Popular Articles