Ride Recap: Plains of Abraham to Spirit Lake, Mt. St. Helens

On a gorgeous Pacific Northwest morning in June, a long-time friend & BTD coworker (named Casey) and I headed North to Mt. St. Helens for a mountain bike loop that traversed a strikingly diverse range of terrain within the indigenous lands of the Cowlitz & Klickitat peoples.
We both knew the route would be filled with epic vistas as we circumnavigated the blast plains of a volcano, but I don't think either of us were fully prepared for the sense of magnitude we would experience throughout the day.
Casey mapped out the 24 mile route which climbed northwards along the Ape Canyon, Loowit, & Abraham trails, turned east along NF99 and the south side of Spirit Lake, and then sharply descended south on Smith Creek Trail before climbing once more along FR 83 Extension back to the Lava Canyon trailhead.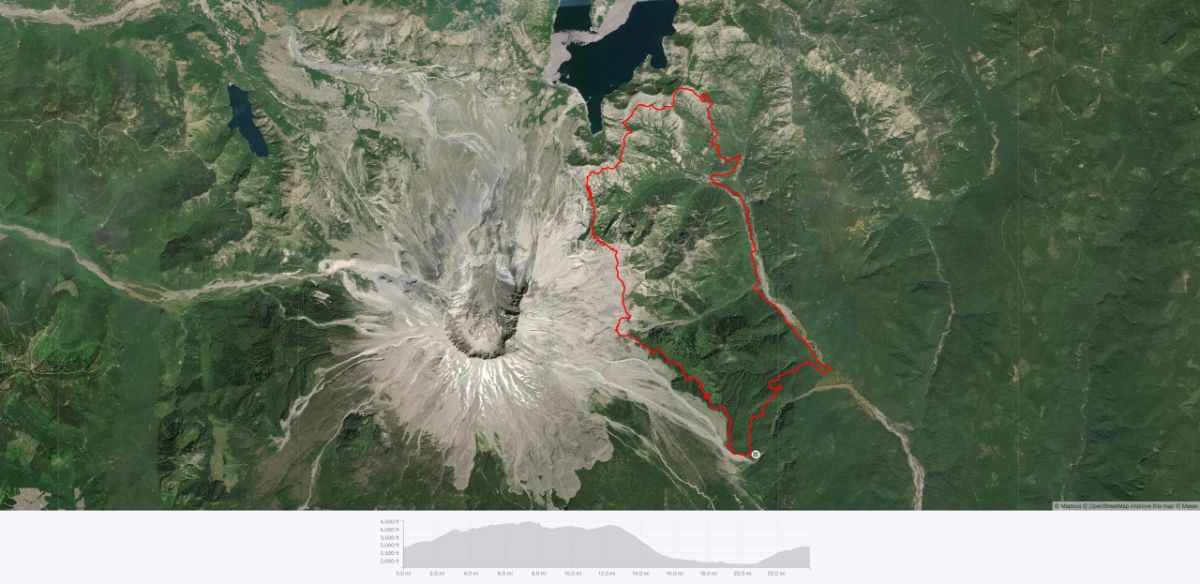 This particular loop is best for riders who are comfortable traversing very technical terrain, supporting themselves in the backcountry, and navigating at times confusing and lightly trodden trails.
Bike Check
Casey rode his 2017 Soma Valhallen with a 140mm Rockshox Lyrik suspension fork and 27.5x3.0 Teravail Coronado tires, while I was on my 2020 Surly Karate Monkey with an ENVE composites rigid mountain fork and 27.5x3.0 Surly Dirt Wizard tires.
Casey comes from a long background in BMX and MTB, and is largely responsible for my foray into longer mixed terrain & adventure riding. We met at a cyclocross race in 2017 and have been riding buddies ever since. I started riding bicycles as an adult in 2013 as a commuter and began my journey into the world of mountain bikes last summer.
Along the first part of the route we ended up playing leapfrog with another cyclist, Mike, who we invited to join us for the last half the ride due to a trail closure on his intended route. After a bit of conversation it turned out that Mike was a long-time BTD customer; you never know who you'll meet on the trail!
Mike was taking his 2021 Cannondale Scalpel Carbon 3 out on its very first ride. The Scalpel has 100mm travel front and rear, and 29x2.25 Schwalbe Racing Ray and Racing Ralph tires, front and rear respectively.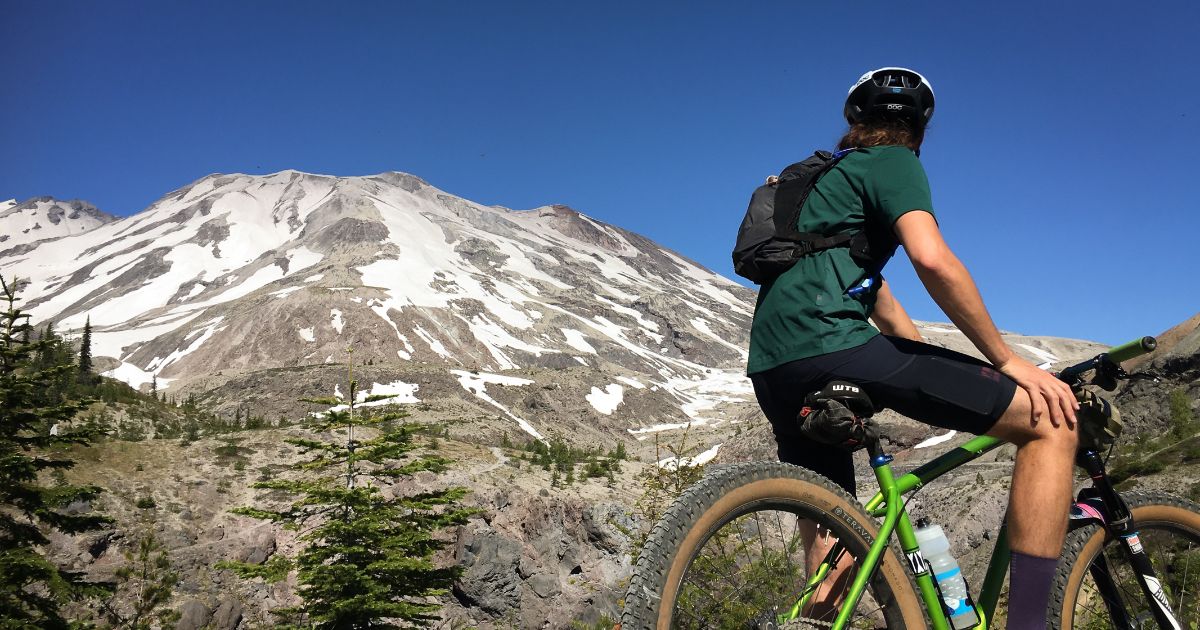 The Ride
The entire route is distinctly beautiful and punctuated by sharp changes in terrain and foliage. Neither Casey nor I had been so close to Mt. St. Helens before. As such, we set out at a very casual pace, knowing that we wanted to enjoy the scenery as much as possible.
From the trailhead we immediately began climbing through dense forest along moderately rooted & loamy trails. We occasionally came across sharp drop offs to the west towards where the Muddy River carved its way through fields of volcanic debris and created sightlines that stretched straight to the southern face of St. Helens.
The climb was fairly steep, ascending nearly 1300 ft in just over 4 miles, but at our reserved pace we were able to enjoy the technical portions of the trail and the many viewpoints along the way.
Mt. St. Helens is known as Lawetlat'la (pronounced Lah-weight-LOT-la) in the Cowlitz language, and features predominantly in the culture and history of the surrounding indigenous peoples. In particular, the area of the mountain above the tree line is noted as a place of spiritual significance.1
As we emerged from the forest to the south of Pumice Butte, it felt like we had suddenly ridden onto a different planet altogether, and I was overcome with a deep reverence for the area's natural beauty. To our north and west was the volcano and the rocky lunar surface created by its eruption, while to the south and east were vistas of the neighboring snow-peaked mountains amidst the dense forests, sharp ridgelines and canyons, and enormous lapis lazuli sky.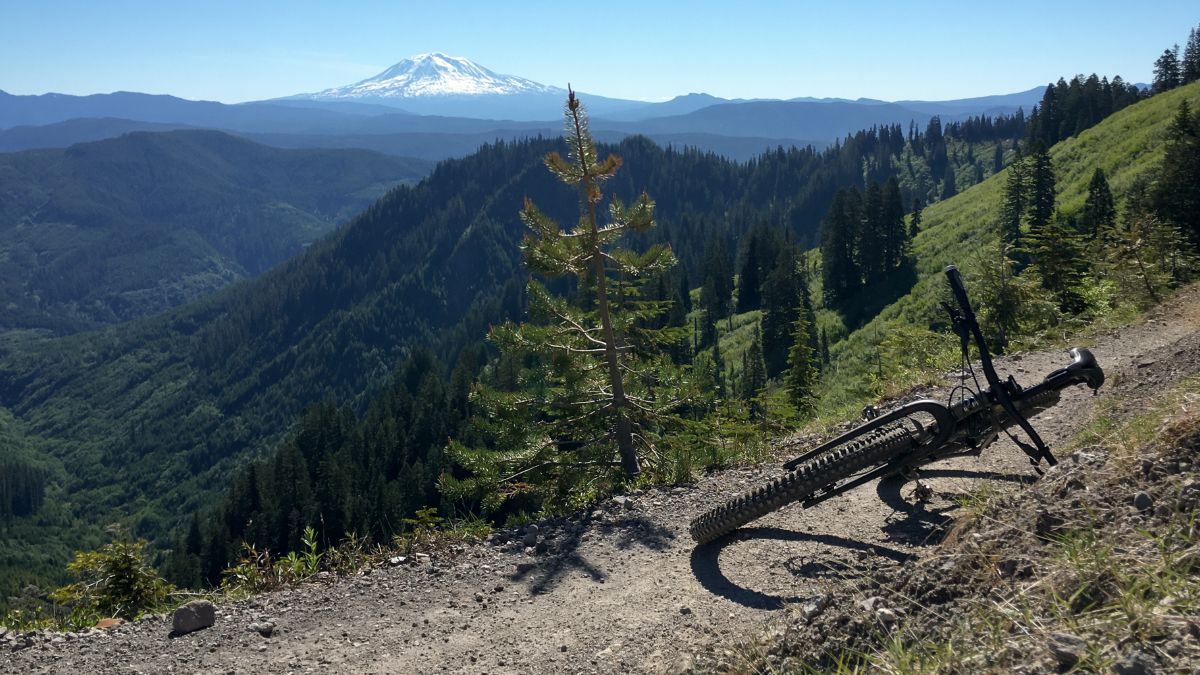 Surrounded by sheer drop offs to our right hand side, Casey and I had to carefully navigate precipitous trails made up of loose shale and pumice until we reached the Plains of Abraham. Along our way we passed the last remnants of snow and crossed a handful of crystal clear runoffs where we filled our bottles and had probably the best water either of us had tasted.
Traversing the Plains themselves was an absolutely ripping good time. Our 3" tires floated beautifully over the loose terrain and we kept good speed along the flowy trail. The route flattened out and was non-technical for a couple miles, so we were really able to take in the view of the mountain to our left and the rocky expanses extending all around us.
The mellow trail didn't last long though and we once again found ourselves on narrow techy singletrack that sharply ascended and descended over and over as we zig-zagged our way across the north eastern face of Alpine Butte. We finally emerged along the top of a mile-long spine with sheer drops on both sides and stunning views of the canyons below.

We safely made it down to the Truman Trail / NF99 after carefully traversing a section of the spine that had grades that peaked between -20% and -40% according to the elevation map—so steep that there was a human-made ladder-style stairway crafted from rope and beams to help folks safely walk up and down.
At this point we ran into Mike again and invited him to join us for the rest of our route. The three of us followed a wide forest road with gorgeous gravel to the Windy Ridge viewpoint and stopped for a snack. I marveled at the view of Spirit Lake with it's thick log jams made up of pyrolyzed trees deposited by the debris avalanche from the St. Helens' eruption.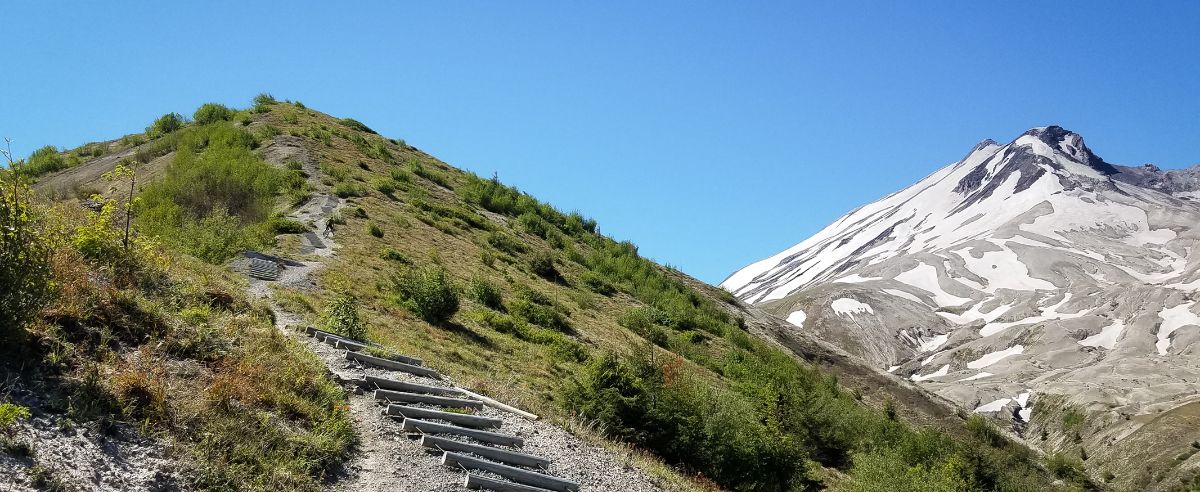 After feeding and watering ourselves we set off along a brief paved section of NF99 before cutting south onto the Smith Creek Trail. Again, we were met with very narrow singletrack and steep drops, except this time we were heading sharply downwards, with 3 miles at an average grade of -12.5%.
For me, this was the most challenging portion of the ride. The trail was rutted from snowmelt, became very loose, and featured switchback after switchback at staggering grades. I nearly lost my front wheel in deep ruts countless times, but managed to keep it rubber side down for the entirety of the descent (though by the time it leveled out I'm sure you could have cooked an egg on my rotors).
Looking back though, as we safely got to flatter ground and I tried to pry my fingers from their death-grip on my bars, this section was wildly (type two!) fun in addition to being incredibly challenging.

The lower portion of Smith Creek Trail followed, well, Smith Creek, which was flowing pretty fast from the last remaining snowmelt. We stopped for another snack, filled our bottles, and cooled off in the water a bit as the early afternoon temperatures began to rise.
Fed, cooled, hydrated and energized we climbed out of the creek, re-located the trail and pressed on.
The remainder of Smith Creek Trail traversed deeply forested and overgrown portions of trail, fields overrun with bright yellow wildflowers and vibrant pink foxglove, and a final climb along what felt like a long extinct logging road riddled with downed trees, trickling brooks and verdant undergrowth. At times the vibrating green light surrounding us was so intense that it felt like the canopy of leaves above was made of gemstones, filtering and refracting the sunlight like an emerald disco ball.
While we were able to navigate this portion of route on our mountain bikes, it was by no means maintained and intended for such use, and required frequent dismounting & bunny hopping to clear debris left over from winter.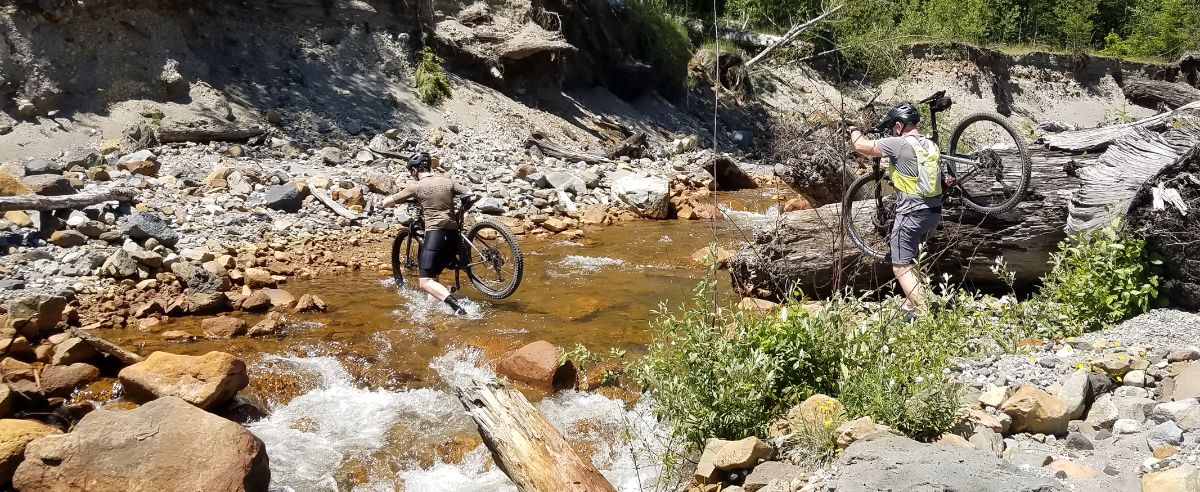 Our day wrapped up with one final 1200 ft. ascent back to the trailhead along FR83 Extension. By the numbers this shouldn't have been a gruesome climb, but after 20 technical miles of trail on fully loaded mountain bikes it ended up being quite a slog.
Regardless, even as we struggled to turn the pedals through this last section of trail covered with downed trees and branches we were still surrounded by lush forests, the sound of the Muddy River roaring through Lava Canyon Falls, and the fresh memory of our ride through terrain sculpted by fire and the raw power of Earth.
We finally emerged from the cover of the trail into the brilliant sun and slow-rolled the last few paved meters back to the trailhead. I dismounted my bike for the last time that day and felt humbled and incredibly thankful for the experience. As I closed my eyes and guzzled water by the car my ears still buzzed with the distant sound of loose rock crunching beneath rubber, water flowing through melting snow banks before rushing into canyons, and brief gusts of wind whipping through wildflowers and tree boughs.
Curious to learn more about about this ride? Click through to Bertrand's Strava Ride Summary!
Words by Bertrand Morin
Photos by Bertrand Morin, Casey Taylor and Mike Benedict
Additional Gear
Blackburn Outpost Cargo Cage
Dawn to Dusk Bear Hug Mount
Nalgene Water Bottle
MSR Trailshot Filter
Lezyne Sport Drive HV Pump
Lezyne SV Pro 17 Multi-Tool
Stans NoTubes Dart Tool
Wolf Tooth Components Pack Pliers
Schwalbe Aerothan 27.5+ Tube
Apidura Backcountry Top Tube Pack
Apidura Backcountry Frame Pack
Camelbak Chase Bike 50 oz. Hydration Vest
POC DO Half Blade Sunglasses
Garmin Edge 1030 Plus

—
1National Register of Historic Places, Lawetlat'la, Skamania & Cowlitz Counties, Washington, National Register #13000748,
https://www.nps.gov/nr/feature/places/pdfs/13000748.pdf
Our Most Popular Articles