As part of our 20th-anniversary celebration, we're chatting with some of the employees who have helped build BikeTiresDirect into what it is today. In this interview, we speak with Ryan from Receiving. Ryan works diligently to ensure that incoming products are received into inventory and ready to ship as soon as possible.

How long have you worked for BikeTiresDirect?
I've worked for BikeTiresDirect for the past seven years. I started off as assembly lead/mechanic and now I'm the lead receiver at the BTD warehouse in Portland.

What is your fondest memory of working for BTD?
It's difficult to choose a favorite memory while working with this company. Each day, week, month, and year have its highlights. But I'd say the day-to-day jokes are always the best and give me the biggest laughs!

Do you have a bike that you consider a favorite, or one that you ride the most?
The 'bike' I'm currently riding the most is my 2006 Suzuki SV650. I only live a mile away from work, but always take the long way to and from. It's almost like a bicycle, but you're in the middle of the road going 30-times as fast while still keeping an eye out for crazy drivers. On weekends, I'm grinding the gravel on my 2019 Specialized Diverge with SRAM Red eTap.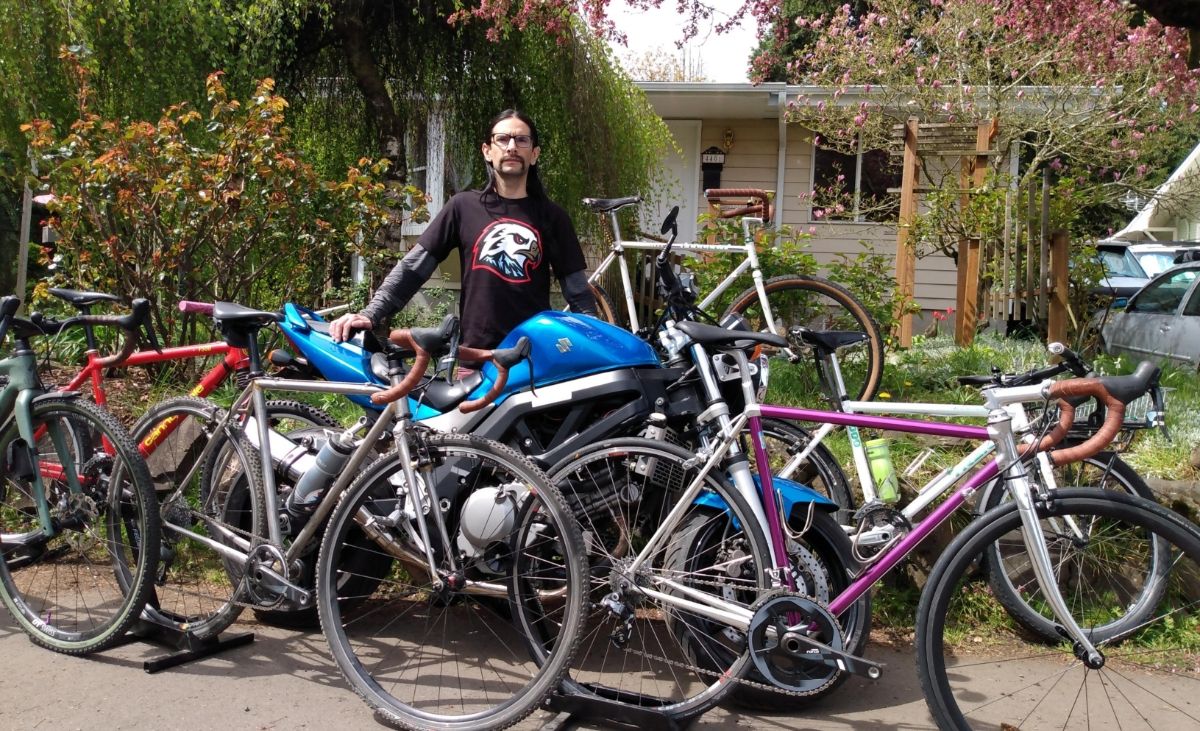 Do you have a favorite bike ride?
My favorite ride I've ever done isn't in Portland. It's back where I grew up, in Ventura County. The ride is a 50-mile loop around Santa Paula, Ojai, and Ventura. After finishing the loop, I'd turn around and return the opposite way for a full century ride. I always stop at Lake Casitas to dip my feet in the water and up to Meditation Mountain to take in the views.

What's your tire of choice?
The Schwalbe Ice Spiker Pro would have to be my favorite tire offered at BTD. In 26x2.1, mounted on my Trek 7000 or my Cannondale CAAD2 makes getting around in snowy conditions a breeze. The spikes atop the open knobs are perfect for ice, which we mainly get here in Portland.

If you were a bike component, which would you be and why?
If I were a bike component, I'd without a doubt be a wheelset built by Steve Pamlenyi. Steve's a former BTD employee who went on to build wheels for Rodeo Labs, currently working for Onyx Racing, and still builds for his own company named Ride Magnetic. Wheels are what keep the bike and the fun rolling.

How did you hear about BTD before you started here?
I first heard about BTD from my United Bicycle Institute instructor and one of the founding members of JVA (Jens Voigt's Army), Dylan Robbins. Thanks, Dylan!

To learn more about BikeTiresDirect and meet other members of our team, visit our 20th Anniversary Hub.

Shop Our Anniversary Sale!
Our Most Popular Articles