Bike Fenders
Whether you're a dedicated commuter or a roadie trying to get some winter miles in, fenders are a necessity for comfortable riding in rainy weather. As we're located in Portland, Oregon, we've got plenty of experience mounting fenders on bikes of all types. We carry the widest possible selection of fenders to transform any bike into a rain-friendly ride.
Traditional Full Fenders
If you've got the frame clearance and attachment points for it, the best protection possible is a set of full fenders. These fit closely around your tires almost all the way down to the ground, keeping water and grit from the road away from your frame, shoes, and clothes. Available in sizes for 700c, 26", and 29" wheels, full fenders transform an ordinary bike into a functional all-weather machine. Try the Planet Bike Cascadia Fenders or Portland Design Works Full Metal 700c Fenders; both of these fender sets offer easy installation on bikes with fender mounts, and all necessary hardware is included. Full fenders are especially suited to commuter bikes, touring bikes, and other similar bikes.
Want to use full fenders but don't have fender mounts? All is not lost! Read more about full fenders designed for modern road bikes, below, or consider using clamps to attach standard full fenders to your fork blades or seat stays.
Road Bike Fenders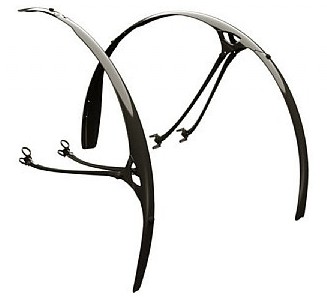 Fitting fenders on modern road bikes can be difficult due to narrow tire clearances, non-standard frame tube sizes, and aerodynamic shapes. Fender manufacturers, however, are catching on to the need to make any bike adaptable to changing conditions, and more and more fenders are made specifically to fit on lightweight road frames. Once upon a time, road bike riders were limited to short and marginally effective rear fenders, but these days it's possible to get full-fender coverage with something like the durable Portland Design Works Poncho Fenders, the easily-adjustable SKS RaceBlade Long Fender Set, or the stylish aluminum SKS Edge AL Fenders.
Smaller road bike fenders like the SKS Raceblade Pro Fenders or the SKS Speedrocker Fender Set attach easily with simple straps to your seat stays and fork blades, providing just enough coverage for rainy day training rides.
Mountain Bike Fenders
Some mountain bikes can accommodate full fenders without problems; others, especially full-suspension rides, can present a challenge. To keep the worst of the grime out of your face, something like the Blackburn Barrier XL Mud Guard might be a good choice; it's designed to fit around your bike's suspension and catch the crud that flies off your wheels. Any of the fenders from the following section should work also to keep the mud off your back!
Quick and Easy Fenders
If you don't ride often in the rain and you're looking for something that offers just enough protection and that you can install and remove with ease, clip-on fenders are a great solution. They'll keep the rooster tail off your back with no fuss, and they'll work on pretty much any bike out there.
Rear clip-on fenders attach easily to your bike frame. The Portland Design Works Origami Rear Fender and the SKS X-tra Dry Rear Fender clip on to your seatpost, while the Ass Savers Big Fender Gen. 4 snaps around your saddle rails, and flips off for easy storage when you don't need it.
For your front wheel, consider the inexpensive SKS S-Board Front Fender or the Portland Design Works Origami Front Fender. Both of these attach to your bike's downtown and help keep water coming off your front tire from flying up in your face.
Installation
Installation of fenders like the ones we sell typically requires few tools, if any�"maybe just a screwdriver and a small wrench. You might consider using zip ties to secure loose ends and electrical tape to protect your frame from clamps.
If you have any questions about choosing fenders for your bike or about installing them once you've got 'em, don't hesitate to contact us at 1-800-682-0570 or [email protected]!
Our Most Popular Articles
About Us
All About Gear Inches
Bicycle Helmets
Bicycle Lights
Bicycle Pedals
Bike Fenders
Bike Seat Posts
Bike Stems
Chain Compatibility
Common Tire Sizes
COVID-19 Response
Cyclocross Tires
Grease, Lube, or Solvent?
How To Write A Product Review
Mountain Bike Road Tires
Older 26 Inch Tire Sizes
Older Tire Sizes
Privacy and Security
Racing/Performance Tires
Returns/Exchange Policy
Road Bicycle Wheels
Road Bike Handlebars
Shipping
Sidi Cycling Shoes
Tire and Tube Replacement
Tire Size Chart
Tire Tips
Tire Width
Tread Patterns
Tube Types