Schwalbe
Cycling Enthusiast
Portland, OR
Nice ride quality & easy to mount
I've been using Schwalbe Pro One's (700x25) on my road bike for about a year. They have a nice, supple ride quality and as a bonus are very easy to remove & re-mount - at least on my HED Belgium rims. They also seem pretty tough - have only gotten one or two flats. Highly recommended.
Thank you for your feedback.
Cycling Enthusiast
Oakland, CA
1 of 1 customers found this review helpful.
lightweight
These tubes are lighter than latex and much lighter than butyl.
Installation was no problem and each size covers a useful range of tire sizes.
They retain air better than latex but not as well as standard butyl. Mine lose about 10% per week.
I've had 2 flats, both were slow leaks from tiny holes. I couldn't find Schwalbe patches but was able to repair the tubes with Park glueless patches. I cleaned the hole area thoroughly then pressed the patch on by rolling a socket wrench over it with lots of force. They hold air as well as unpatched tubes.
I like these better than Tubolito. Mostly I've had problems getting patches to hold on Tubolito. Also the Aerothan seem lighter and more flexible (and I don't have to look at orange valve stems).
Thank you for your feedback.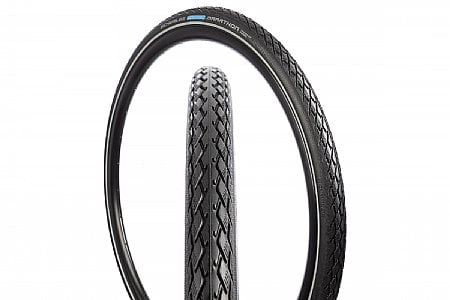 Daily Commuter
Washington, DC
1 of 1 customers found this review helpful.
Solid, but not bulletproof (although nothing really is)
I bought a set of these for my commuter bike (~7mi round trip/day) after getting a ridiculous number of punctures on my stock tires. Really enjoyed having them on and felt really confident in all conditions. Rolling resistance felt lower than stock tires while also providing what felt like more grip and more shock absorption on Washington, DC's terribly paved bike lanes and roads.
The were great until one day while riding down a hill one of my tires hit something (still have no idea what it was) and that object cut clean through the tire, leaving that one destined for the trash heap. The other tire, which wasn't hit by that debris, is still going great and I love having it on. However, with how expensive these tires are at least for someone working retail the value proposition is tough knowing that the tire, despite its strengths, is still susceptible to damage. Such is life!
If you've got the funds and want a good tire, I, and so many others, think it's a good one to pick up.
Fun fact, they're also the tires that DC's Capital Bike-share program uses for their bikes!
Thank you for your feedback.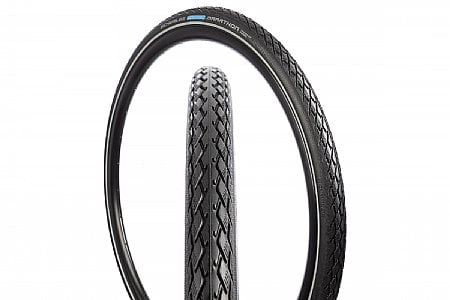 Daily Commuter
Chicago, IL
Expecting these to last a long time.
My first set of Schwalbes. Have had these on bike for about 48 hours. No issues so far.
Install was easy. Was no more difficult than any other tire.
,The tires look nice, well built. I like the reflective ring on the sidewall. Think it could even be a little wider for even more visibility.
I can't comment on the long term yet. I will be riding on these tires in Chicago all year. Reviews have set my expectations high. Time will tell. Reserving that extra star until then.
Shipping was a little slower than Amazon, but I really don't care about that. Tires got to me. Tracking package was easy. I will be ordering from this company again without reservations.
Thank you for your feedback.
Total Savings:
$23.00 (20%)
Earn $9.20 store credit
Total Savings:
$9.01 (17%)
Earn $4.39 store credit
Total Savings:
$10.32 (12%)
Earn $7.56 store credit
Total Savings:
$15.72 (12%)
Earn $11.52 store credit