Product Images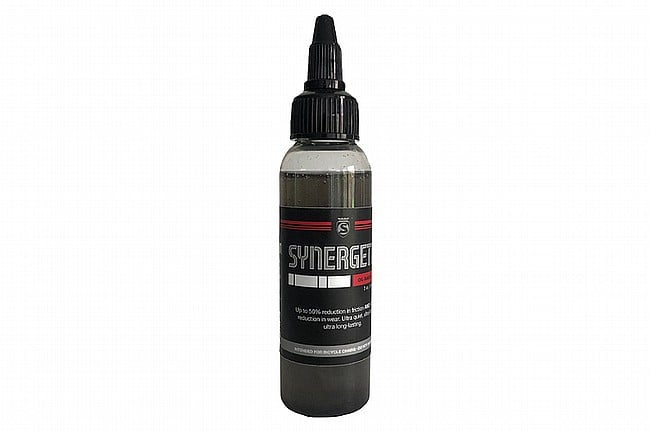 Click Here for Larger Image
Description
Ultra-High Wearing, Ultra-Quiet, Ultra Waterproof Wet Lube
For the demanding cyclist who wants to experience lower friction and sound with one of the most advanced lubricating technologies, make sure to take Silca's Synergetic Wet Lube for a test drive. Silence and an increased lifespan are expected when you put your trust in state-of-the-art high-quality materials, even without the extra work involved with deep cleaning, drying, or waxing your chain.
Originally developed to aid in F1 racing, this incredible wet chain lube reduces friction to eliminate nearly all wear in your metal components. The secret behind this incredible formula is a significantly more advanced base oil. Testing at the University of Lyon showed improvements in both wear and friction, resulting in one of the fastest and quietest oil-based lubricants internationally. Best of all, the lubricant forms a durable tribofilm at the metal surface, so the lube is strongly attracted to itself, proving to be an exceptionally waterproof coating that excels in longevity and durability of your chain and mating components.
When you're looking for the best in lubricating technology, go for the super quiet Silca Synergetic Wet Chain Lube. With advanced ingredients and extended top-notch testing, this lube has proven itself time and time again to be highly advanced in terms of durable, friction-free protection.
Features:
2oz Squeeze bottle with 18ga. Luer Lock Precision Applicator Tip
12,000+ miles of lubricant per bottle
Ultra-high wearing, ultra-quiet, ultra-waterproof wet lube
For best results apply to clean/dry chain. For good results may apply to new factory lubed chain and will fully displace the factory lube within 4-5 applications
Made in USA
---
B-Stock - This product has one or more B-Stock units available. These units can be purchased at a discount (see option select). B-Stock units were returned from other customers and may have missing or damaged packaging materials. These units are otherwise as new. The full manufacturer warranty applies. Click Here for more information.
Specifications
Mfg PartNum: AM-AC-018-AS850005186366Y-0100
Reviews
Ordered by Most Relevant First
Cycling Enthusiast
Coastal NC
Great wet chain lube!
My favorite wet chain lube. I degreased a new chain and applied Silca Synergetic. It's surprisingly quiet. Great performance on two recent bike tours, each greater than 300 miles with rain/sand/gravel. The dirty chain was simply rinsed with water and wiped with microfiber cloth. It continued to perform well in the wet/dirty riding conditions. I developed some chain noise after aprox 300 miles and reapplied. It's my favorite chain lube for bikepacking, touring, and commuting. I highly recommend and continue to use this product.
Thank you for your feedback.
Cycling Enthusiast
Oakland, CA
Good oil-based lube that lasts
I moved from Rock n Roll Gold which was not offering long-term protection of drive train parts. I happened across Silca's wax products, not my cup of tea, and discovered they also made this outstanding oil-based lube which has low friction results in testing. I wish the needle tip applicator was available still for the lube but it works out all right. One must be sure to wipe the chain after each ride given how dirt and dust likes to collect on a chain with this lube. But, the noisy drivetrain is gone and I can go a bit longer between reapplications. Price is high but you use less than you would with, say, Rock n Roll Gold.
Thank you for your feedback.
Cycling Enthusiast
Vancouver, WA.
0 of 1 customers found this review helpful.
Silca Synergetic Wet Chain Lube
I haven't really used this Synergetic lube long enough to have a long term experience yet. But so far I really like it. I've tried several different types and brands of chain lubes over the years. When I was young and dumb I just used the lube that came with the chain until the chain, along with the entire drivetrain was warn out. Back then, when everything was simpler it seemed to work well enough. As technology advanced and I became more conscientious about the condition of my chain and the entire drivetrain my perspective has changed considerably. I ride many more miles in a year than I used to. I also like a cleaner drivetrain that doesn't wear out at the same rate as the chain. And I like a meticulously clean drivetrain. Turns out that it's relatively easy to keep your drivetrain meticulously clean. However, the tradeoff is a drivetrain that doesn't last long at all. Neither does a drivetrain that is heavily lubricated that isn't kept clean though. A heavily lubricated drivetrain picks up much dirty grit that wears them out relatively quickly. So finding a source of good lubrication that lasts and is easy to maintain is quite a trick. Many of the clean lubes won't even last for 50 miles if you want a meticulously clean drivetrain. But it's a ridiculous concept to have to clean and lube your chain during a ride. There are many lubes that are very similar to this type. Some last a little longer and others are just very poor lubes. Silca Synergetic seems to be the perfect compromise of staying reasonably clean and also being a reasonably long lasting lube. I haven't yet had the opportunity to try it on anything over about 90 miles yet. But I did do an 80 mile ride and then a 50 mile ride the following day without wiping the chain down between the 2 rides just to see how it did. It was beginning to feel a little bit under lubed during the last part of the 50 mile ride. But it really wasn't as bad as I feared it might be. I believe the reason for this is because it was still eliminating the lube that I had been using previously. Because I didn't want to bother doing a thorough cleaning between the old lube and the Synergetic. Since that time I have just wiped the chain down after every ride. If it was only a 30 mile ride I will go ahead and not lube again until after the next ride as long as I don't intend on doing a century. I have used it a few times on wet rides and it seems to hold up well in the rain and doesn't seem to become overly contaminated with grime. So I think that I will just wipe the chain after every ride and lube as needed. The way I will determine when it needs a re-lube is to just wipe my finger along the chain for a few links after wiping down to see how it feels.
Thank you for your feedback.
Cycling Enthusiast
Bloomfield, CT
Cycling Enthusiast
San Francisco, CA
Cycling Enthusiast
SW Florida
2 of 2 customers found this review helpful.
Silky and quiet
I experienced a smoother and quieter ride using the Silca's Synergetic Wet Lube. I replaced my previous wet lube product. I did have to spend a few minutes swaying the bottle back and forth to get an even distribution of some suspended components of the lube. But the end product was better shifting drive train.
Thank you for your feedback.
Cycling Enthusiast
Viera, Florida
2 of 2 customers found this review helpful.
Smooth and great for wet weather riding
The lube bottle applicator is the best I ever used and lets you put an even amount of chain lube across each link with no waste. It's a great product as I was hooked on paraffin wax based lubes, however, they were good for dry conditions and terrible in wet conditions. The Silca Synergetic Wet Chain Lube is perfect for all conditions and it provides a very smooth low friction protection for your chain.
Thank you for your feedback.
3 of 3 customers found this review helpful.
Great, but
Smooth and durable. Makes things a little quieter and very durable. One application lasted more than 350 miles. The only downside, it is oil, so, don't expect perfectly clean chain. It runs dirty especially for the first few rides. Be prepared to clean your chain after every ride. Eventually, it gets better, but don't expect the same as you see from a dry lube, such as the Rock n roll Gold
Thank you for your feedback.
Cycling Enthusiast
Georgia
3 of 3 customers found this review helpful.
super smooth and durable performance oil that doesn't require a perfectly clean chain
Concentrated oil that goes on well and precisely with the included applicator - I can imagine this little bottle lasts for over a year of frequent (3 times +) per week riding and in all conditions - easy to wipe chain after a few hundred miles of one use then re-apply and go again. Bought it for smoothness , quiet drivetrain and (compared with wax lubes) very little maintenance.
Thank you for your feedback.
Cycling Enthusiast
Washington, Utah
5 of 5 customers found this review helpful.
Super quiet lube that works
I've used many different lubes through the years for my road bikes. This is still an oil based lube but actually runs cleaner than most. The noticeable thing for me is how much quieter and smoother my drive train runs. I'm a fanatic about putting my bike on the stand and wiping it down after every ride. Included with this is a meticulous pampering of my chain. I tried the UFO wax formula and it seems to work for the 1st 5 to 10 miles before I can hear it wear off which brings to question whether the wax method really is lubing good. The bonus to the wax though is how clean it stays. In the dry dusty region of southern Utah where I ride the Silca Synergetic works great. I don't mind wiping it after every ride since that's a habit for me anyway. It's just that it is so noticeable how it really is working. Chain wear is negligible. I reapply after each 100 miles although I know I could go farther. Night and day difference between this lube and for example Rock n Roll Red or Gold. I'm sold and don't see changing for years to come. It seems more expensive per bottle but you use so little in the application that it lasts long too. If you are tired of the wax thing and aren't put off by wiping off your chain regularly then you just can't find a better lube in my opinion. Do you like a quiet drive train? Then, you better try it! Cheers and happy riding...!
Thank you for your feedback.
Mechanic's Corner
Articles will open in new tab.
What to use to clean your bike parts and keep them running smoothly.
Q & A with home mechanic Tommy Tuite.