Silca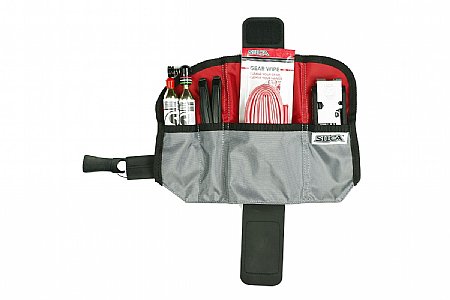 Cycling Enthusiast
Portland, Oregon
Excellent saddle bag that sits tight and holds enough.
Boa closure ensures a nice firm fit, never worried about it coming open. The roll-up offers a bit of bulk inside, so you may find yourself picking and choosing what goes in, but it fits the essentials. The only issue I've had is that depending on your saddle and positioning it does sometimes slip a bit, but that's resolved by finding the position to best keep it close and tightening it down like crazy. 4 stars on value simply because there are some other products that come in at almost half the cost that perform almost-as-well.
Thank you for your feedback.
TLC for Your Bike Frame
Read about it in VeloNews - Mr. Zinn, Tech Guru, mentioned he used to avoid bike stand clamping issues / problems / errors. Very straightforward setup & easy adjustment to fit your Frame. Wide rubber cushions safely support the bike frame even without the straps.
To save the rubber straps & not to rub the top tube, I do not cinch them tight at all.
Well constructed & strong. Yes, a bit pricey - so is the bike frame which will appreciate the extra care.
Wish they included a soft strap to keep the front wheel from flopping but it's an easy fix.
Thank you for your feedback.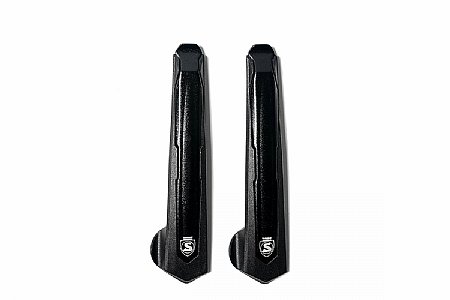 Cycling Enthusiast
Los Angeles, CA
1 of 1 customers found this review helpful.
Expensive but well worth it especially for tubeless setups
If you're running clinchers, these may be unnecessary. If you're running a tubeless setup these are essential for three reasons; strength, thickness and material. Internally the lever is aluminum but externally they are plastic. They have all the rigidity and strength not to bend when installing and removing tubeless tyres. They are thin enough to flip the last portion of a tubeless tyre when installing and the plastic externals prevent rim damage. I'm not sure what people are doing to damage aluminum rims using these levers, but these work great with carbon rims.
Thank you for your feedback.
Competitive Racer
Blue Ridge Mountains, NC
3 of 3 customers found this review helpful.
Pretty Slick Stuff
With the advent of quick-links for our chains (finally!) taking the time to periodically clean and lube your chain thoroughly has never been easier. For years I never thought there was a whole lot of difference between lubes as long as you used something, but then came FrictionFacts.com showing us the massive difference between lubes and chains and I started paying more attention. For those of you who do the hot wax thing, this stuff sure looks similar when you're done with the process, and it is certainly more conveniently than having to cook.
For my everyday riding I am not that persnickety but being a serious time-trialist, when it comes to my time trial bike I spare almost no expense. So after watching Silca's vids and reading about this product I bit. I took the time to clean my chains (I bought a second so I could quickly rotate) as suggested and applied the SSSCL by completely submersing the chain so the stuff could penetrate deep into the pins and rollers.
I squeegeed it off and hung to dry as instructed. Upon reinstallation my drivetrain felt "like buttah." The question now will be how durable the stuff is. If it indeed lasts roughly 200 miles after a completely thorough cleaning and application, then the higher cost can certainly be justified for everyday use. If you are careful during the process, you really use very little per application. For right now I plan to use it only on my TT bike, but that might change going forward.
I just raced with this lube yesterday in the state championship 40k TT here in NC. Everything I did and used was near identical to last year on an identical course, and I was almost one minute faster. And at 61, I ain't getting any younger! Was it the SSSCL? Who knows for sure, but I can't stop using now! Wait for a sale and give it try.
Thank you for your feedback.