Product Images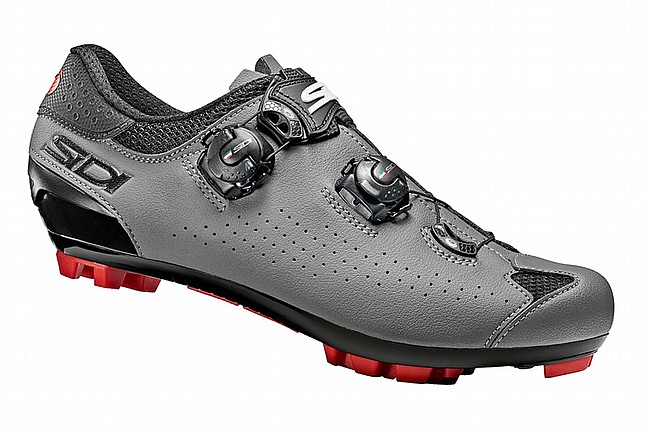 Click Here for Larger Image
Description
Dominate The Competition
Microfiber Microtech makes all the difference in these unforgettable shoes. Imagined and designed in Italy, the Sidi Men's Dominator 10 Mega MTB Shoe is fit for the name they've been given. These shoes feature a lightweight composition that incorporates resistance, stability, and water repellency — all while being eco-friendly.
The use of Microfibre Microtech allows these shoes to stand leagues apart from the rest. This lightweight material is super resilient for any adventure you decide to ride through. With the Soft Instep closure system, they maintain a lightweight profile and a solid fit on your feet. A reinforced heel device improves the fit by relieving pressure and fitting the shoe securely around your heel, and the Techno-3 system keeps them secure and in place.
Elevate your shoe game with the Dominator 10's. If your trail of choice requires a bit extra grip, the toe spike compatibility provides additional attraction in the muddiest conditions.
Features:
SPD compatible with multiple 2-hole adjustments in the sole
Microfibra Microtech super lightweight and resilient material
Soft Instep closure system easily adjustable and provide a terrific fit
Techno-3 system dials in the fit for added comfort
Reinforced heel keeps the foot in optimal position
Compatible with toe spikes for additional traction in muddy conditions
Wide fit version
---
Free Exchanges: This product qualifies for free exchanges within the first 60 days after order. We'll cover the shipping both ways for US customers if you need a different size and/or color of this product. Returned product must be in new condition with all labels and packaging. Free exchanges apply only for product in stock or available for backorder.
B-Stock - This product has one or more B-Stock units available. These units can be purchased at a discount (see option select). B-Stock units were returned from other customers and may have missing or damaged packaging materials. Cleats may have been mounted leaving minor marks on the soles. These units are otherwise as new. The full manufacturer warranty applies. Click Here for more information.
Size Chart

This size chart provides our best estimate for which European shoe size to choose based on your US shoe size. This will not necessarily match the US size shown on the product, but it is the best guidance we can provide for this particular brand.
If we've noticed that any particular model deviates from the standardized chart, we will list this information in the product description.
Please contact us with any questions.
Specifications
Width: Wide

Mfg PartNum: sms-dxm-bkgy-435

Cleat Compatibility: 2 Hole

Black/Grey - 42

Mfg PartNum: SMS-DMX-BKGY-420

Black/Grey - 42.5

Mfg PartNum: SMS-DMX-BKGY-425

Black/Grey - 43

Mfg PartNum: SMS-DMX-BKGY-430

Black/Grey - 44

Mfg PartNum: SMS-DMX-BKGY-440

Black/Grey - 44.5

Mfg PartNum: SMS-DMX-BKGY-445

Black/Grey - 45

Mfg PartNum: SMS-DMX-BKGY-450

Black/Grey - 45.5

Mfg PartNum: SMS-DMX-BKGY-455

Black/Grey - 46

Mfg PartNum: SMS-DMX-BKGY-460

Black/Grey - 46.5

Mfg PartNum: SMS-DMX-BKGY-465

Black/Grey - 47

Mfg PartNum: SMS-DMX-BKGY-470

Black/Grey - 48

Mfg PartNum: SMS-DMX-BKGY-480

Black/Grey - 49

Mfg PartNum: SMS-DMX-BKGY-490
Reviews
Ordered by Most Relevant First
Cycling Enthusiast
Boise, ID
Wider than 'normal'
Bought the Dominator 10 Mega MTB in an effort to reduce the cramped toe box that developed on my Sidi S-Fit MTB shoes over the years. My feet have obviously changed and gotten wider/flatter. Toe box is great, the cabled tightening system is better than the previous velco, on par with the previous ratchet, just hope it's as robust.
Thank you for your feedback.
Cycling Enthusiast
Boise, ID
Mega solved my fot pain issues
After a decade of wearing Sidi S-Fit SPD shoes, my feet changed enough to cause pain from lack of width in toe area. I tried the Dominator 10 Mega and the first pair (same size as the S-Fit) were still a bit cramped, so BTD swapped them out for a half size up. Problem solved. While the S-Ft were Italian deigned and made in Romania (if memory serves), the Dominator 10 Mega are made in Italy although with less styling details (and cost). If these hold up as well as the S-Fits, I will be happy!
Thank you for your feedback.
Cycling Enthusiast
Boston, MA
Great for wide feet
I use these for MTB, gravel & sometimes road riding. This is my 4th pair from the Sidi Mega series (size 47). I've tried other supposedly wide last shoes, but most are still too narrow in the forefoot for my feet. The Sidi Mega give me the width I need - without being excessively long.
The shoes seem well constructed and are comfortable, with good support and a snug fit in the heel. The replaceable lugs on the toe are a nice upgrade from older models.
The closure system provides a good range of adjustment with an even distribution of tension. Release is very quick also.
Thank you for your feedback.
Cycling Enthusiast
SE Washington State
The jury is ni - buy these shoes.
I bought these shoes from BTD in October 22. I use them with Garmin Rally XC Power Meter Pedals (SPD), also bought from BTD when riding my gravel bike. I bought the shoes because I wanted something I could walk on with some comfort and confidence. I had never used SPDs (I have always used Look pedals), but as a secondary consideration, I want a cleat that handled mud, etc. I have to say the shoes have exceeded my expectations, even for Sidis. The fit is good - a bit roomier than my Sidi road shoes (44's), but that has proven to be okay (BTW, for me, Sidis have always fit right, right outta the box). The shoes provide a great platform, on pedal, and off. The cleats were easy to install. I have probably put 2000 plus miles - including some rides over 70-miles - on the shoes since November 22 - totally satisfied. Lastly, I paid BTD $227.49 for mine, so a great bargain ("A Steal").
Thank you for your feedback.
Cycling Enthusiast
Minden, NV
great shoe for wide feet
I have struggled to find cycling shoes that are comfortable for wide feet and you can ride for extended periods. The Sidi's are by far the best ever. Nicely made, closure works great and keeps the pressure even. Wish I would have found them years ago
Thank you for your feedback.
1 of 1 customers found this review helpful.
Sidi Mega 10 mtn shoes do the job
After 12 years of enjoying Sidi mega road shoes I have switched back to the MTN Sidi mega so I can use the same pedals and shoes for all my bikes.
The Mega Dominator mtn shoes work well, easy to adjust and fine Sidi quality, my go-to shoes
Thank you for your feedback.
5 of 5 customers found this review helpful.
Great shoe for wide feet
My 2009 Dominators were wearing parts of the sole out and it was finally time to replace them. The shoes are still in great shape.
The new Dominator 10 shoes fit my 3E wide feet very well. I'm still getting used to the Boa tightening system. Works fine but the older system was easier to adjust quickly.
I hope these shoes will last as long as my old pair. Perhaps they will outlast this aging body.
Thank you for your feedback.
Cycling Enthusiast
West Central Ohio
4 of 4 customers found this review helpful.
Great fit and nice adjustment device.
Use these on all of my bikes. I always prefer the MTB even though they may be a little heavier. Much easier to walk around in. There was a discount when I purchased these making it all the better.
Thank you for your feedback.
Mechanic's Corner
Articles will open in new tab.
How to choose the best cycling shoes for your riding style.