Continental
Cycling Enthusiast
Upstate NY
My First Contis - Love em
I've been running these in 32mm on my trek domane 'gravel' for the last couple months and loving them. Was previously running Schwalbe G-one Allrounds 35mm (tubed), but I just wasn't riding that much real gravel, so wanted something more road-oriented and quicker but still comfortable.
I've put about 800mi on them since early October and have had no issues so far, and the tires show hardly any signs of wear (re wear, they seem to be much long-lasting than the g-ones - as a point of comparison, I wore though the rear tire tread in 1300mi on my old g-ones...). Also I'd say I'm about 0.5mph-1mph faster on avg. on these vs. the g-ones. Haven't yet tried the GP4000s or 5000s but I think those would be a bit quicker but less durable. Was hesitant at first to take these tires on dirt paths (towpaths, well maintained dirt roads) near me, but have since ridden them multiple times and felt sturdy and fast, more so than I was expecting. They also handle sections of pretty rough pavement near me well. Overall, a strong, grippy, and versatile tire, esp in 32mm (curious to try 28s in the future). And the black edition looks dope, in my opinion. Very happy with the contis so far, my first experience with the brand - would buy again.
Thank you for your feedback.
1 of 1 customers found this review helpful.
Best Tire for Me
Already reviewed the 28mm. These are excellent, durable tires without the rock hard feel of Gatorskins. I rode 1000s miles over 18 months without a single puncture on very messy urban roads where multiple punctures per ride are the norm, as well as a lot of time on the turbo trainer. Rear tire finally retired due to a small sidewall gash that I booted to get home. Could've kept using it but decided to upgrade to 32mm.
32mm just give a bit more comfort with lower pressure.
All black version is slightly darker sidewall then the regular ones that have an almost imperceptible burgundy tint.
Thank you for your feedback.
Cycling Enthusiast
Portland, Or
Great all 'rounder
I use these mostly as an around town tire, but have used them for mixed gravel and pavement touring, and trail riding as well. I've been super pleased with these. They've got good grip on hardpack, roll fast, and are reasonably priced. I'm not sure what people are doing to get so many flats with these though. I've got more than 1500 miles on my first set, weigh 235 pounds, pull a trailer, and ride with bags on and off-road. I had one flat from a shard of glass.
Thank you for your feedback.
Cycling Enthusiast
Boston, MA
Reliable and easy to mount.
I am using them tubeless on some Mavic CrossRide wheels. I had a bit of trouble at the beginning with them holding air but according to the bike shop it turned out to be not enough sealant and the valve was not tight enough. Now they hold 30psi for a week at least.
They are comfortable and smooth but they do not have MTB tire edge grip, I almost went down cornering hard over some loose gravel on top of hard pack dirt.
Easy to mount up onto the rim, just a bit harder than a typical MTB tire but not as hard as a road tire. And you can pretty easily get them to seat and pop into the bead lock with a floor pump or even with my single action mini pump so no need to carry a co2 cartridge.
I have about 300 miles on them so far with no issues. I have high expectations for Continental tires and these have met expectations.
Thank you for your feedback.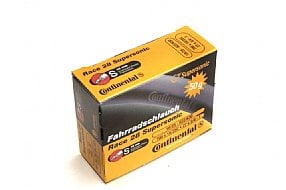 Total Savings:
$8.99 (31%)
Total Savings:
$23.99 (30%)
Earn $5.59 store credit
Total Savings:
$23.99 (30%)
Earn $2.79 store credit
Total Savings:
$7.70 (22%)
Earn $2.72 store credit
Total Savings:
$18.99 (20%)
Earn $7.59 store credit
Total Savings:
$10.99 (20%)
Earn $4.39 store credit
Total Savings:
$10.00 (20%)
Earn $1.99 store credit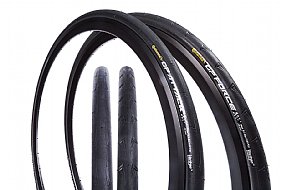 Total Savings:
$27.99 (20%)
Earn $11.19 store credit