Continental
Cycling Enthusiast
Austin, TX
Best ever tires. Ever...
I have been a fan of Continental tires for many years. And to be fair, I have used others, and several expensive Italian brands, and also Schwalbe tires/tubes.
Continental GP 5000 tires are what I consider the best of the best - lightweight, resistant to punctures and flats, well built, and fast rolling, esp. in my preferred 25 mm size (on my Pinarello FP7 road bike) and 30 mm size (on my Cervelo Aspero gravel bike). Mated with Continental Race tubes, I shaved a full 1/2 lbs. (227 gms) switching from 32 mm Continental Gatorskins to Continental 30 mm GP 5000 on my Cervello. And wow! Talk about an far easier solution to saving wheel/tire weight and gaining speed and climbing ability - instead of going to expensive carbon wheels (hey, I might do that next, seeing what a reduction in weight does...).
I can really feel the reduction in rotational mass, with a gain in ave. speed of 1-2 mph all else considered, and more importantly, a VERY noticeable gain in more easily riding up steep grades - which we have plenty of here in Austin, TX. Easily 5 stars!
Thank you for your feedback.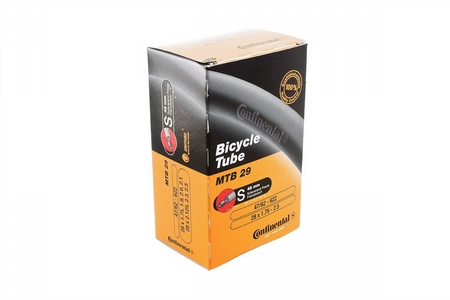 Cycling Enthusiast
Southern California, CA
You Can Feel The Quality of the Inner Tube In Your Hands
I had a nail puncture a couple days ago while riding with my brother (no tube or tire on Earth could have stopped this nail). We did a rapid Nascar tire change on the rear tire and installed this new Continental MTB 29 tube. Later, when I got home, I inspected the cheap "Chen Shin" factory tire that had been punctured and compared it to the new Continental I had replaced it with. The quality, sturdiness, and thickness of the Continental inner tubes are ridiculously noticeable - from the rubber's thickness to the Presta valve. Conti makes quality products. Period.
Thank you for your feedback.
Cycling Enthusiast
Northern Westchester/Putnam NY
2 of 2 customers found this review helpful.
Rarely flats
I've been using Gator Skins for years. The name changes a bit sometimes, but these are basically Gator Skins with a little more flatting protection. That's why I use them! No one wants to get a flat, even if you're a Pro. I usually go for about 3000 miles before changing them and sometimes without getting even one flat! I just check to see if they look like they could use changing or 3000 miles, whichever comes first. They're not the lightest tires on the market but I'm not racing with them either. So all good!
Thank you for your feedback.
Cycling Enthusiast
Southern California, CA
1 of 1 customers found this review helpful.
Superb Tires: Solid and Dependable.
I have been riding on these Continental GP5000s (25mm) since October 9th, 2022. I have enjoyed every mile, and have felt completely safe when bombing hills and trying to stay close to the fastest guys in our group (or not get dropped). These tires have been dependable and problem free. After 1,625 miles over 3 months, my tires were finally tested by Mother Nature when a Goat's Head (those pesky enemies of the MTB crowd) pierced the area where the sidewall meets the tread. It wasn't all the glass and debris of Pacific Coast Highway that I am amazed I was able to navigate without so much as the smallest problem - it was a Goat's Head on a paved road. I am still amazed by these tires and they will continue to be my "go to" tire until something better comes along.
Thank you for your feedback.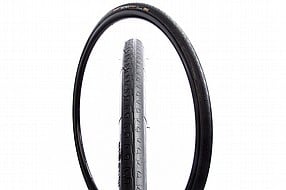 Total Savings:
$18.99 (40%)
Earn $1.39 store credit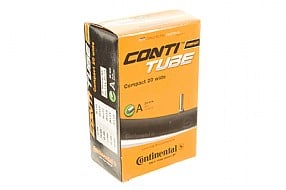 Total Savings:
$2.95 (32%)
Earn $0.36 store credit
Total Savings:
$26.96 (32%)
Earn $2.65 store credit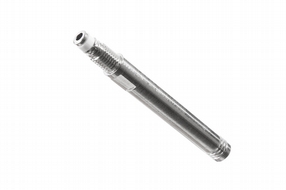 Total Savings:
$5.96 (31%)
Earn $1.29 store credit
Total Savings:
$24.63 (28%)
Earn $3.16 store credit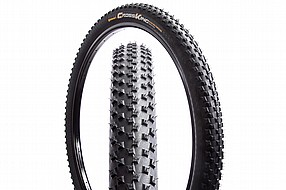 Total Savings:
$21.99 (25%)
Earn $4.61 store credit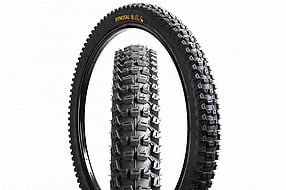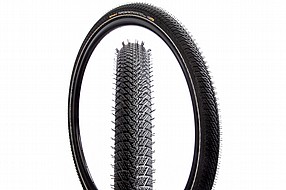 Total Savings:
$14.29 (22%)
Earn $3.03 store credit