Continental
Casual Cyclist
Mid-Atlantic
Good value in a multi-purpose tire
I am very pleased with Continental's Tour Ride tires on my bike. They roll with minimal resistance on pavement while also providing decent cornering capability. The ribbed tread is adequate for riding rail trails with sand/gravel base or similar unpaved terrain. The design of the lay-up helps minimize potential punctures without having to add a supplemental liner. Treadwear appears to be better than other comparably priced tires I have used in the past.
Thank you for your feedback.
Cycling Enthusiast
Central Oregon
Plush ride - Goodbye tubes.
I use the 5000 TL 28s on my road bike and Bontrager XXX 4 wheels, (Domane SL). A little difficult to install, stretching the final bit, and worth the effort. I'm using Orange Seal and the punctures I have received, construction staples, sealed quickly allowing me to continue my rides. I ride in Central Oregon and this setup smooths out the ride and allows me to descend at speed, with confidence. Instead of pointing out the gravel at intersections we can ride right through. No loss of speed in the pace line and I'm getting PRs over my previous tube setup (28s) and previous 25s on my former bike. I'm getting 1500 miles on the rear tire with 75 pounds of pressure. I changed the front at about 2K miles. My wife, much lighter 135 vs my 199 pounds, is using 70 pounds of pressure front and back. I found I needed the extra pressure due to my torque on the wheels, and my massive thighs causing the brake rotors to rub at 70 pounds. I use 72 pounds in the front tire for the same reasons.
Thank you for your feedback.
Oustanding tubeless tire
Bought a set and mounted them on Hed Ardennes in March. Struggled a little getting them on but they pump right up because the tight fit makes a good seal. Had to replace the rear tire due to a sidewall tear in June. Front tire lasted all summer >4000 miles! Overall I love these tubeless tires for relative ease of use, plush ride at correct psi, grippy in corners, and durability.
Pro tip - leave in direct sunlight for 20 minutes prior to mounting.
Thank you for your feedback.
Tires of Steel !
I ride 2-3 times a week on a paved bike trail it is generally closed to traffic. I chose these tires because I need durability and reliability for long rides while training for full distance Iron Man races. Knock on wood, I have yet to have a flat tire while using these tires over the course of three Iron Man training seasons. They are a bit heavier and thicker than standard racing tires, however the durability and reliability are more important to me. Highly recommend !!
Thank you for your feedback.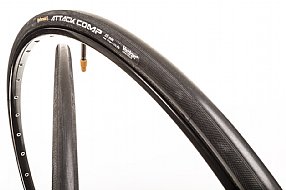 MSRP: $134.95
Total Savings:
$64.96 (48%)
Total Savings:
$27.98 (35%)
Earn $2.59 store credit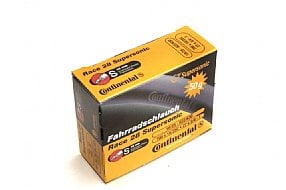 Total Savings:
$8.99 (31%)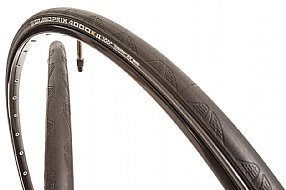 Total Savings:
$41.99 (30%)
Earn $4.89 store credit
Total Savings:
$15.00 (30%)
Earn $1.74 store credit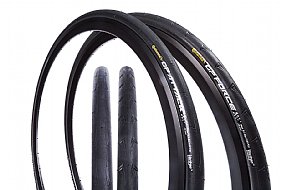 Total Savings:
$41.99 (30%)
Earn $4.89 store credit
Total Savings:
$19.49 (30%)
Earn $2.27 store credit
Total Savings:
$19.49 (30%)
Earn $2.27 store credit