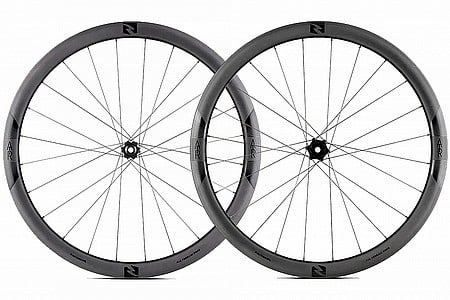 User submitted reviews
Review by PK-Cyclist

Cycling Enthusiast

San Jose, CA

4 of 4 customers found this review helpful.

Good Value Carbon Wheelset

I've been cycling for 7 years and have 5 bikes (hybrid, touring, track, road, endurance bikes) all w alloy wheels. And of course I'd been dying to know if a set of carbons would give me magical powers. I finally decided to pull the trigger when I recently bought the Trek Domane SL 5 Disc endurance bike. It came w junk alloys that weighed 1850 grams. But there was no way I could afford to drop $2,500 for a set of carbons. So when BTD had a wheel sale, I decided to go w the Reynolds ATR 700.

I mostly do long (50-80 miles) hilly rides w a bit of fire road gravel riding. Was the wheel set transformative? The answer is yes and no. Yes, it did make the bike feel more responsive and crisper (?) Also fast descent felt more stable and precise. Compliance or shock absorption was a bit puzzling. I always heard people say carbon anything soaks up road buzz. Well, in my case, I felt like I felt a bit more road buzz (chip-n-seal) in comparison to the previous alloy wheels. It's not detrimental by any means but I was expecting near absence of the road buzz. I know it sounds contradictory but this also made the bike feel more live and not insulated. Kinda like driving a sports car w tight suspension and low profile tires. It's not as comfy as passenger car but it sure is more fun.

I initially wanted buy the Bontrager Aeolus Pro 3. The Bontragers weigh 20 grams less, 35mm tall instead of 40mm, have 24-pt. hub engagement as opposed to the Reynolds 36-pt. The Reynolds dimensions are super beefy (maybe more beefy than my 130 lbs. climber stature warrants) It's 1620 claimed grams per set and internal width of 23 mm and whopping 32 mm external width. I'm not sure I'd get these if you want to ride 28 mm wide tires, 30 mm would be as narrow as I'd go.

I've not tried to go tubeless yet. However, I had some difficulty putting on standard tires on these rims. I'm still using the Bontrager Hardcase 32 mm standard road tires that came w the bike. I normally ride 40 -45 psi on these but I had to pump it up to 85 PSI w a floor to seat the beads. It will be fun when I get a flat on the road and I have to pump it up to 85 psi w my pen sized mini pump!

Overall, I'm happy w the purchase. It made the bike feel more lively and responsive wo spending over $2K (Thanks BTD and your great prices). The only real gripe I have is that the front wheel was not true out of the box. After 500 miles, it went out of true a bit more. If I had to do it all over again, I'd get something lighter since I'm a feather weight and I'm on the road 90% and on gravel 10%. But if your numbers are inverse of mine, then these wheels are for you.

Thank you for your feedback.
Review by John42

Quality value local USA

Reynolds are out of Salt Lake City, UT. The ATR series are designed well, solid & reliable.

Deep wide channel, The "X" has steel round spokes, and name brand hubs and centerlock. The responsiveness of the road will take various tires. I've mounted a 38mm nobby gravel and a smooth 35mm, as the wide wheel channel holds the line, to cut into your turn.

Thank you for your feedback.