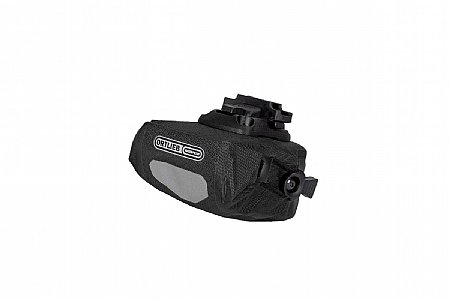 Cool bag
I like that it keeps my stuff clean and dry,, and I have mounts on different bikes so I can switch from bike to bike easily. It's not the easiest bag to pack because it won't roll up very well if the contents aren't packed down far enough. Overall it's pretty cool.
Thank you for your feedback.
1 of 1 customers found this review helpful.
The best saddle bag
I love using this saddle bag, the 0.5 liter size is just big enough and the mount is much better than Velcro straps - I no longer have to worry about my seat post getting scuffed up. I have a Cambium carbon saddle and it is a little tricky getting the mount to stay in place but not that big a deal, I was just surprised at how much I had to tighten the screws. The convenience of this saddle bag is a bonus, being able to slide it out of the mount rather than undoing Velcro straps is quite nice.
Thank you for your feedback.
Cycling Enthusiast
Elk Grove Village, Il
2 of 2 customers found this review helpful.
My new favorite saddle bag.
I wanted an easy on/off bag big enough to hold all my stuff. This bag clips into a separate mounting bracket attached to the saddle. Easy one handed removal and replacement. Sturdy, will not accidentally fall off. I carry a gravel sized tube, CO2 inflator and spare cartridge, tire levers, disk brake removal tool, hex wrench multi tool, and a small cable lock with room to spare. The bag does not have a zipper closure. It's waterproof. The opening folds over and is secured by two elastic straps on either side. I have broken a few closure zippers in the past. This is a much better way to secure the opening. It's waterproof. I have never owned a waterproof saddle bag!
Thank you for your feedback.