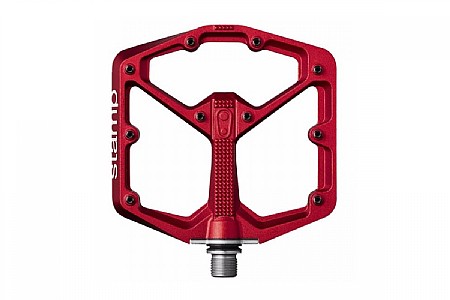 1 of 1 customers found this review helpful.
should have saved the $
These Stamp 7 have never been smooth or easy spinning. I put maybe 250 MI on these pedals. They make a slight grinding noise now. They were a little smoother at first after about a 20 mi break in. Now they make a clunking kind of noise. Check the grease port seems to be good. About to break them down and see if the bearings are okay. Allegedly they can be rebuilt but it seems like a pain after spending this much money and having them almost fail so soon
Thank you for your feedback.
Cycling Enthusiast
Indiana
Smooth and grippy
I enjoy going on tours and desire a pedal that is both smooth and grips well, and these pedals fit both at a high level. I put a set of these on my Priority 600 and have found them to be very smooth in spinning along with a very high (extreme?) level of grip. Your feet just won't slip off these pedals. I will buy them again for another bike or when they wear out.
Thank you for your feedback.
Best gripping petals
You know I tried a bunch of petals but these ones are the best gripping at any foot position, I put them on my e-bike and they work so much better than the other pairs I used before, I highly recommend them and buying from Tires Direct you get the best price, service and delivery around!
Thank you for your feedback.
Cycling Enthusiast
Bay Area