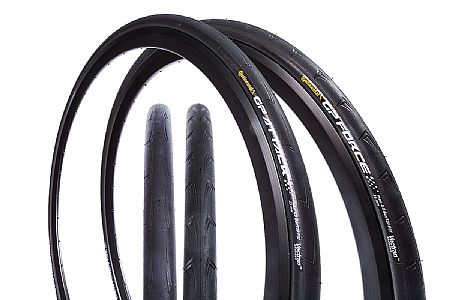 1 of 1 customers found this review helpful.
Sticky
I love these tires. Great on trackrace bike. They don't last as long as GPs, but they're a totally different application. Recommended for your sprint ride and they'll take plenty of use, but don't expect to do a ton of centuries on them.
Thank you for your feedback.
Cycling Enthusiast
SE Connecticut
4 of 4 customers found this review helpful.
They sing on the road
This is my second season on these and they have served me very well. Now on my second set, the first set got some cuts on the front and the rear wore out. The rears develop a flat area in the middle of the tread long before you reach the bottom of the wear indicators. While you still have lots of wear left, sometimes the rubber at the bottom of the indicators falls out revealing the white fabric underneath, no worries.
I run them at 100psi and they sing along the pavement. Mindful of their light weight (and cost), I probably ride slightly further to the left than I would with say Conti 4 Seasons tires. Only flat so far is a pinch flat when I didn't see a pavement seam hidden in shadow at a construction site.
Thank you for your feedback.