Product Images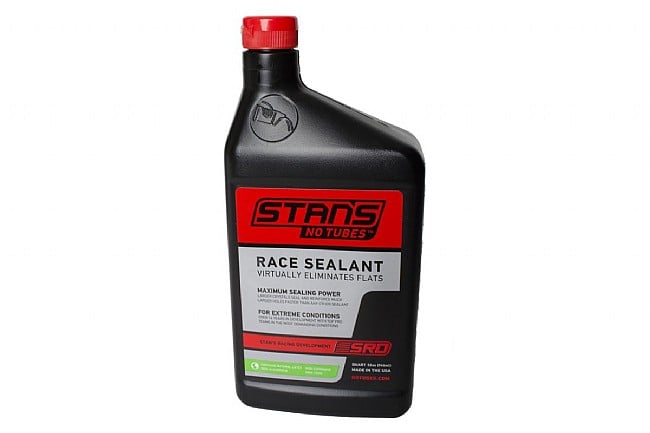 Click Here for Larger Image
Description
Stan's NoTubes Race Sealant seals faster and stops larger punctures than the standard version. This is accomplished with a low viscosity latex that is better able to coat the tire's inner sidewall and a mixture of extra-large crystals and normal size crystals that combine into a lattice work to plug large punctures. The result is less pressure lost and more confidence when riding rough terrain.
32 oz bottle. Recommended amount per tire ranges from 2 - 4 oz depending on tire size. Sealant remains functional down to -20°F.
Manufacturer's Note: Sealant must be poured directly into tire. Application using valve stems and injectors will cause them to be clogged instantly.
B-Stock - This product has one or more B-Stock units available. These units can be purchased at a discount (see option select). B-Stock units were returned from other customers and may have missing or damaged packaging materials. These units are otherwise as new. The full manufacturer warranty applies. Click Here for more information.
Reviews
Ordered by Most Relevant First
Simple and Effective
I use Stan's race sealant for my road and mountain bike tires. It is easy to fill with a syringe for removable core valves or directly into the tire.
The stuff quickly seals minor punctures and if you use the recommended fill volume it lasts for 6 months or more between refilling.
Thank you for your feedback.
2 of 2 customers found this review helpful.
Best product for the right application
If you need the ultimate in flat protection for your important events or even long backcountry rides far from civilization then using Stan's race sealant is a no-brainer. It has quite a bit more flat protection than regular Stan's to help seal up those big punctures more quickly and effectively. The trade-off is a shorter product life within the tire as the base mix is thicker with more particles to help mechanically plug up larger holes more quickly. When not flatting is critical this is a good trade-off to make. I will continue to use the regular Stan's for training and riding but this is going in for all of the bigger/more important events I participate in.
Thank you for your feedback.
2 of 2 customers found this review helpful.
This is the best puncture stop on the market
They say you can't use this on your road presta valves. I hacked it and use a KOM syringe with a small tube to insert deep into tire and add the race sealant. You have to play with the syringe a little but this works. Been doing this for 6 months now and no flata at all. When I get a thorn etc. Stuck in tire and remove it, this race sealant stops the leak in 1 second. So much better that the normal sealant.
Thank you for your feedback.
4 of 4 customers found this review helpful.
Best sealant hands down
I have used every sealant on the market. The Stans race sealant is by far the best. I only ride road tubeless and this sealant will go in through the presta valve. You may have to work the plunger a little, but it will go in and I have never had a stem plugged. I have Four different carbon wheelsets I use this on. I ride 9K a year and never been stranded yet because of a puncture that didn't seal. Lots of goatheads in my valley also. I promote the RACE sealant to any one who will listen. It does at times take a little finesse to get it through the presta stem. But well worth it. Summertime it lasts 2-3 Months, Wintertime 3-4 months before drying up.
Thank you for your feedback.
Cycling Enthusiast
San Francisco Bay Area
1 of 1 customers found this review helpful.
It Work!
Expensive, but when I was five miles from the finish and had a serious puncture, it got me across the line. I still had good pressure when I put the bike on the car rack and removed a box nail from the tread. It cleans up easily, too.
Thank you for your feedback.
1 of 1 customers found this review helpful.
Stans race sealant
The original just gets better. I started using Stans and converting to tubeless before they made tubeless tires. This changed mountain biking! Most were still running tubes. Race is a even better formula.
Thank you for your feedback.
Competitive Racer
Central Oregon
Good Stuff, more effective than the regular Stan's Sealant
I've been running road, gravel and MTB tubeless for seven years. This is the best sealant product I've yet used. It makes huge globs inside the tire that can seal even larger punctures. So far, I haven't flatted with any Stan's sealed tires, except when I tore a sidewall open on my MTB (nothing would've sealed that). But, having used this on several tires, which I later opened up and checked, this stuff should be really effective.
Thank you for your feedback.
Mechanic's Corner
Articles will open in new tab.
A guide to bicycle tire sizes, both standard on newer bikes and common on older bikes.
Understanding older bicycle tire sizes.
A useful chart for determining the tire size you need for your bicycle.
Tips for proper bicycle tire mounting and tire safety.
A guide to understanding tire width.
A guide to understanding bicycle tire tread patterns and what you should look for.