POC
I love this helmet
I've been mulling over a new helmet for a while and the Ventral Air Spin was at the top of my list. I'm wary of ordering helmets online but grabbed a great deal here on BTD so I figured I'd give it a shot.
Overall, I'm very pleased with this helmet. It's incredibly comfortable and vents exceptionally well. My biggest complaint about it is the same that I have with most helmets---the included pads just aren't very absorbent, so sweat is dripping into my eyes within half an hour in the southern U.S. heat. I have a separate sweat-absorbant helmet liner (Sweathawg) that works well here, so it's an easy fix.
Past that, the helmet has been worth every penny. I'd definitely recommend it to anyone who's on the fence.
Thank you for your feedback.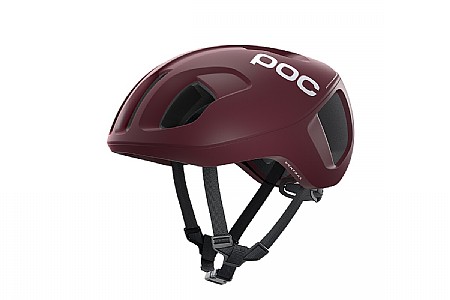 Cycling Enthusiast
Eastvale, CA
It's an expensive helmet, but how much is your brain worth?
Package arrived promptly and it was much needed as my S-Works Prevail helmet was well over 10 years old. So I needed something a bit newer.
Packaging is what you would expect for a helmet.
Fit: this helmet fits my big head perfectly. With the fine adjustment knob at the back it really made fitting into this helmet much easier. When riding, you definitely feel more of the air going through, I will wait for the warmer months to see how this truly works.
Thank you for your feedback.
Cycling Enthusiast
Kansas but I ride all over the United States
POC ROCKS
Due to 3 brain surgeries I want to protect my head with the best product I can buy. Having a visor is very important as well because I ride a recumbent trike. This is my 3rd POC helmet. I love the fit, protection, & style. I feel safe with a POC on my head. I unfortunately had a bike wreck a few years ago & had 3 brain bleeds. I thought I was wearing a good helmet at the time, but after doing research I found there was a better choice. I'm glad I made the choice.
Thank you for your feedback.
Cycling Enthusiast
San Francisco Bay Area
4 of 4 customers found this review helpful.
A Life Saved
How do you determine the value of a helmet? A week ago my wife hit a tree rut in the street hidden in shadows. Her bike flipped out from under her and she when down-hard. She landed on the back of her head where the POC helmet wraps around better than nearly every other helmet. It buckled. It split. But the ER nurse said that the design saved her life, and the nurse was going to buy the same helmet for her daughter and herself as soon as she got home.
For me this was the best value of anything I have ever purchased for cycling. I am now waiting for the same helmet for my daughter-in-law and two grandchildren. I already purchased a replacement for my wife to use when she can start riding again.
Thank you for your feedback.