Pirelli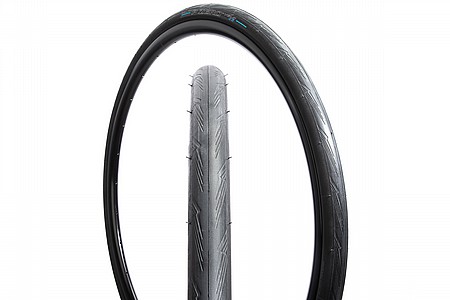 Casual Cyclist
Baltimore, MD
Slower than GP5000s, but a better overall tire!
(For reference, I am 6'0, 190 lbs, riding 700x28s, for ~150 miles per week on city and county roads at 15mph pace)
These are my new tire of choice. I come from GP5000TLs and will not be going back to Contis. While these are marginally slower rolling than the GPs (though, what isn't?), you get so much in return that the GP5000 simply cannot match. Namely, better grip, better comfort, better puncture protection (shoutout Baltimore city streets), and better longevity. I got around 1,000 miles out of a pair of GP5000s before the casing started to show/fray. I'm 500 miles into this pair of Cinturatos, and there is zero flat spotting and hardly any sign of wear on either tire.
The main criticism is, as others note, that the Cinturatos are slower than GP5000s. It's not much at all, but it's noticeable. The Cinturatos an all-season tire built not for straight line speed but for grip, comfort, and longevity. Just pedal faster! :)
For casual/enthusiasts like me who don't race, but want a tire that will hold up to whatever road you're on, give you peace of mind on unpredictable city streets and glass-strewn bike lanes, let you keep up with your mates, and last a while, these are it.
These are an absolute homerun from Pirelli. I will order a second pair for next year.
Thank you for your feedback.
Cycling Enthusiast
Baltimore, MD
1 of 1 customers found this review helpful.
Fantastic!
I'm a former GP5000TL diehard. The Cinturatos have thoroughly impressed me and have become my primary tire of choice. My riding is city/county roads, at a sporty, but not race, pace. 16-18mph, ish (I'm 6'0, 190lbs, on the700x28s). Potholes, chipseal, gravel, broken glass, etc., are commonplace and unavoidable. The GP5000s were good, soft, and fast, but noticeably picked up a lot of debris which led to many sealable flats and, unfortunately, a few un-sealable flats. Just the nature of Baltimore riding.
I've had the Cinturatos for about 500 miles now. They are marginally slower than the GP5000s--noticeable, I think, but nowhere near an impediment. And, so what if they are? Pedal harder! The puncture protection and longevity that you get in exchange is 1000% worth it for someone like me who just wants a solid tire that will keep up with friends and that will last a long while. While they're clearly not a supple race tire, these tires are no slouch if you want to punch it for a few sprints. I have such a peace of mind while riding, which makes my rides so much more enjoyable.
These are so, so grippy (which is maybe why they're a bit slower?) and give great confidence in corners/descents. They generally have more rolling resistance (than GP5000TLs, but what doesn't). Over the past 500 miles, I've run over glass, gravel, gone off-road a bit, hit a few too many potholes. And the tires? Still look brand new, no tread loss, a few nicks here and there in the rear.
These are amazing. I'll update after 2,000 miles and will undoubtedly be running these through the winter and into next year.
Thank you for your feedback.
Cycling Enthusiast
Menifee, CA
A great riding tire, doesn�t hold air well.
These are my first gravel tires on my first gravel bike, a Sage Titanium Barlow. I'm not new to tubeless tires. I ran Conti GP5000s on my previous bike. The tires mounted easily on Roval Terra C wheels with 60ml of Stans sealant. I'm using 700 x 35 tires. The ride is smooth at 45 psi. Traction and cornering are not an issue. I've ridden mostly paved roads so far. I deducted a star from these tires because the issue is how well they hold air. If I pump them to 45 psi, by the next morning they're down to 30 psi. The wheels are new. The rim tape is intact and the valve is snug. With my Continentals I had to add air maybe once a week. I used Orange Seal endurance with those tires. One bike shop person told me that the issue may be the Stans sealant. I've had one thorn puncture and it sealed almost immediately. If I were to do any adventure riding, I would probably use tubes because of the absence of a floor pump for daily pumping duties. These tires look good, have a supple ride with good traction. I will definitely try another set and use a different sealant next time!
Thank you for your feedback.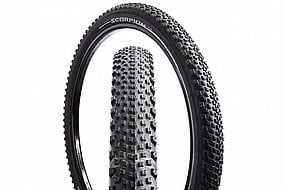 Total Savings:
$10.00 (12%)
Earn $6.99 store credit
Total Savings:
$6.99 (10%)
Earn $6.29 store credit
Total Savings:
$6.99 (10%)
Earn $6.29 store credit
Total Savings:
$8.49 (10%)
Earn $7.64 store credit