Pirelli
Cycling Enthusiast
N.Michigan
Light, tough, nice riding tires.
I've been using these tires for two seasons.
They install tubeless easily on my Campy Bora 2way fit rims. I can seat them with a floor pump every time.
I have been through 2 sets of tires, the rear lasts about 2500 miles and the front much more. I don't try to get every last mile out of them, so some people may get more mileage.
My rims are 19 mm internal width and these measure about 26.5mm when installed and reach about 28mm after several hundred miles. I haven't had any punctures and they don't seem to cut up in the tread much.
I trust them, which is important. Seem to ride very nice and fast too. They don't lose much pressure over several days. Usually the weight is between 265 and 280 grams, which is below the listed weight.
A nice tire that does tubeless well.
Thank you for your feedback.
Cycling Enthusiast
E. Tennessee
1 of 1 customers found this review helpful.
Fantastic Tire
I bought these in April, have put 2200 miles on them and about 240,000' of often chunky climbing and descending in the Cherokee, Nantahala, Jefferson and Pisgah National Forests. I have yet to have to plug either tire. And while the rear is showing some wear it is far from finished. Twice I have had them self-seal with Stan's, but never have I needed to tube them. They may not be the lightest or the fastest on pavement, but they're not bad and the dependability and predictability they offer is more important to me than the lowest rolling resistance. I do race, but prefer dependability to outright speed.
john switow on Strava
Thank you for your feedback.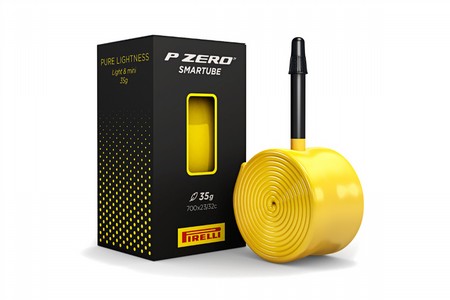 Cycling Enthusiast
Richmond, VA
Light tube. Waiting to get more data on duability
I installed this tube after puncturing the butyl tube in my road bike. No problems with installation.
At that point, I had the new thermoplastic tube in one wheel and a butyl rubber tube in the other wheel.
After 130 miles, I got punctures in both my front and rear wheels. This was clearly a pinch flat in both cases. I did not see a pot hole and hit it hard with both wheels. Both tires flatted. Given the fact that both tires flatted, one with the thermoplastic tube and one with a butyl rubber tube, it does not seem fair to blame either puncture on either tube.
I replaced the thermoplastic tube with another thermoplastic tube and I replaced the butyl rubber tube with another butyl rubber tube. I have ridden 1700 miles since with no flats in either.
So, to date, with small sample size, I have seen no difference in durability of the thermoplastic tube versus a butyl rubber tube.
As for price, obviously, the thermoplastic tubes are much more expensive. Friends have told me an inner tube is not worth that much money no matter what it is made of. I have a slightly different perspective on that. Bicyclists are typically very willing to pay lots of money to reduce the weight of their bike by buying more expensive frames, wheels, components, pedals, etc. I typically have 4 inner tubes on my bike when I ride. Two tubes are in the tires and two spare tubes are in my saddle bag. These thermoplastic tubes are about 100 grams lighter than butyl rubber tubes. For 4 tubes, I can reduce the weight of my bike by 400 grams, or more than three-fourths of a pound. You could spend a lot more money on bicycle parts and not save three-fourths of a pound. So, with regard to reduce weight, I find these tubes to be of good value.
In conclusion, I found these thermoplastic inner tubes to be lighter, as advertised. For that reason, I will continue to use them unless I find them to be less durable in the long term. To date, I have found them to be as durable a butyl inner tubes.
Thank you for your feedback.
Love this tire for tubeless
I highly recommend this particular tire for tubeless setup since I can just mount it with my bare hand and have pretty good puncture resistance compared to it's weight/rolling resistance. If you are someone not just looking for pure fast/race tire, this is a good all rounder as it provides very good puncture protection, easy enough to setup (may still need a electric pump) while it is still very fast and last reasonably long.
Thank you for your feedback.