45Nrth
Daily Commuter
St. Louis, MO
Great studded tire
Before getting these, I used the 2 inches Marathon ice, and liked them. However, with any snow beyond 2 inches, I tended to bog down. In comparison, the 45nrth are far more surefooted in deeper snow and ice. The price is more rolling resistance on dry roads. It is a compromise I'm willing to make as bike is my main mode of transportation
If you live in a city that gets freezing rain, or frozen roads, but not much snow, the Marathon ice is a better tire. These are more than what you need. If you have to ride in loose snow and ice, these are the best, unless you are going way fatter
Thank you for your feedback.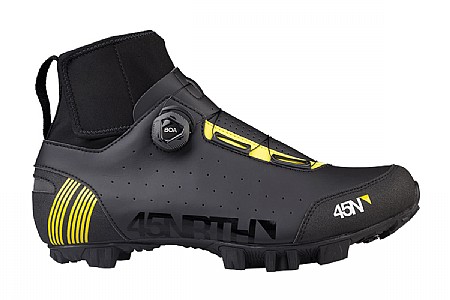 Cycling Enthusiast
Southern CT
Runs small but does the job
Use these with SPD's on my gravel bike. Was a real step up from my regular cycling shoes with toe covers in cooler weather.
For me I-chose size 44. One size over my normal. Particularly important if you are going to use heavy socks.
Did a 40 miler over three hours in 35-45 degree temps. My feet stayed comfortable. I'm happy with my purchase. Not sure how they would perform in temps below freezing. Quality seems to be there and time will tell regarding durability.
Thank you for your feedback.
Daily Commuter
outside of Montreal, Quebec, Canada
1 of 1 customers found this review helpful.
A must for winter biking!
I commute to work every day and you never know what the road conditions will be like in winter. Because of climate change I note that I am facing ice more and more frequently. Studded tires are an absolute must. I already had a decent studded tire on the front but my rear tire studs were worn down too much. This tire is the perfect match for me! There are lots of studs so even on icy patches I can still get a grip and accelerate if needed. The tire also works well on bare patches - the studs don't slow me down as much as prior models did. And the main thing is that I feel secure with this tire. In retrospect I should have bought 2 of these - for the front and the back. You can bet that I'll be doing so in the very near future! I strongly recommend this tire to fellow winter bikers.
Thank you for your feedback.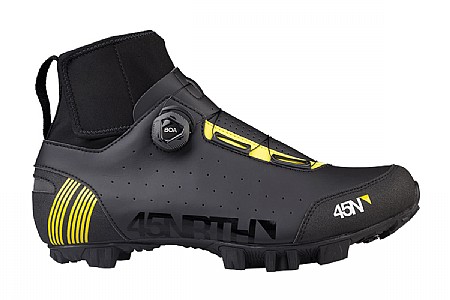 A nice upgrade for the winter commute
I got tired of stretching a bootie over my shoes every morning so bought these on-sale from BikeTiresDirect. I'm a big fan of the BOA lacing system, and can't imagine going back to laces or, heaven forbid, velcro. The neoprene cuff works very well keeping light rain/snow from dripping down into the shoe, and the handle on the back of the cuff makes it much less of a chore taking them on/off. Soles are much stiffer than my other shoes, but that is also a plus. Warmth is very good down to 32'F -- below 20'F likely will still require a bootie - just for the extra warmth.
Thank you for your feedback.