Topeak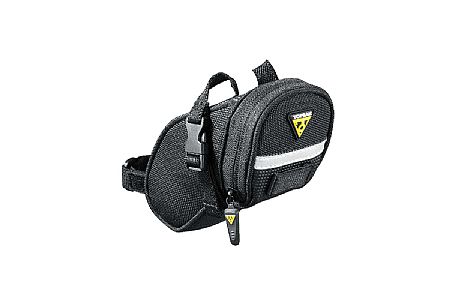 Cycling Enthusiast
Nashua, NH
Decent wedge pack
Overall this is a pretty good wedge pack. I bought this because the setback post on my Domane SL6 severely limits the underseat packs I can use and this was one of the few that works. The straps do a decent job stabilizing the pack under the rails, but there is some bounce with them. The biggest beef I have with the pack is its hard to unzip the waterproofed zipper because the pack isn't quite long enough to stick out beyond the rear lip of the seat, requiring some mildly annoying fiddling to get it open - definitely not a one-handed job by any stretch. The light loop is well-placed and wide enough to accommodate most taillights. The interior mesh pocket is perfect for a multitool.
Thank you for your feedback.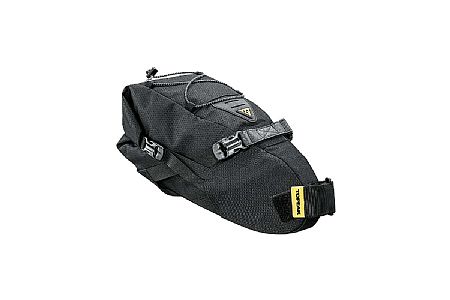 Cycling Enthusiast
Durango CO
Great budget option, tricky mount under seat rails
Great budget option with all the features you'd get on a more expensive model. Have used on 3 backpacking trips so far and safely and snugly holds gear.
Main drawback: there is a velcro strap that goes around the seat post -- no issues. But there are two buckles that go under each rail and attach to buckles that run under the bag. The buckles that go under the rails are super short and threading the bag buckles on to them is difficult, especially when the bag is loaded. Not a deal killer, but certainly a mildly annoying way to start your day.
Thank you for your feedback.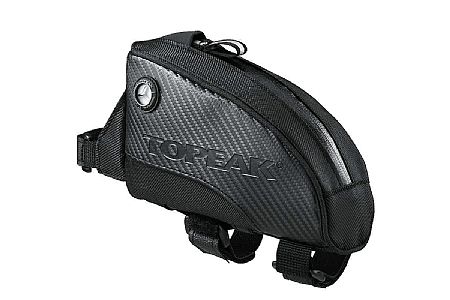 Cycling Enthusiast
San Francisco Bay Area
Like it more than I expected
I had to ditch the bag I have carried for years under the back of my saddle (that carried spare tube, CO2, tool, etc). I decided to give that under-seat space to a light-&-radar unit that attaches to the seat post. (Love the radar, by the way. Nice addition to safety.) I was reluctant to use this bag because I just didn't like the idea of positioning a bag on my top tube. But it has worked out well. It carries my stuff with room available for my wallet, which I hadn't been taking on rides before. I bought a different one first but it turned out not to have the capacity I wanted. The Topeak bag is completely out of the way and doesn't come in contact with my legs while pedaling. Holds its position well and seems to be quite well made. Again, I don't love the look of a top tube bag but I'm over that; I'm happy with my choice and I'd recommend the bag.
Thank you for your feedback.