Sidi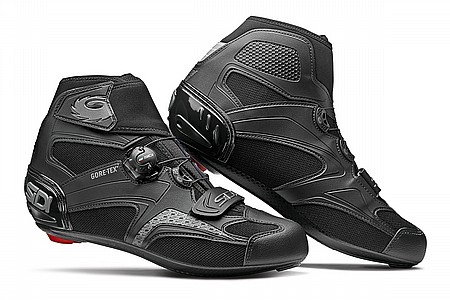 Great Addition
These have been key to keeping the outdoor miles going on the road. Adding shoe covers to my road shoes just wasn't cutting it. These keep my feet warm and dry in temps down below 40F and would easily handle more with toe covers and some toe warmers.
Sole is stiff and transfers power well. The Sidi boa allows for a good fit to accommodate my Solestar insoles. Added warmth and protection around the ankle is not too tight for when thermal bibs have a rear zipper that extends into the cuff.
Thank you for your feedback.
Cycling Enthusiast
Vancouver
Worth the money...
I'd never purchased a pair of Sidi shoes before, and hadn't spent this much money on a pair of cycling shoes before, so I really hesitated when I saw the price. Given the limited supply anywhere, I was just happy that BTD had my size available and in stock, so I went for it. Here I am a couple of months later, and these are easily the best cycling shoes I've ever owned, and I'm completely satisfied with what I spent. The quality level is really high, the fit is excellent, and going forward I don't see myself ever going with anything else.
Thank you for your feedback.
2 of 2 customers found this review helpful.
True to size, easy to adjust, look great
I haven't put a lot of miles into these shoes yet, but I was pleasantly surprised that I ordered the correct size the first time. I wear a 10.5 street shoe and I ordered a 44.5 in this cycling shoe. The shoes also have adjustable lacings and straps to help them fit around the shape of my foot and avoid numbness on long rides. I'm currently wearing these shoes for road rides, but they'll be great for gravel and trail rides. The only bummer for me is that I paid full price and the shoes went on sale about one month later. Oh well!
Thank you for your feedback.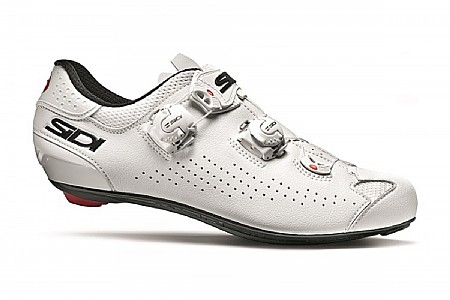 A bit uncomfortable
I've been looking for new cycling shoes for over a year. I finally settled on these after looking at many others. They are made well, but a bit uncomfortable to me. They have a pretty high arch which for me works, but quite noticable. They are quite stiff and hopefully time will break them in to be a bit more flexible. They'll be a bit snug on your feet if you have wide feet....I mean they're Italian after all. I find Italian products run tighter than normal. All in all, nice shoes... But I think they're still a little too pricy. My Louis Garneau shoes lasted me almost 10 years for $70. I was done with ratcheting plastic buckles though and wanted a nice new pair with BOA style tightening. These Tecno-3 dials are great. They will be challenging to tighten while riding as you have to flip up the tab to twist them. Looks to be a good cycling shoe, only time will tell.
Thank you for your feedback.