Sidi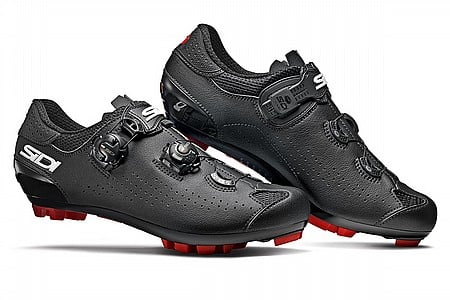 Cycling Enthusiast
Camarillo, Ca
High Quality Shoes
These are well made, lightweight and fit true to size for my 45/10.5 feet. I have to agree with another reviewer that the insert provided with the shoe does not provide any support and was uncomfortable for me on long rides. I replaced with Trek aftermarket insoles without compromising stiffness. Much better. Sidi makes aftermarket inserts too! The shoe is highly serviceable and should last a lifetime if maintained properly. The locking BOA mechanism took some getting used to. However, after a few rides, finding the detent to lift the adjustment tab is getting easier. It would be nice if the tab was marked with a colored dot to mark the location of the detent. Something for future a version. Not an issue to any great degree though. The heel is narrower than on my old Shimano MTB shoes. The result is they are not as stable to walk in. The shoes look awesome with quality written all over them. They are excellent shoes but very expensive! Buy them on sale at BTD.
Thank you for your feedback.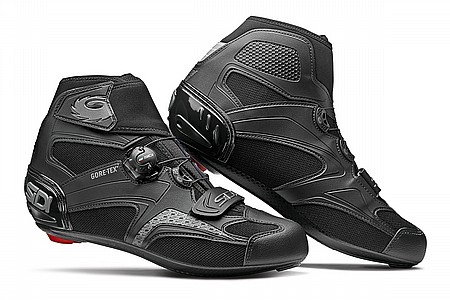 Cycling Enthusiast
Seattle, WA
1 of 1 customers found this review helpful.
A great winter boot
I get frozen toes, like many people during the winter, especially cycling, where the constant pressure on the ball of the foot, lack of foot flexure, and close fitting summer shoes combine to restrict blood flow all the way to my toes.
These boots fit differently than summer shoes but still provide reliable stability and power transfer. They are 4-5 mm wider across the midfoot, which allows blood vessels there to stay unrestricted. They seem designed more to cradle the foot rather than compress it, which is a key difference to summer shoes. The cable buckles allow precise adjustment of the boot tightness. The over-the-ankle cuff also provides noticeable insulation, and obvious weather protection, which help considerably to keep my toes warmer, though I found it was wearing against my right ankle on the first few rides before the cuff shape contoured to my body. I normally wear a size 43 1/2 in summer shoes (Sidi Genius 10) and these only come in whole sizes, so I got them in 44 and am very happy. The insoles are very close in length, the 44 is maybe 2mm longer than the 43 1/2 from the summer shoes. I get a small amount of heel slip if I pull up hard on the upstroke, but I am not trying to win races in these and still feel plenty of connection to the pedals. I have found that wearing thinner socks, which allow my toes to wiggle, creates a warm air pocket around them that really helps. Like winter camping, where wearing just your skivvies in the sleeping bag is warmer than wearing your down parka inside the bag, warmth is preserved in the air heated by and around the body. It is all just a matter of reducing the rate of heat loss compared to the amount of heat generated by blood flow. I would also recommend wearing booties, which help reduce heat loss due to wind movement over the shoe. So far, on two-hour rides, where my toes would have been numb in the old summer shoes even with thick socks and neoprene booties, now they stay comfortable, if not exactly toasty, with these boots. And that is a huge improvement from my perspective.
Thank you for your feedback.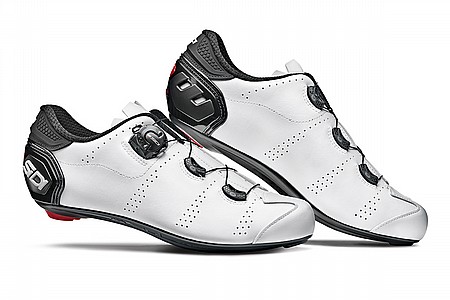 Competitive Racer
New York
Like all Sidi shoes, an Excellent Product
I would advise you to disregard negative reviews of these excellent shoes. Anyone who's been riding more than a few years would know that all Sidi shoes are high-quality, hand-made Italian shoes, built on a rather narrow European last. I have a narrow foot, and I am grateful that Sidi is business! If anything, this model is roomier than my past Sidi shoes (more like a standard D). Narrow is good in cycling. You don't want your foot to spread when applying a lot of force (unless you want sore feet at the end of the day). If you have wide feet with short toes, then perhaps Sidi is not the brand for you, although they do have a "Mega" option on some of their models for people with wide feet. Regarding the cleat holes, they are in the same place as all other Sidi soles: exactly the right place for proper alignment, and they offer plenty of adjustment, at least with the Look cleats I use. They don't offer fore and aft slots, and that's probably a good thing, as it will keep inexperienced people with faulty ideas about metatarsal alignment from putting the cleat in a bad position! Sidi makes excellent high-quality shoes with rigid soles for serious riders, and this model is no exception.
Thank you for your feedback.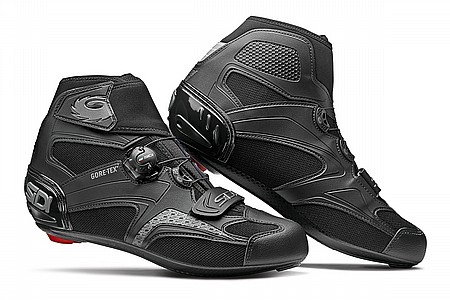 3 of 3 customers found this review helpful.
Great Addition
These have been key to keeping the outdoor miles going on the road. Adding shoe covers to my road shoes just wasn't cutting it. These keep my feet warm and dry in temps down below 40F and would easily handle more with toe covers and some toe warmers.
Sole is stiff and transfers power well. The Sidi boa allows for a good fit to accommodate my Solestar insoles. Added warmth and protection around the ankle is not too tight for when thermal bibs have a rear zipper that extends into the cuff.
Thank you for your feedback.