Showers Pass
Cycling Enthusiast
East Central Wisconsin
1 of 1 customers found this review helpful.
Very good build quality
Fit: 6'1" male 195 lbs - purchased Large. Overall - pretty good fit; waist a bit loose for 33", but draw string tends to overcome that. Inseam - just a tad long when not on the bike, but as others have stated, this insures contact with the top of the shoe/sock interface when pedaling. Velcro adjustment at ankle works perfectly and helps hold the pant off the ground when just walking around a campsite. The ankle zipper is a nice touch to be able to pull over shoes. I used sparingly (less than 5 miles) during a recent 600 mile back packing trip, only during heavy downpours - and they kept me dry when mated with a Showers Pass jacket . As others have stated, a water proof cycling bib may be a better option for day long rides in the rain. Stuff sack is a very nice touch and these take up little space in a pack. I think I will invest in suspenders at some point to improve fit.
Thank you for your feedback.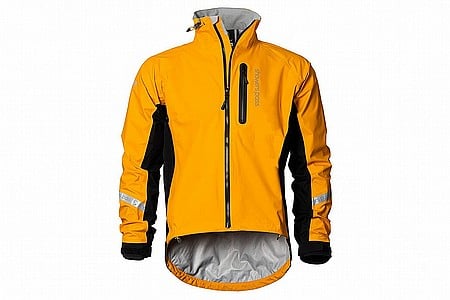 Cycling Enthusiast
East Central Wisconsin
1 of 1 customers found this review helpful.
Durable rain jacket that doubles as a cold weather wind breaker
Long Torso 6'1" 200 lbs - bought size XL for ability to layer extensively for use in long rides down into the 30s. Besides terrific moisture resistance, this works as an exceptional wind breaker in cold weather when properly mated with underlying layers, with much more comfort than riding in a parka. Lightweight, and rolls up fairly compactly for space saving on long distance trips or bike trunk storage. I particularly like the adjustable cuffs to close tight on my riding winter gloves. Durable - my 2018 model is still working great after many rides.
Thank you for your feedback.
Cycling Enthusiast
Hilo, Hawaii
Great material, wrong bike
If you're into retro old style thick rubber yellow raincoats you wore in kid times, you'll love the look of this jacket and the material is so much better: soft and sporty. But, as its description suggests, it is best for a commuter-type rider in an upright position. I bought it for riding a road bike on a mountain, to keep off the cold wind and rain, thinking it would be thick and heavy. Nope. it's light and a little short in the front, and the wind tends to blow through it. Extra material in front must be for super layering or a beer belly, but my crotch area got soaked the other day because the front can't be pulled lower (it just bunches up). Still, it such nice material, I keep using it, just for the feel of being a kid again. And hoping someday I will live in an area where I can ride to the grocery store in comfort.
Thank you for your feedback.