Showers Pass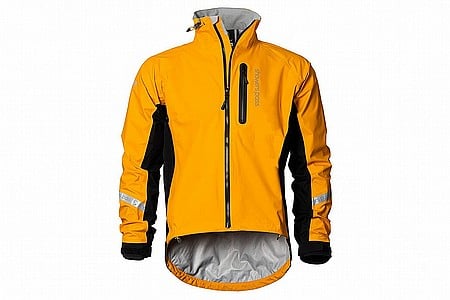 Cycling Enthusiast
East Central Wisconsin
1 of 1 customers found this review helpful.
Durable rain jacket that doubles as a cold weather wind breaker
Long Torso 6'1" 200 lbs - bought size XL for ability to layer extensively for use in long rides down into the 30s. Besides terrific moisture resistance, this works as an exceptional wind breaker in cold weather when properly mated with underlying layers, with much more comfort than riding in a parka. Lightweight, and rolls up fairly compactly for space saving on long distance trips or bike trunk storage. I particularly like the adjustable cuffs to close tight on my riding winter gloves. Durable - my 2018 model is still working great after many rides.
Thank you for your feedback.
Cycling Enthusiast
Hilo, Hawaii
Great material, wrong bike
If you're into retro old style thick rubber yellow raincoats you wore in kid times, you'll love the look of this jacket and the material is so much better: soft and sporty. But, as its description suggests, it is best for a commuter-type rider in an upright position. I bought it for riding a road bike on a mountain, to keep off the cold wind and rain, thinking it would be thick and heavy. Nope. it's light and a little short in the front, and the wind tends to blow through it. Extra material in front must be for super layering or a beer belly, but my crotch area got soaked the other day because the front can't be pulled lower (it just bunches up). Still, it such nice material, I keep using it, just for the feel of being a kid again. And hoping someday I will live in an area where I can ride to the grocery store in comfort.
Thank you for your feedback.
Cycling Enthusiast
Raleigh, NC
Fantastic rain jacket
I owned and wore a Showers Pass Elite jacket for years, until I wore it out. If you only need a jacket for cycling, the Elite is probably best. However, I wanted my replacement jacket for hiking, walking, and wearing around town in addition to cycling. The Refuge jacket fits the bill. I ordered the XL rather L, which my Elite was, so it would be roomy enough to layer clothes underneath in cold weather. So far, it's been perfect as a winter jacket and for rainy days. It keeps me warm hiking in cold, rainy weather as low as the 30's with just a flannel shirt underneath. Since I do a lot of hiking wearing a day pack, the reinforced shoulders are a nice touch. Like the Elite, the Refuge is well ventilated when temperatures warm up, so you don't get sweaty.
My only complaints are: the collar apparently was designed for someone with a long neck, so it hits my chin. Also the side vents have a mesh that seems to serve no purpose other than to jam the zippers.
Thank you for your feedback.
Cycling Enthusiast
Portland OR
Very waterproof!
The jacket really works as I got caught in a downpour yesterday and stayed nice and dry. The blue color is great; the fit for a small is a bit on the big size. I ordered a M and had to send it back for an S. There is plenty of room for layers underneath and the sleeves are plenty long as is the adjustable cord around the bottom.
My one complaint is that the zippers are sticky and I was unable to zip up while riding. Customer service recommended graphite or paraffin which I will try.
Thank you for your feedback.