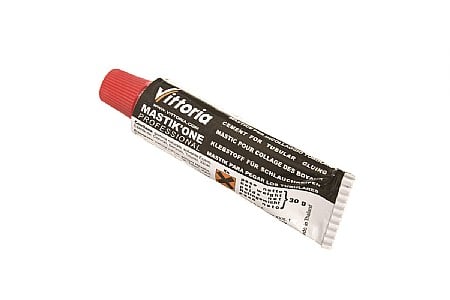 Competitive Racer
Westfield, new jersey
Casual Cyclist
Ana Retentive county MD
1 of 1 customers found this review helpful.
Great stuff but not enough in the small tube to do one tire correctly ...
I boil some water in a pan first , then put the open can of glue in the pan to heat up the glue and use a small paint brush
to apply each thin coating ... do not put can in pan while on heat source ..... Fire Marshall Bill
I agree with the Montana gent's review do one on the rim and one on the tire wait 24 hours then do it again an wait 24
when ready to mount the tire brush a fresh thin layer to the rim that acts like solvent between the cured dry base layers
Have just enough air in the tire to roll it into position being very careful to properly seat the valve stem first while seating
the tire in both directions away from the valve finally you end up opposite of the valve kneading slack out of the tire
as you go so at the end you have only couple inch to roll on ...if too much air in tire , now let some out , put the monkey
grip fingers to work eyeball the tape strip on both sides make sure it is even and work the centerline tread into position
judge your good work by how much glue you want to remove from the sidewall when you are done none is very good
Thank you for your feedback.
Competitive Racer
Lenexa, KS
1 of 1 customers found this review helpful.
Tire is never going to roll
This is the best glue for cross applications where tire rolling is a concern. It dries quickly (good and bad), applies easily, and creates a very strong bond. The downside is that you can rarely pull a tire off by hand or recover the basetape, you will lose some basetape with this glue. I find it is harder to remove via solvent and requires a heat gun for easy removal. I suggest 1.5 tubes per wheel (half tube on rim, half tube on basetape, another half tube coat on rim).
Thank you for your feedback.
Casual Cyclist
Bothell, WA
Good glue - quantity not enough
Vittoria mastik tubular glue seems to be good - cleans up with water! However, the tube is small, and although it is advertised as adequate for a pair of tubulars, it isn't. Maybe, if there was some kind of measuring device, I could have prevented using too much on the first wheel, but there isn't, thank God I had some old tubular glue left over to finish the job.
Either make it larger, or advertise that a gluing a pair of tubulars requires two (2) tubes.
Thanks.
Thank you for your feedback.
Competitive Racer
Santa Cruz
1 of 2 customers found this review helpful.
Tubular Cement
I finally went back to tubulars for cross after a couple costly mishaps on tubeless. (I raced tubeless for four years and think they're great it's just a matter of rim width etc.) Anyhow if you buy the big cans of Mastik One it can get dried out. Each tube is good for a wheel's worth (two layers on the rim, tape, a layer or two on the tire, good to go). The glue is really light-remember it's about thin layers, not glooping it on. This is a much better way to go than the big cans.
Thank you for your feedback.
Competitive Racer
San Jose, CA
As good as any glue I have used. Comes in a convenient tube or in the mulit use can.
I have used both the Vittoria Mastik and the Continental tubular glue. I find the Vittoria Mastik to be just as good or better than Continental glue. The can of Vittoria Mastik is usually a great value. I use the Vittoria Mastik for both road and cyclocross tires.
Thank you for your feedback.
Cycling Enthusiast
north texas
Competitive Racer
Portland, ME
2 of 2 customers found this review helpful.
Does the job!
I use Mastik to mount cyclocross tubulars, and have had no concerns about rolled tires. Mastik supposedly works equally well on carbon and aluminum rims, which makes it a good all-purpose glue.
One caution Mastik sets up fast in my experience. Once I mount the tire, I gotta hurry to align the tire on the rim. Ambient temperature probably affects this,
so if you lack a cool, well ventilated workspace, make sure to mount your tires carefully and quickly.
Thank you for your feedback.
Competitive Racer
Bozeman, MT
5 of 5 customers found this review helpful.
This stuff is the way to go...
Really great, secure glue - the only way to mount tubulars if you're serious about doing it right. while not as easy as Tufo tape, the tire is more secure and rolls faster with glue. The downsides are fumes, clean-up, and re-gluing. Fumes are nasty, so you need really good ventilation. Clean-up is hard because the glue dries so fast and you need to use potent solvents like Goof Off or acetone. So I use cheap disposable glue brushes from the hardware store, and nitrile gloves. Getting old, dried out glue off of the rim is a major chore that involves lots of scraping and solvent. One trick I found on the web use solvent to thin the cement before applying to the rim (not the tire). This allows easier spreading and thinner, more even coats. Vittoria's gluing recipe two thin coats on the rime, 24 hrs apart, let both coats dry completely. One coat on the tire, let dry at least 24 hours. Finally, 1 more thin coat on the wheel and mount tire immediately while glue is still tacky (within minutes of applying glue). Do it carefully and the tire will be secure.
Thank you for your feedback.
Competitive Racer
Portland, OR
2 of 3 customers found this review helpful.
One of those things...
... that you just do without asking questions. Use Mastik. Moreover, they say that if you're running a Vittoria, then you absolutely must, btw. That probably goes for all the tires that look very much like they're made by Vittoria as well (Vred tubies, Mavic tubies, the Michelin tubie we have...). Use it. Use lots. Give it time to dry and it. will. stick. for. ever.
Thank you for your feedback.
1 of 1 customers found this review helpful.
The standard for a reason
Tub cement is one of those products that you will never notice if it is working. I've used this for 10 years of CX racing and it just works, is reasonably priced and can be found almost anywhere. The tubes are cleaner than the can IMO, as it is possible to squeeze a nice straight line into the center of the rim bed and spread with a flux brush. Also, contamination and dry-out are not an issue where as with a can, you risk it all going bad and I could never get away from spider webs from the brush dipping into the can. I'd say for road tires, you want at least 1 tubewheel and cx 2 tubeswheel. The consequences of too little glue vs too much glue make the extra $2.50 well spent.
Thank you for your feedback.
Competitive Racer
Phoenix, AZ
1 of 1 customers found this review helpful.
Excellent Choice For Gluing Tubular Tires
I've used this glue on several sets of tubulars, and never had a problem. Goes on easy, and isn't real stringy, or messy. Holds like, well, glue!
I use two layers on the rim, and one on the tire, and this glue does not let go. Did a 35 mph on it for the first time, and had absolutely no problems. Tire stayed in place, and never squirmed around, or felt loose.
Thank you for your feedback.