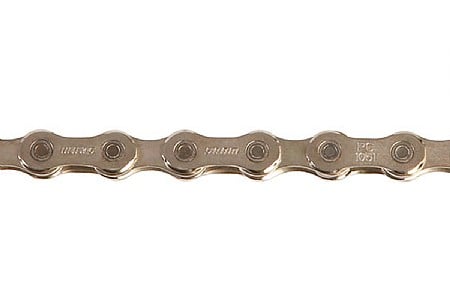 Cycling Enthusiast
Oakland, CA
Cycling Enthusiast
Thousand Oaks, CA
Cycling Enthusiast
Cordova TN
Cycling Enthusiast
Milwaukee, WI
2 of 2 customers found this review helpful.
Good product
The Scram PC -1051 came as standard OEM equioment on my Focus bike. I rode over 2,500 miles on the original chain and replaced it with the same model. I use Scram chains on all my bikes, & believe that they last longer & work better than Shimano.
Thank you for your feedback.
Cycling Enthusiast
San Luis Obispo, CA
Competitive Racer
Marshall, TX
Cycling Enthusiast
Stow, Ohio
Cycling Enthusiast
Minneapolis
Does the job & easy install
I just replaced my 10 speed chain on Pugsley fat bike. In doing the install, I love Sram's coupling link to easily close the gap between ends of chain. Overall, a chain isn't that glamours or exciting unless it's not working and presented problems like my old one with chain stretch and jumping gears. Subsequently, I am happy to report that I am shifting and pedaling without thinking about my chain.
Thank you for your feedback.
Cycling Enthusiast
Santa Barbara, CA
Great chain, but ...
Gotta wonder why the connecting link is a one-time use only.
I usually run my road chains 600-700 miles (homebrew lubing every ride), break chain & bathe in solvent & clean cassette, chainrings. By doing this, you can get more mileage out of your chain, cassette & chainrings. Guess I'll buy an aftermarket re-useable connecting link (Connex, etc.) after the 1st bath.
Thank you for your feedback.
chain tool
Sram chains run great!!! Who cares if the link is hard to get off. The only time you need to take a chain off is to replace it. Do what the pro's do.
Or if you can't figure out how to clean your chain on the bike get the park tool MLP-1.
I also like this chain for the value. I will stretch out a chain before it sits long enough to rust, so I save money with the 1051 while still having a smooth chain.
Thank you for your feedback.
0 of 1 customers found this review helpful.
power link is hard to work with
Whats the purpose of the power link if getting the chain apart requires a special tool? Wipperman link allows you to easily take chain on & off for cleaning. Not so with the Scram link. This is my last sram chain unless they change the design.
Thank you for your feedback.