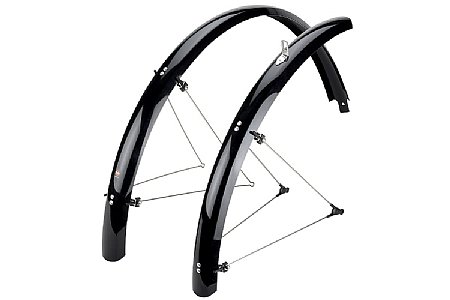 Daily Commuter
SE Pennsylvania
Second pair in a few months
I have two pairs of these one for a Wabi classic fixed gear, another for my Fuji crosstown hybrid. Both bikes had a few issues with the hardware provided, with a few of the bolt on sections either not aligning with my frame and requiring a zip-tie instead (actually a snugger fit, but they tend to be frowned upon in the cycling community), the bolt just fell off due to short length, or the bolts were too short to pass through the fork and I needed to go buy longer bolts at the hardware store.
With some simple ingenuity they seem to work well as long as the clearance is correct, but it is kind of lame that the hardware that comes with them doesn't just work for all bikes.
IF YOU ARE RIDING FIXED GEAR BE MINDFUL OF THE REAR FENDER AS THIS WILL PREVENT YOU FROM BEING ABLE TO REMOVE THE REAR WHEEL WHILE THE FENDER IS ON SINCE FIXED GEAR DROP OUTS ARE DIFFERENT THAN MOST GEARED BIKES (just don't get a flat).
Thank you for your feedback.
nice quality fenders
these were not the first set of fenders i set up for my bike. i have another brand i use when i have my 37's on the bike but i stepped up to 47-700c for comfort on the city streets of new orleans. like every "one size fits all" fenders off the shelf, some adjusting and cutting was involved....take he time to do it right and they will be easy to remove and put on as needed. fits very close to the tire and looks great...well made and a great value
Thank you for your feedback.
Cycling Enthusiast
Milltown, NJ
Cycling Enthusiast
Seattle
Daily Commuter
Portland Rainlandia
4 of 4 customers found this review helpful.
Rugged and easy to install.
These fenders are well built and easy to install...just take your time to install.
Put these over 35mm tire and installed as close to tire as possible and they look great. Very sturdy and dont rub.
Just give yourself atleast 10mm difference from tire size when ordering
And check fork and triangle clearance before ordering
Very happy with purchase.
Thank you for your feedback.
Cycling Enthusiast
Seattle, WA
3 of 3 customers found this review helpful.
Excellent addition for the Fall riding season
I recently bought these SKS fenders to install on my bike because the Fall and Winter are pretty rainy here in the PNW. I found the fenders and the mounting hardware to be top quality and should be very durable.
The installation is not difficult but it requires test fitting the fenders and cutting the stays to match your particular bike. A hand saw or even better, a cutoff wheel in a drill or moto-tool works like a charm.
Once everything's mounted, they even have clever snap-in-place covers to protect the nuts and keep everything nice and tight.
I really can't imagine anything better and the price is very reasonable.
Thank you for your feedback.
1 of 1 customers found this review helpful.
Good fender, hard to install
This fender works great once installed. I put the fender on a commuter city bike. It works well to keep rain off work clothes. It was a bit tough to install as I needed to adjust back and forth to center on wheel and did break one of the plastic clips while tightening. BTD was not helpful in getting me that part and manf is not in U.S. I made up the part in my shop but wasn't happy about doing so. BTD is typically more responsive!
Once installed it does work well.
Thank you for your feedback.
Daily Commuter
Portland, OR
2 of 2 customers found this review helpful.
low cost, keeps you dry, for the most part
I only put these fenders on when its raining or the ground is wet outside. I take them off and put them back on pretty frequently and that's really simple to do. I don't like how the hardware that came with the fenders are threaded, they want to go in rough every time, I used different hardware to attach to my bike. also getting them set perfectly to fit on my bike was a pain as well.
Thank you for your feedback.