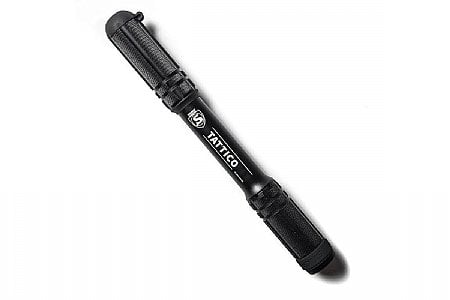 Cycling Enthusiast
Central PA
Does what is should and is compact
I've been riding with only a few CO2 cartridges and decided it was time to add a pump to my gravel rig. I purchased this when BTD put it on sale and have used it several times without issue. I mounted it to my Cervelo Aspero along the seat post frame tube and it tucked away nicely next to the water bottle cage. Do not hesitate to buy this Silca mini-pump!
Thank you for your feedback.
Cycling Enthusiast
SF Bay Area
2 of 2 customers found this review helpful.
High quality pump at a decent price and size
Silca pumps are premium pumps - like almost everything else they produce. The Tattico sits at price point that is lower than many of the other Silca pumps but perform as well. It's size and design are both a Pro and a Con:
Size: The pump is larger than most mini pumps - it it a little too long to fit comfortably in a jersey pocket. The larger size means that the pump has many extra features. From Silca, "The hose and valving is hidden inside the inner tube rather than the outer cylinder delivering up to 10% more air per stroke compared to pumps of similar length." This also means that the hose is more stable when you are actually pumping it on a tire valve. You also get a larger volume of air and the pump is noticeably cooler after you pump up a tire. However, the larger size (as noted above) can be a detriment. The included frame mount is okay but the large size of the pump may still rub against over-sized down tubes ( I would extend the frame mount out further in a future update). For my gravel bike, I have my pump inside a top-tube bag that bolts onto my top tube bosses (Cervelo Aspero A40 bag) and it just fits with room to add mask and extra energy chews and food. For my MTB, the Tattico fits on the frame mount without rubbing.
Design: The seal is noticeably plusher than my old MTB pump and feels that it provides more air per pump. The body is entirely made of machined aluminum - a nice, solid feel with less heat production, but also adds a little more weight to your kit. The hose puts less stress on the valve and the connection to the valve is a mini lever like a scaled down version of my track pump - quick connection without potential damage to the valves.
All-in-all, having this pump gives me great flexibility - I carry CO2 inflators but this allows me to change tire pressures when I am riding mixed surfaces. My old tiny road pump was really an emergency tool - not something I would want use regularly on the trails. I would say that this is the perfect size for gravel and MTB use where you want to adjust your tire pressures for the different terrain. It may be a little large for weigh wienies or pure emergency use. For me, I carry my super tiny road pump on my road bike because I have it as a backup to my CO2 kit - I'm unlikely to adjust tire pressure on a road ride. My only note would be the model with a Bluetooth gauge might be worth it but I can adjust well enough by touch,
Thank you for your feedback.
Cycling Enthusiast
Davis, CA
Ultra premium
I see, now, why Silca has a reputation for ultra premium products. The fit and finish on this pump is superb. It looks and feels like a weapon (and could possibly serve as one). Definitely beefier than the lezyne pump it replaced. The bottle cage mount is plastic and holds the pump securely, with an integral rubber strap for added security. I haven't had to use it roadside yet, but it seems quick and easy to deploy and repack.
Thank you for your feedback.
Cycling Enthusiast
Spanish Springs, Nevada
Cycling Enthusiast
Redding, CA
2 of 2 customers found this review helpful.
good pump, not much silca about it
Does not have leather gasket like larger silca pumps.
200 strokes to inflate conti tube in 700cc x 25 4000GS tire to 110 psi, didn't take much extra strength for the last reps. But I am strong like small bear.
pump head on extendible little hose thing keeps pressure off the valve step which is much nicer than my last minipump.
Thank you for your feedback.
3 of 4 customers found this review helpful.
High quality - superior frame pump
I got tired of worrying about multiple flats on a commute so got this high quality pump to never worry about running out of cartridges. Installs discreetly next to a water bottle cage. Plenty of room for crankset.
Thank you for your feedback.
Cycling Enthusiast
Portland, OR
0 of 1 customers found this review helpful.
Best Pump I've Ever Owned
This pump is WELL worth the money. It's really compact, easily fits in my handlebar bag, and strikes the balance between heavy enough to feel durable but light enough to not add unnecessary weight. It extends out a surprisingly long distance which helps make it a really efficient hand pump. Unlike most of the pumps I've owned before, the hose on this pump does not feel delicate and flimsy and the locking, interchangeable chuck is both efficient and convenient. This really is a thoughtfully designed and well made product.
Thank you for your feedback.
Cycling Enthusiast
Portland, OR
2 of 2 customers found this review helpful.
The best mini pump out there
This is hands down the best mini pump I've used. The construction is bomber, as you would expect from Silca, and it's super quick and easy to operate. The chuck makes it a breeze to pop on and off. Highly recommended.
Thank you for your feedback.
3 of 3 customers found this review helpful.
Well designed but no gauge
Well designed and built with an extendable air hose and a flip on and off valve. Requires reconfiguration of the head to switch from Presta to Schrader and back. No built in gauge. Easy to inflate to high pressures despite short length. Not light but not that heavy.
Thank you for your feedback.