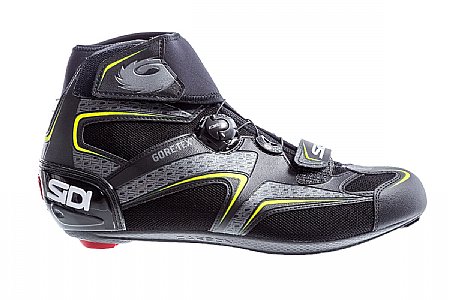 Cycling Enthusiast
Philadelphia
Cycling Enthusiast
Alabama
I've been riding road bikes for 18 years and this is one the best purchases I've made.
I've never had riding boots before, probably because I live in Alabama. I decided to buy a pair and I've really enjoyed them this year. I ride them in sub 50 degree temps. Lightweight and comfortable, warm not hot, great shoe - rain or shine!
Thank you for your feedback.
Competitive Racer
New England
Warm, but not the most comfortable
Shoes are warm, which is a good thing. They are winter shoes. I have been out in 25degree temps with normal socks. I typically have issues with the cold so these get 5 starts for that. I found the high top to rub against my ankle the wrong way and I am still breaking them in. This is my issue. Shape of my foot ankle whatever. I do no think this is a flaw in the shoe design.
Thank you for your feedback.
Good Winter commuter shoe
Have been commuting and doing longer winter rides with hour commute in low 20 degrees and toes did well. Longer or colder rides will need added covers. Fit is excellent.
Solid sole and cleat fit. Closure works well if you have nimble fingers and gloves off.
Thank you for your feedback.
Competitive Racer
Orem, Utah
1 of 1 customers found this review helpful.
Great cold weather shoes
Ive used these on a dozen cold rides so far, including a three hour ride in the low 40s (38 to 45 (degrees F). Theyve performed well, keeping my feet off my mind. Cold feet are always going to be an issue in the winter months, but this option has been a big improvement over booties! I got caught out in the rain on one occasion and my feet remained dry and reasonably comfortable. The Wind Stopper is very effective! I no longer fear the freeze.
They fit somewhat loose, allowing for thick socks. Not an issue for me. I wear 45.5 Sidi road shoes size 46 has worked out well in these winter shoes.
Thank you for your feedback.