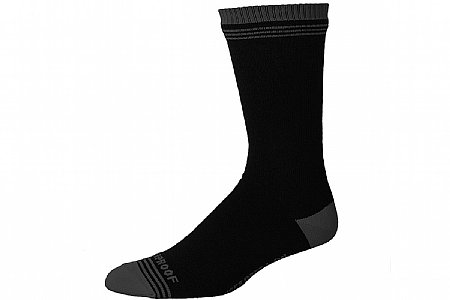 1 of 1 customers found this review helpful.
Warm but not dry
My first ride with these socks in the rain and they were soaking wet when I got to work. No different than wearing a regular sock. Took awhile to dry as they are much thicker than typical cycling sock. Would be good for cooler rides (40 degrees) without the need for shoe covers, but if you're buying for riding in the rain keep looking...
Thank you for your feedback.
works just as advertised
I haven't had a chance to really test them on a seriously wet ride but in a light rain they work amazing. My commute is about 45min and they kept my feet warm, dry and comfortable. I was skeptical at first but was a believer when i tested them under running water in the sink. They seem a bit bulky compared to other cycling socks but fit in my riding shoes without a problem.
Thank you for your feedback.
Cycling Enthusiast
Portland, OR
Dry and Warm
I wear these when it's below 45o even if it's dry out there. They have great insulating properties in addition to keeping your feed warm but no damp mustiness! At first I thought they be too thick to fit in my winter cleats but no issues. Love these!
Thank you for your feedback.
Daily Commuter
PORTLAND, OREGON
0 of 2 customers found this review helpful.
6 mileswet feet
So i purchased these socks with high expectations. However my experience was not what I had hoped for. I rode 6 miles with no fenders, my shoes are fizik M3B without shoe covers, and it had rained heavily 1 hr. prior to start of my commute to work. The street was very wet but no rain in the said 6 mile commute. End result not waterproof.
Thank you for your feedback.
Competitive Racer
Portland, ME
Best cold weather socks I have ever used
Highly recommend these socks for cold or cold and wet weather. The fact that they have three layers solves all the problems, and keep you feet warm. I have issues with cold feet below 40 degree F, and these socks worked well today for a 65 mile ride at 32 degrees F.
Thank you for your feedback.