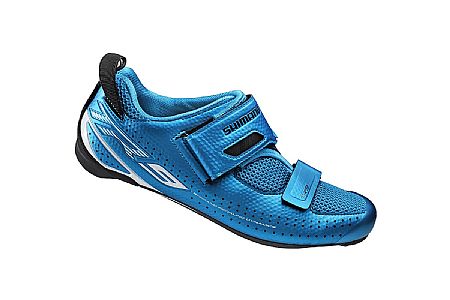 Competitive Racer
Des Moines, IA
4 of 4 customers found this review helpful.
High quality materials, slightly snug fit, and bold single choice of color for this model
This is my 4th pair of Shimano triathlon shoes, so clearly I have some brand loyalty-there's my bias out front. I started in their mid-entry shoe a decade ago and the last three have been the carbon soled upper-level ones they offer. I'm pleased with the TR9 after about a month of use. I wear a EU 48 in running shoes and usually go with 47 in cycling shoes, because I go sockless (one of the reasons my tri-bike shoes last only 2-3 years before they attain an odor that earns them a Viking burial to commemorate their valiant service). These size 47s are still quite snug after a dozen or so rides, and I have the 2 straps pretty loose. Having 2 straps for adjustment is better than the single strap I've had on previous models. The very front of the toebox is narrower, nay, pointier, than I'd like, but I expect the uppers will stretch a bit like previous models, so that in a couple months they'll give my feet room to breathe but still allow me to transfer power to the pedals efficiently. It might also be that all my running shoes are foot shaped nowadays, so my feet have gotten used to the room for my toes to splay a bit?
Regardless, these seem to be made of very high-quality materials and should hold up to some sweaty, wet conditions over the next few seasons. I like the bright blue color of the shoes, as they match my current triathlon kit, but that'll change with the next racing season so hopefully whatever I go with will look OK with these bright blue babies.
The sale price at BTD was awesome, as always, so if you can wait for a discount from the MSRP, you'll be getting great bang for your buck.
Thank you for your feedback.