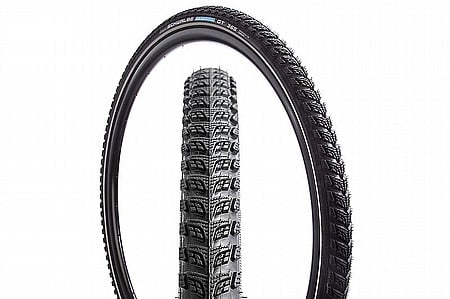 Update after 1 month use of this exceptional tire
I posted the first review of this exceptional tire. Now after a month of use I would like to add some more details, both good and not so good. First, the tire performs extremely well in all conditions. When I ride, particularly at night on wet pavement, the tire stays firmly on the road. No sliding, which I used to get from semi-slicks. Therefore I feel safe and my ride is enjoyable. I will admit, I have intentionally speeded over shallow potholes and cracks that I would have not dared before. The GT 365 flew right over them or just rolled with them. No sliding, no nothing but solid grip and absolute control.
I got the 38 mm but it measures over 40 mm. It's bulbous too. The good of this is the ride is comfortable. The no so good is that at low pressures, like around 30 psi, it takes a noticeable amount of effort to pedal. A fun bike ride can become a hard workout. HOWEVER, I discovered that this was only at low pressures. At near maximum, 80 psi, and lower, the tire was almost as easy to pedal as my previous 35 mm semi-slicks. The ride is a little bouncy and maybe a little tiny bit harsh by fussy standards but it is still very stable and sticks to the road.
I made the right decision with this tire. It's literally changed my life, as I use my bicycle as my main form of transportation. It appears I will get years out of this tire so the cost is easily justified. It's not just the years I will get out of them but the safe years and supreme quality I will enjoy. Well done Schwalbe.
Thank you for your feedback.
A technical masterpeice especially for cold, wet surfaces
I bought the GT 365 because I read the tire was formulated for cold and wet surfaces. Cold and wet surfaces are a potentially dangerous combination. For me, having the GT 365 gives peace of mind year round in the north eastern US where it is cold and wet for months of the year. Where I live the hilly roads have potholes, cracks and gravel strewn about. Now when I ride daily, day and night, I can be confident knowing I am well protected.
The tire is big, bigger than the stated size. The treads are well designed and aggressive. Grip on the road feels good. Ride is very smooth, even over potholes and cracks. There is little to no rolling resistance compared to my old semi-slicks but it does take a bit more effort from me to pedal up to speed. When reached it's smooth sailing. The tires make a light hum on pavement but this is not annoying to me. Before I had to carefully consider going off road. Not anymore. The tire weight is no issue at all.
Price is on the higher end for general tires but in this case you get a great value. It's really a masterpiece of a tire. I can't believe I would ever say that about a tire. Just look at it.
Thank you for your feedback.